Quilted Doilies with Rose Embroidery
These attractive quilted doilies can give your table a warm, cozy touch. They double as charming place-mats. Though we used Rose embroidery, you can embroider almost any kind of design. Redwork or Bluework works really well.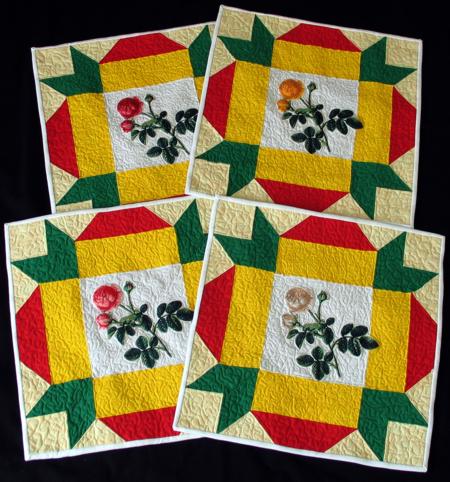 For each doily you will need: scraps of white, green, yellow, beige and red fabrics, and fabric for the backing and binding.
For embroidery, we used embroidery polyester threads, and polyester craft felt. Polyester craft felt worked both as stabilizer and batting.
Cutting:
Out of white fabric, cut a square measuring 7" x 7";
Out of yellow fabric, cut 4 strips measuring 3" x 7";
Out of beige fabric, cut
4 squares measuring 3" x 3" and
4 strips measuring 2 1/2" x 7";

Out of red fabric cut 4 strips measuring 2 1/2" x 7";
Out of green fabric, cut 1 strip measuring 3" x 27". Subcut the strip into 8 diamonds. To do this place the strip on your cutting mat, measure 3" along the lower long edge and mark this point. Using a straight-edge, connect this point to the upper left corner and cut along the diagonal. After this, simply measure 3" along the upper edge, place a mark, measure 3" along the lower edge, place a mark. Draw a line between the marks you have made and cut. Repeat until you have all 8 diamonds. This is shown in the diagram below: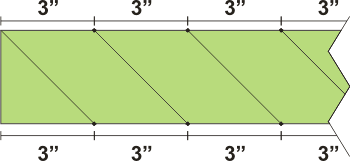 Assembling the Top
Sew a green diamond to each short side of each yellow strip.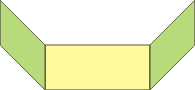 Sew the yellow strips to the white square.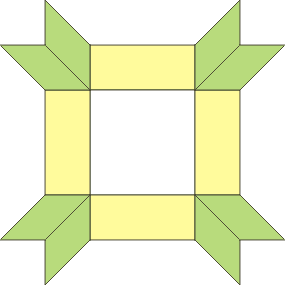 Stitch the diamonds together.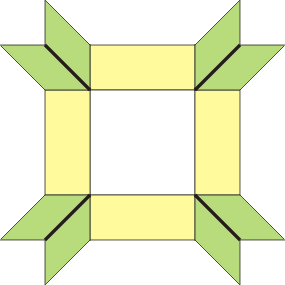 Take a red strip and a beige strip. Place them face to face as shown - the left edge of the two should align.
Draw a diagonal. Stitch through the diagonal.
Cut 1/4" seam allowance.
Unfold the strip and press.
Use a straight-edge to connect the upper left corner of the beige strip with the point where the red and beige strips connect on the lower edge. Cut along the diagonal.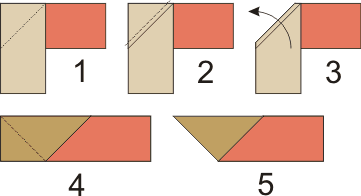 Repeat on the other side.

Sew the new strips to the yellow-green parts.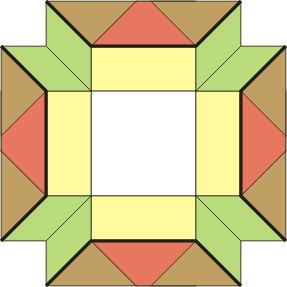 Sew the beige squares to the corners of the piece.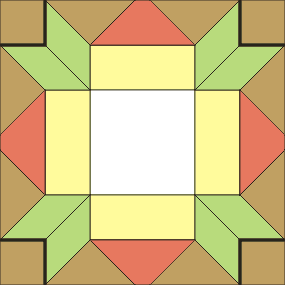 Embroidery
Cut a piece of polyester craft felt slightly bigger than the top. Spread the top over the felt. Baste the quilt top to the felt over the yellow borders.
After the embroidery is finished, rip the baste.
We embroidered the English Elegance Rose in different color schemes.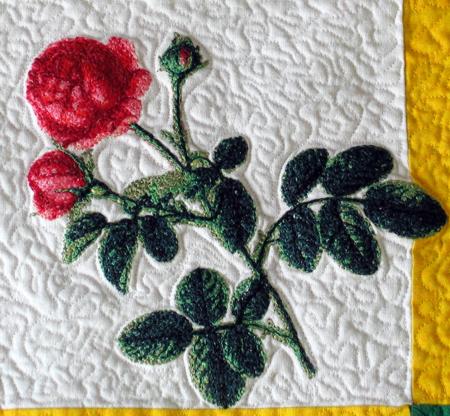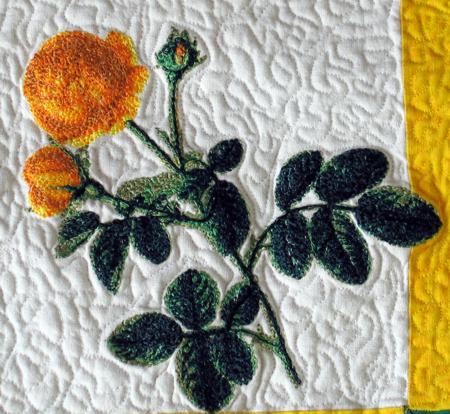 Quilting:
Now place the backing on a flat surface (table) face down. Spread your working piece over it.
Pin all three layers together with 1" pins and start quilting. We quilted in a free-motion style all over the quilt.
After the quilting is finished, press the work with heavy steam and square the work -- all corners should be 90 degrees and opposite sides should be of the same length.
Finish the raw edges with the binding.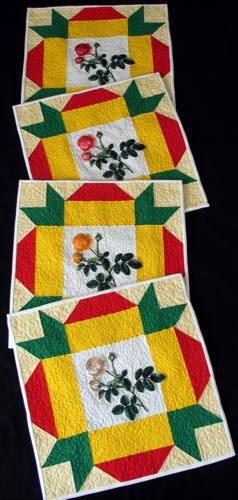 The doilies are ready. Enjoy!
Happy Stitching!
Back to English Elegance Rose
Back to Projects Page