This small and very simple art quilt features Raspberry Ruffle Rose. Photo stitch embroidery looks very attractive by itself and the quilted background helps set off the colors of the rose. The quilt is only about 9" x 11". It makes a great gift.
For the quilt top you will need 2 pieces of batik - one in rose-pink hues, and one in dark pink-bordeau.

For embroidery, we used embroidery rayon threads, and polyester craft felt which we used as stabilizer and batting. You will also need a piece of fabric for the backing and binding.
Cutting:
Cut a light pink strip measuring approximately 7" x 13".
Cut a dark pink strip measuring approximately 6" x 13".
Assembling the Top
Place the strips together, face inwards, aligning them along one of the 13" long edges. Sew the strips together along this edge.

Unfold. Press the seam open.

Embroidery
Place the pieced top on the felt. The piece of felt should be slightly larger than the top. Press.

With a paper print-out of the design, figure out where you want to position the embroidery.

Hoop the top with felt.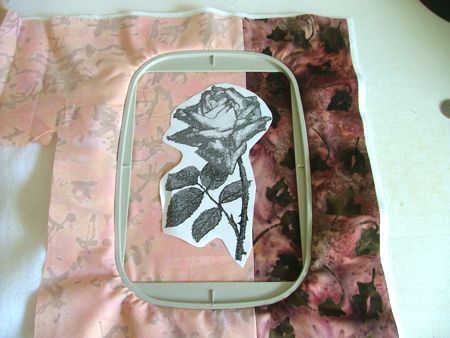 Make the embroidery.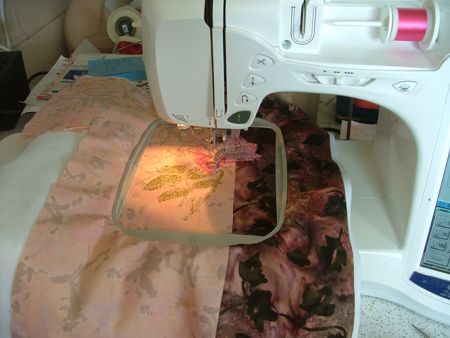 Quilting:
Now place the backing on a flat surface (table) face down. Spread your working piece over it.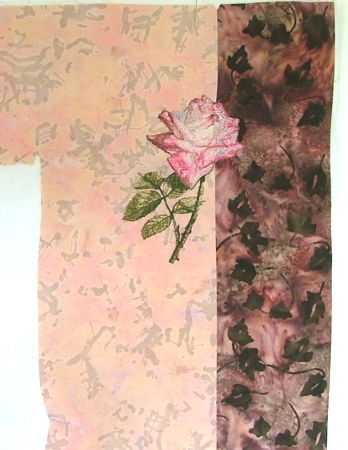 Pin all three layers together with 1" pins and start quilting. We quilted around the embroidery and in a free-motion style.

After the quilting is finished, press the work with heavy steam and trim the piece. Remember that an art quilt can be any shape and you don't have to square it.
Finish the raw edges with binding or zig-zag. You can also attrach trim, if you would like. Add crystals or beads for decoration, if you wish.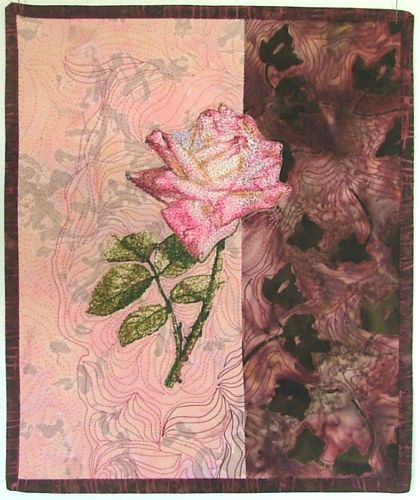 The quilt is ready. Enjoy!
Happy Stitching!
Back to Raspberry Ruffle Rose
Back to Projects Page