Bird in Maple Tree Cutwork Lace
These are instructions on how to embroider and use the Bird in Maple Tree Cutwork Lace design.
You will need base fabric, applique fabric, water soluble mesh and polyester embroidery threads.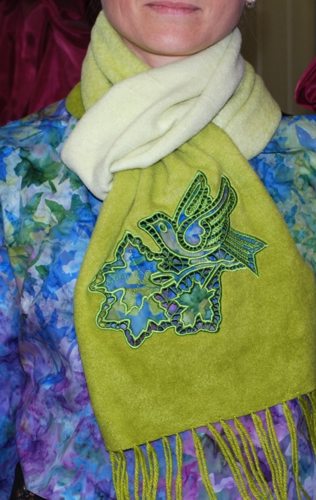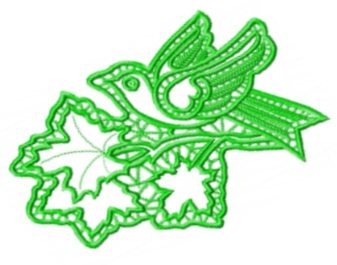 Large Hoop (5" x 7"):
Stitches: 35455
Size: 121 x 169 mm
Colors/Stops: 8
Mega Hoop:
Stitches: 39359
Size: 145 x 189 mm
Colors/Stops: 8
Commercial Hoop:
Stitches: 47485
Size: 232 x 156mm Colors/Stops: 8
Stabilizers: We recommend to use water-soluble mesh, such as Vilene. Vilene D0102 is a non-woven dissolvable stabilizer which is imported into the US, is sold in large rolls and is sometimes repackaged under different brand names. Some of these brand names are Fabri-Solvy by Sulky, Wash-Away, and Aqua Magic.
Film-like water soluble stabilizers, such as Solvy by Sulky or Avalon by Madeira, are not good for cutwork projects.
Please note, we DO NOT recommend to use rayon embroidery threads with water soluble mesh because its chemicals ruin the thread.
Directions:
We embroidered our samples on scarves - one of light-weight wool, another of thin fleece.
NOTE: ALWAYS make a test stitch-out of a design before embroidering on a garment.
Step One: Hoop the base fabric with 2 layers of water soluble mesh.
Start the machine. It will embroider the outline and stop.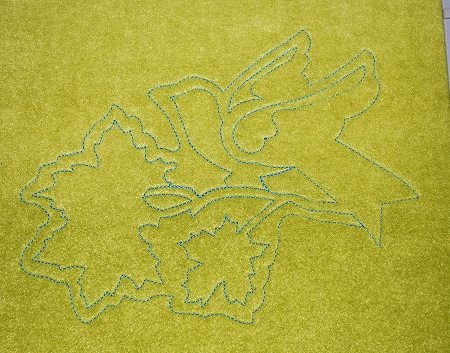 Step Two: Take the hoop from the machine. With a pair of sharp scissors cut away the fabric in the areas shown on the picture - inside the outline, around the leaves and the bird's body and wings. Take care not to cut through the stabilizer and stitches.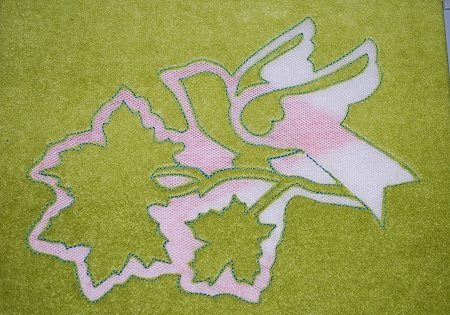 Step Three: During the next 6 stops use applique fabric. You can use a different fabric for each stop. For the first scarf we used only one applique fabric.
Place a piece of applique fabric over the outlines of the leaves and the bird's wings and body.
Start the machine. It will embroider: one of the maple leaves and stop, a branch with 2 maple leaves and stop, the bird's body and stop, the bird's wing and stop, the bird's other wing and stop, and the bird's eye and stop.
If you use one fabric, start the machine after every stop.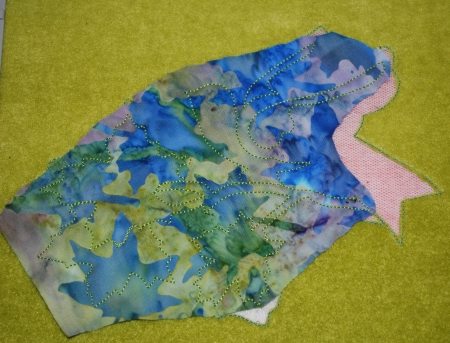 For the second scarf, we used 2 fabrics - leather-like polyester for the maple leaves and bright red batik for the bird.
If you use several applique fabrics, trim the fabric after you finish embroidering the part.
Embroider the leaves and cut out the fabric around them.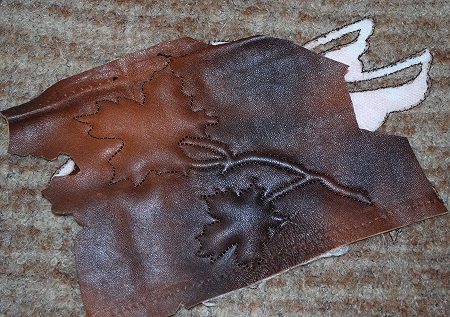 Embroider the bird...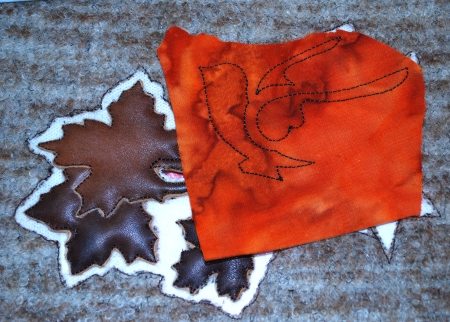 ...and cut out the fabric around the bird.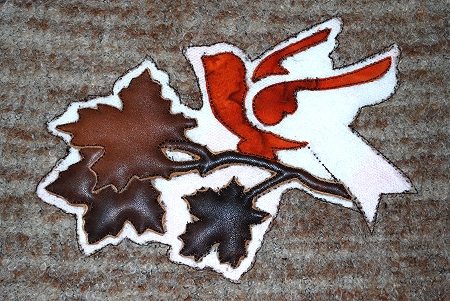 Step Four: Return the hoop to the machine and finish embroidering.
Step Five: Cut away all the excess stabilizer. Wash away the remaining stabilizer and neatly spread the work on a flat surface; leave it to air dry. Press.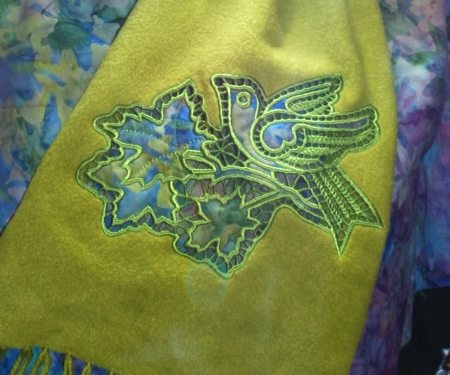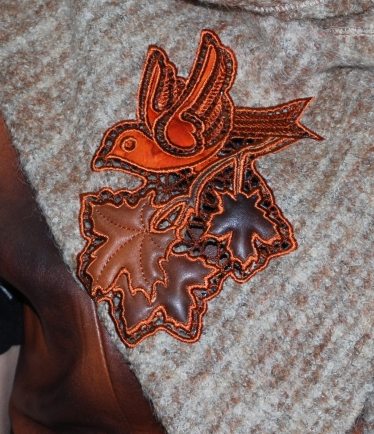 Happy embroidering!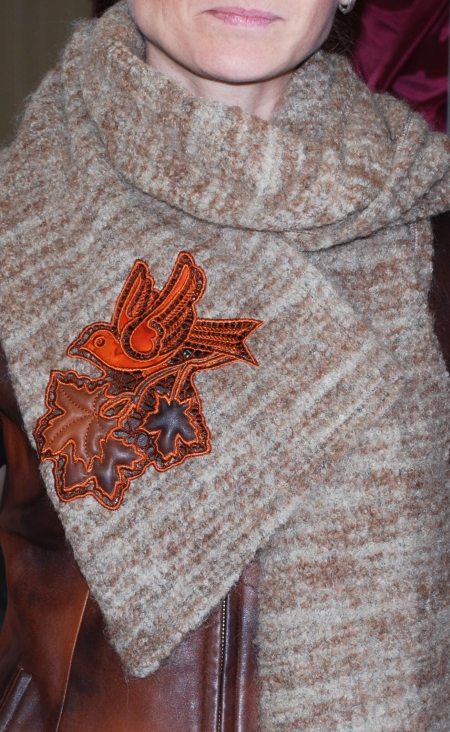 Back to Bird in Maple Tree Cutwork Lace