FSL Celtic Dragon Bookmarks
The designs from the FSL Celtic Dragon Bookmark Set are versatile and can be used as bookmarks, bracelets, parts of belts and as embellishment on clothes. These are instructions of how to embroider the designs and some ideas on how to use them.
Please note that we do not offer a color chart for these designs. The color choice depends on the colors of the project.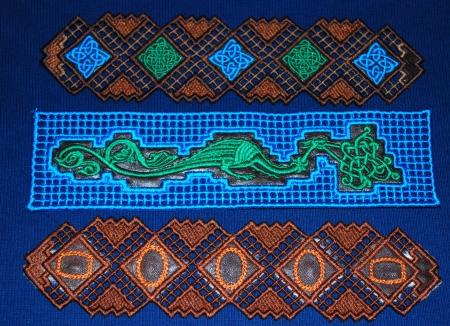 Embroidering the Dragon Bookmark.
Step One: Hoop 2 layers of the water soluble mesh. Position a piece of applique fabric over the hoop. (We used thin pleather, a polyester fabric that looks like leather).
Upload the file into the machine. Start the machine. It will embroider a shape on the applique fabric and stop.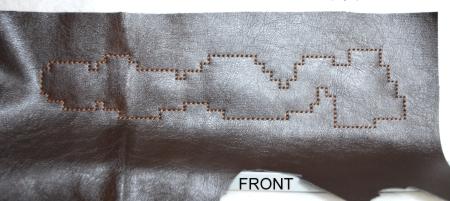 Step Two: Take the hoop from the machine and with a pair of sharp scissors cut away the fabric as close to the stitches as possible. Take care not to cut through fabric and/or stabilizer.

Step Three: Return the hoop to the machine and embroider the second color, which is the dragon, over the applique fabric.

Step Four: In this step we'll make the backing of the bookmark. Take the hoop from the machine (do not unhoop!) and carefully turn it upside down. This is what your embroidery should look like from the back: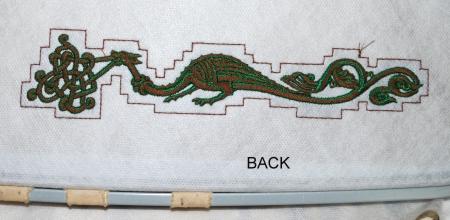 Cover the back of the emroidery with applique fabric. Pin the fabric outside the embroidery outline with small pins: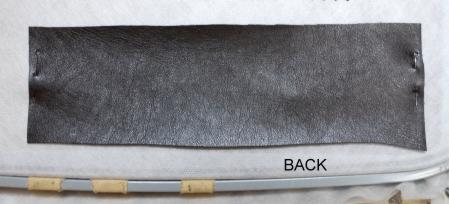 Step Five: Return the hoop to the machine and start it. It will embroider the outline of the applique and stop.
Take the hoop from the machine. Turn the hoop to the wrong side and cut away the applique fabric outside the outline.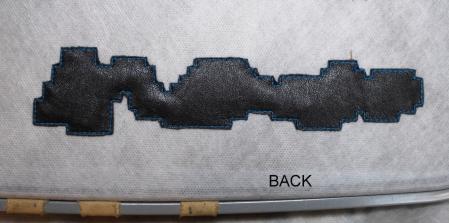 Step Six: Return the hoop to the machine and start it. The machine will embroider the free-standing lace netting.
Step Seven: Cut away the excess stabilizer. Wash away the remainder. Place on a paper towel and leave to air dry. Press if needed.
This is the front and back of the bookmark:


We turned this bookmark into a bracelet. We inserted thin leather cord through the netting, and added thin brass chains to "leash" the dragon and to reinforce the edges of the bracelet.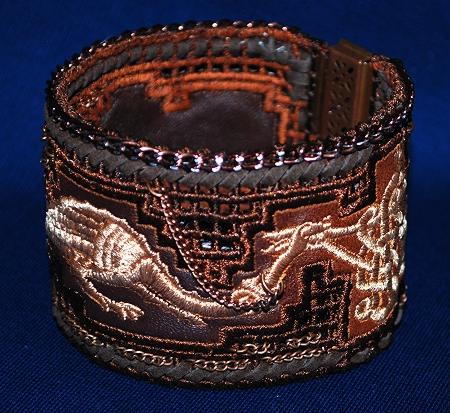 To the end, we added brass closures. This one of a kind bracelet took only a few hours to make.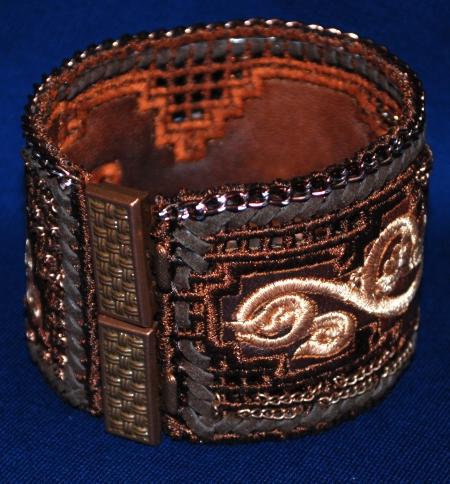 We used another stitch-out as a wrap for a glass with a candle.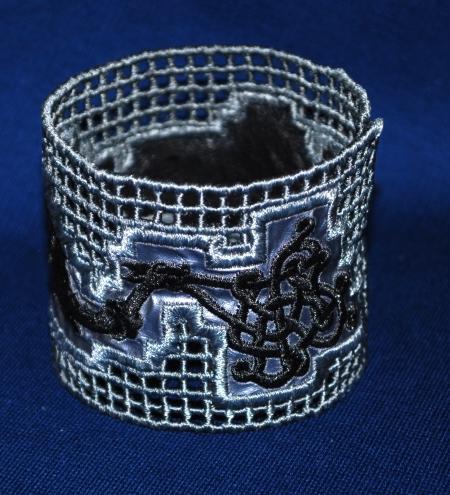 Boomarks with Celtic and Oval Motifs
These two bookmarks are embroidered in the same way as the bookmark with Celtic Dragon motif. The detailed instructions are included with the designs.
These are the front and back of the bookmark with the Celtic motifs:

front
We filled in the oval shapes with rhinestones. We used universal glue to attach the stones to the leatherlike polyester, which we used as an applique fabric.
We used this bookmark to make another bracelet.