FSL Butterfly Earrings Set
These are instructions on how to embroider the FSL Butterfly Earrings. There are 2 files in the set for larger and smaller earrings.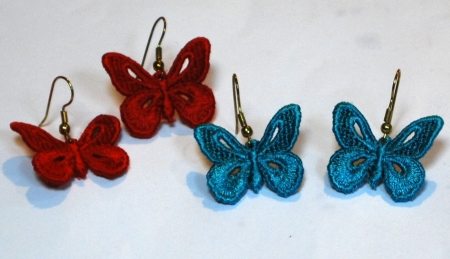 Most Importantly: ALWAYS make a test stitch-out of the design. This helps you to select the threads, needles, stabilizers and settings of your machine correctly.
Stabilizers: We recommend to use water-soluble mesh, such as Vilene. Vilene D0102 is a non woven dissolvable stabilizer which is imported into the US, is sold in large rolls and is sometimes repackaged under different brand names.
Some of these brand names are Fabri-Solvy by Sulky, Avalon Plus by Madeira, Wash-Away, and Aqua Magic.
Film-like water soluble stabilizers, such as Solvy by Sulky, Avalon by Madeira, Badge Master, are not suitable for the project.
The drawbacks of Vilene are that it leaves lint, so clean the bobbin case with a soft brush after every project. Also, dissolve it only in luke-warm water; in hot water, the chemicals in the mesh can cause the color of the thread to fade.
Threads: Free-standing lace (FSL) designs can be embroidered using rayon or polyester embroidery threads, depending on your preference.
We prefer to use 40-weight polyester theads because chemicals from the stabilizer influence rayon thread dyes.
To get 2-sided embroidery you should use the same thread for the needle thread and bobbin thread.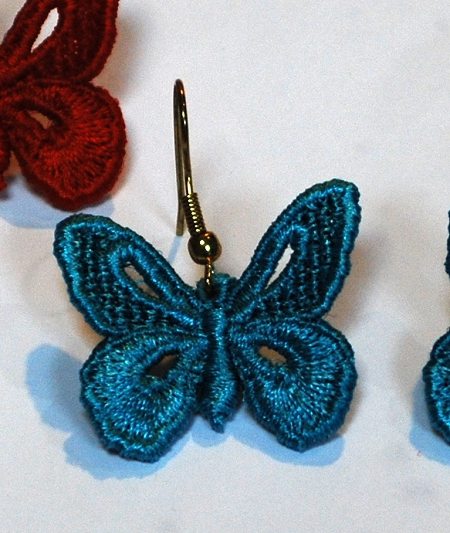 Needles: We use size 75/11 or 80/12 embroidery needles. The needles should be sharp, so try to change them after every project.
Hooping: We usually use 2 layers of water-soluble Vilene with our FSL designs. It's very important to hoop the stabilizer VERY tightly, like a drum skin. If your hoop does not hold the stabilizer well (this often happens because the stabilizer is very thin), we recommend to wrap muslin strips around the long sides of your hoop's upper frame, like you can see in the picture below.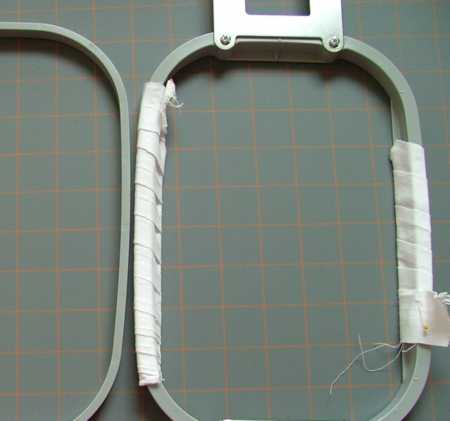 Impotant Note: It's very important to use as small a hoop as possible. E.g. if your design is for a small hoop, use the small hoop, not the large one; if your design is for a large hoop, use large, not mega. The smaller the hoop, the more stable it is.
DO NOT try to embroider several FSL designs in one hoop. Water-soluble stabilizers have a tendency to stretch and in a larger hoop it will stretch more than in a smaller one. This can lead to misplaced stitches and the design might fall apart after the stabilizer is dissolved. It's always better to embroider one part at a time.
Thread Tension: Freestanding lace designs look best when the needle and bobbin threads meet halfway. Stitch a sample, and adjust the tension if needed. Consult your machine's manual and/or dealer on how to do this.
Making the Earrings
Besides watersoluble mesh and embroidery threads you will need earring wire and all kinds of small embellishments - seed beads, pearls, crystals, etc.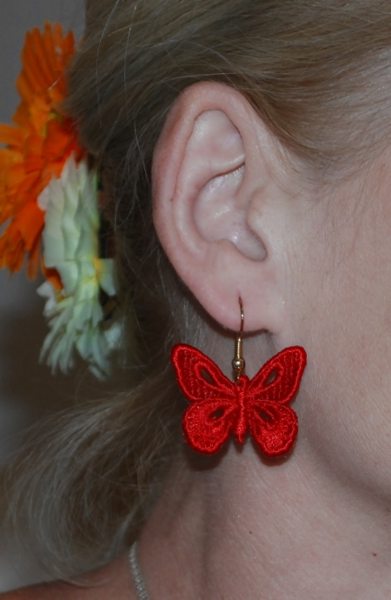 Step One: Hoop 2 layers of watersoluble mesh. Embroider each file of the set twice.
Step Two: Cut away the excess stabilizer. Rinse the remainder. Neatly spread on a towel and leave to air dry. Press with steam.
Step Three: (Optional) Now unleash your creativity and make a one-of-a-kind pair of earrings! Embellish your stitch-outs with pearls, seed beads, crystals, etc.
Step Four: .Insert earring wire. If the hole is too small for the wire, lightly enlarge it with the help of a needle.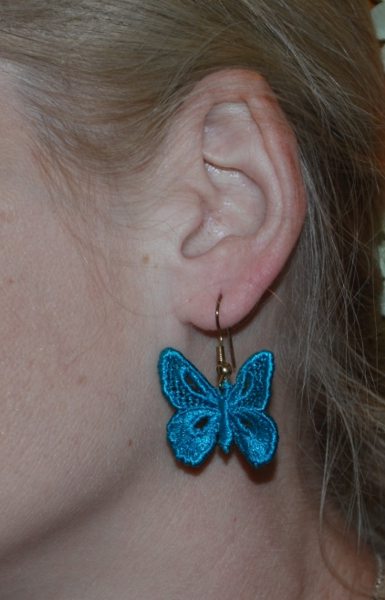 The earrings are ready. Enjoy!
Happy embroidering!
Back to FSL Butterfly Earrings