Matreshka Bookmarks and Ornaments
We used the designs from the Redwork Russian Doll Set to make bookmarks and tree ornaments.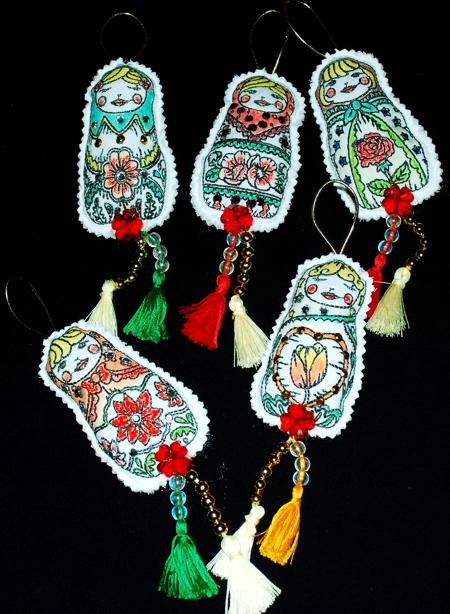 For the project we used:
white cotton fabric
medium weight iron-on cut-away stabilizer,
Derwent Inktense Blocks or Derwent Inktense Pencils. These can be used to draw directly on fabric. When water is applied to them (more on this later), they fuse to the fabric and become color fast. Derwent Inktense is an interesting alternative to shopping for just the right fabric to use on a quilt. We purchased ours at Amazon.com.
1/2" brush,
tassels,
beads,
golden cord for loops, and
Textil Medium to fix the colors (optional).

Instead of Textil Medium you can use regular tap water. The drying time using TM is about an hour, while for water it's about 12 hours.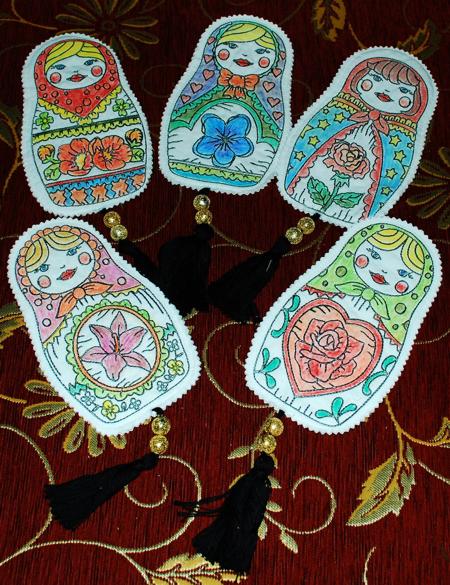 Stabilize the fabric with iron-on cut-away stabilizer, embroider the designs and color them.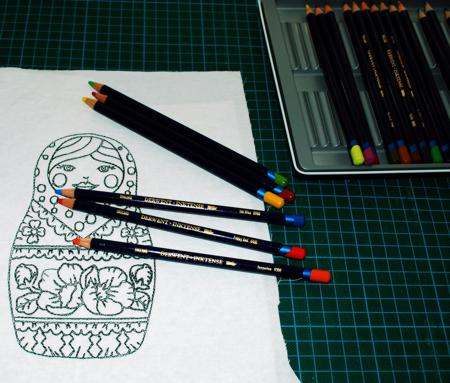 Take the brush and Textil Medium or water and dab at the embroidery to cover it with a thin layer. The colors will blend slightly. Leave the work to dry for 2-12 hours. After it dries, press with hot iron, the colors will bind to the fabric permanently and will not run.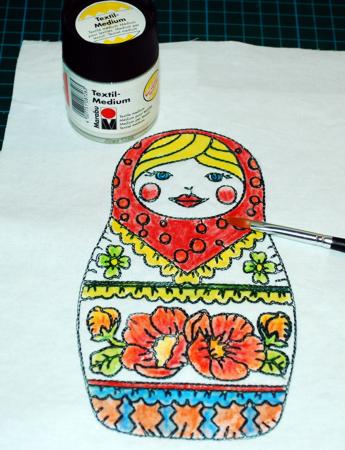 Take 2 stitch-outs and lay them together wrong side to wrong side. Try to align the edges.
For the bookmark, place a tassel in the lower part between the two stitch-outs.
For the ornament, place a cord loop in the upper part between the two stitch-outs.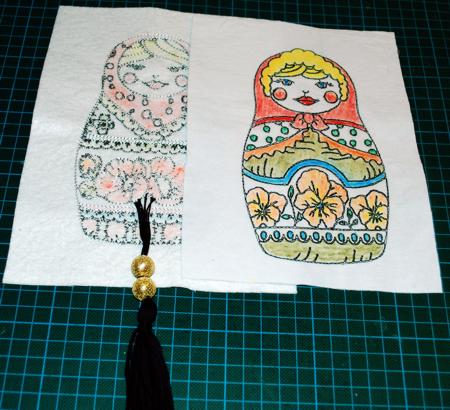 Pin the layers together.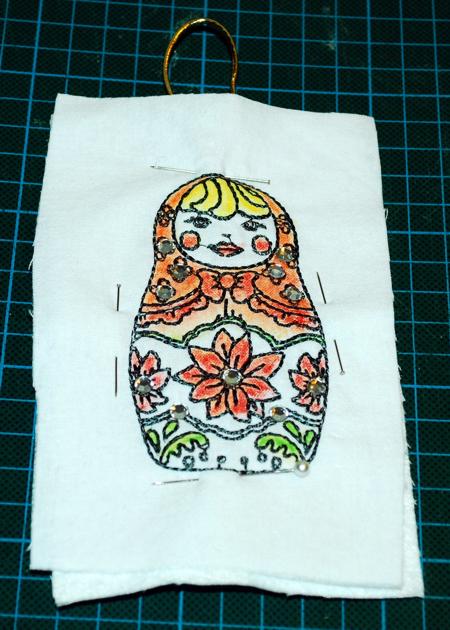 On your sewing machine, topstitch 1/8 from the edge of the embroidery.
Stitch the bookmark around the stitch-out.
Stitch the ornament, leaving a 1/2" opening in the bottom.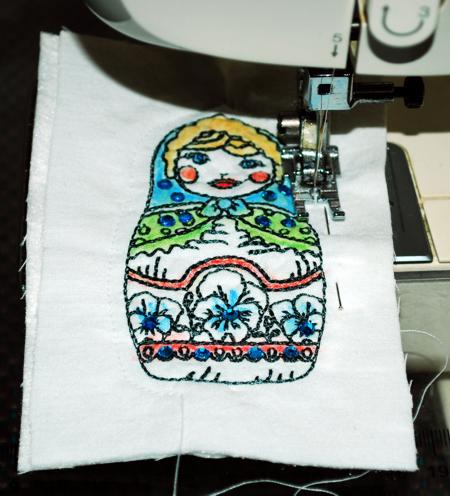 With scissors, cut away the fabric around the tassel/hanging loop.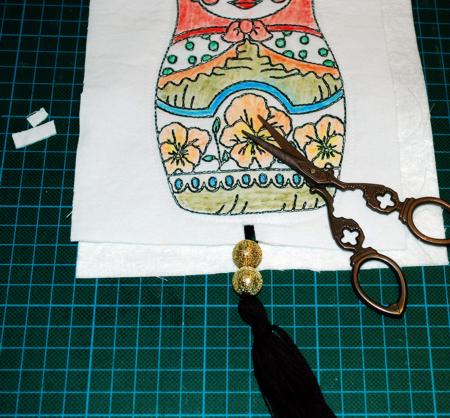 With pinking shears, cut away the excess fabric around the stitch-out.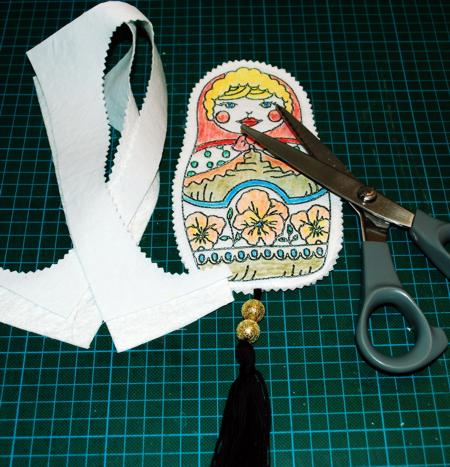 Stuff the ornament through the opening in the bottom.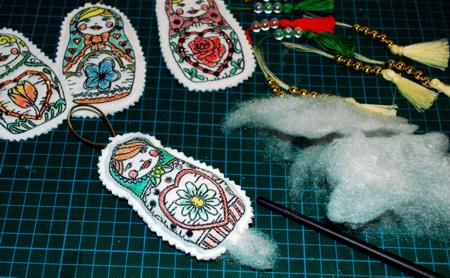 You can further embellish the ornaments with tassels. For this, tuck the tassels ends in the opening.
Then, topstitch the opening closed.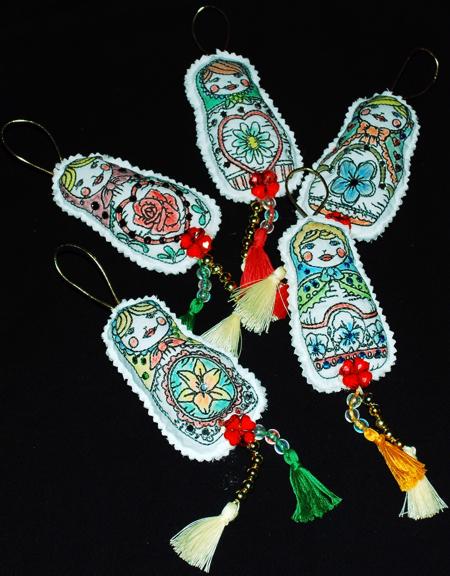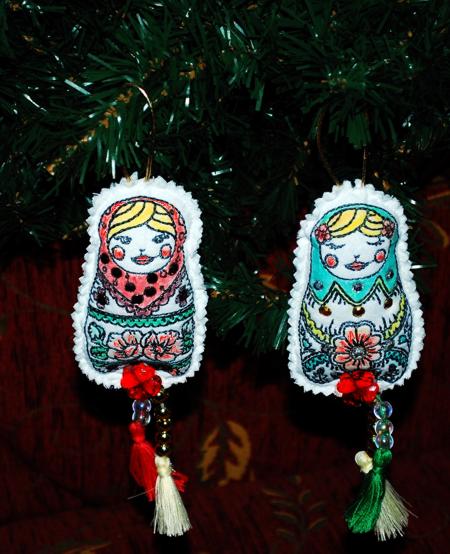 Both the bookmarks and ornaments make great gifts.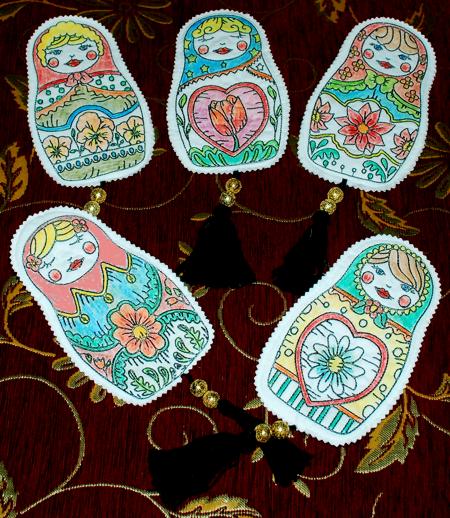 Enjoy!
Happy Stitching!
Back to Redwork Matreshka Set
Back to Projects Page