T-Shirts Decorated with FSL Embroidery
You can convert some simple plain T-shirts into unique and fashionable tops using just a little bit of time, some freestanding lace designs and a dash of creativity. We used designs from the FSL 3D Necklace Set.
Besides an embroidery machine and the FSL 3D Necklace Set you will need a t-shirt, either a sewing machine or fabric glue, and small embellishments to suit your taste - crystals, beads, etc. (optional).
Embroidery:
The patterns from the FSL 3D Necklace Set are a very dense free-standing embroidery. We do not recommend to embroider them right on the relatively light and stretchy fabric of the t-shirts. Please embroider the designs as described in the instructions.
Embrlishing:
For the pink t-shirt (small size) with a V-neck we used 2 designs (the side panels of the necklace). We turned them so that the flowers meet in the center.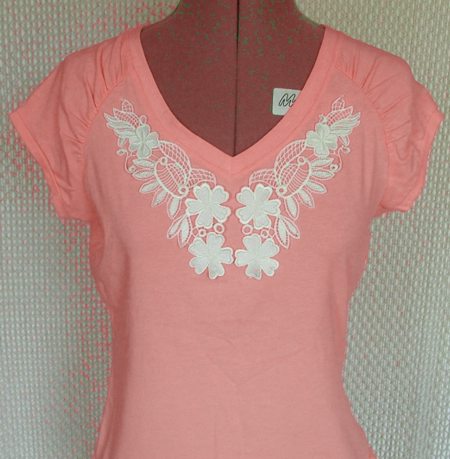 For the taupe t-shirt we embroidered the side panels and the central design.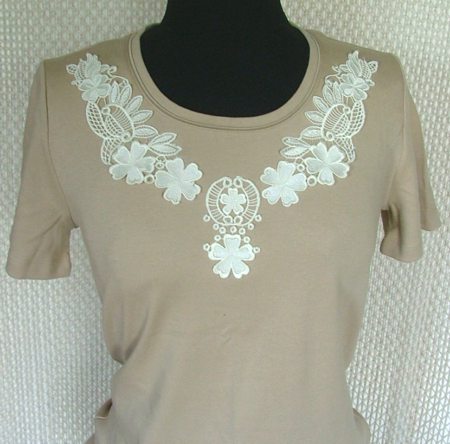 Step One: Embroider the designs as described in the instructions.
Step Two: Position the designs on a T-shirt as you like.
Step Three: Baste the designs to the t-shirt. It's possible to pin them, however that makes the next step a little more difficult.
Step Four: Put on the t-shirt to check that there are no mistakes and that all the designs sit correctly in the spots you want them to be.
Step Five: When you are fully satisfied with the position of the patterns, attach the designs permanently. For this, you can either stitch them on your sewing machine, or use a permanent fabric glue.
If you prefer stitching, use the same thread with which you made the embroidery. Use a running stitch. I prefer to use a free-motion foot, but a regular foot will work too.
If you prefer fabric glue, place a layer of paper and waste fabric inside the T-shirt, to prevent the front and the back from sticking together when the glue runs. Don't overapply the glue!
Enjoy!
You can find more layout on the page with the instructions for the necklace.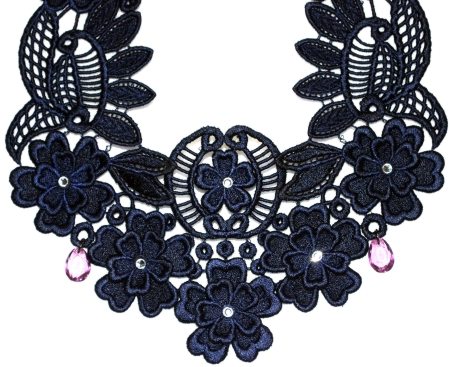 Have fun!
Back to FSL 3D Necklace Set
Back to Projects Page