Black-and-white fabrics with a large print are very good for art quilts. They make a great neutral background for bright colors overlayed on top of them.

For this small art quilt we chose the Anthurium (Flamingo Flower) design for a 8" x 10" hoop, because the shape of the leaves on the fabric is similar to the Flamingo Flower. Depending on the print of your fabric you might want to choose another flower from our Flower Collection.

The finished size of the quilt is about 17" x 21" . This quilt is perfect for beginners and can easily be completed over one weekend.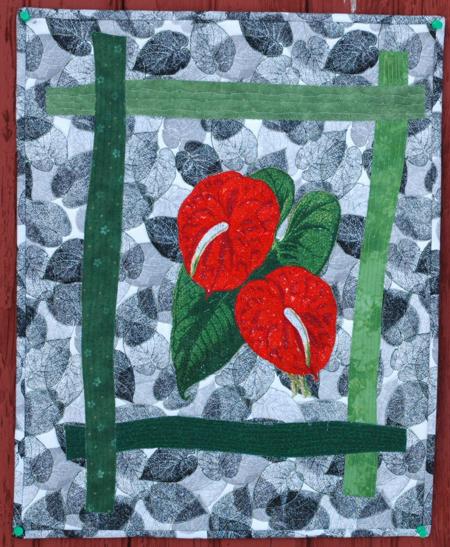 You will need:
1/2 yard of black-and-white cotton fabric with a foliage print,
scraps of green fabrics - strips of about 1" wide and 15"-19" long,
a piece of batting measuring 18" x 22", and
fabric for backing.

You will also need a sheet of LiteSteam-A-Seam2 (double stick fusible web for applique), or a similar product.
Cutting:
Out of the fabric with foliage print, cut a piece measuring 18" x 22".
Out of the remainder of the same fabric, cut 5 strips measuring 2 1/2" x 22" for the binding.
Embroidery:
Mark the position of the design in the center of the 18" x 22" piece. Stabilize the fabric with your favorite cut-away iron-on stabilizer. Instead of stabilizer, you can also use polyester craft felt. Make the embroidery. Cut away the excess stabilizer/felt.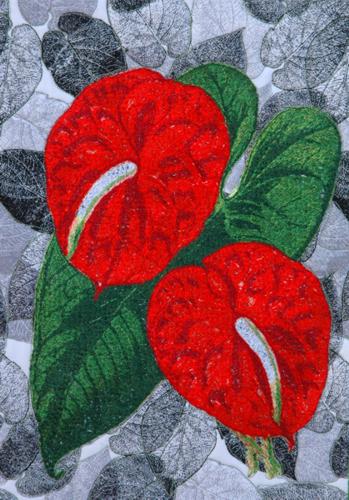 Making the Applique Borders.
Remove the paper from one side of the Lite Steam-A-Seam2 sheet and apply the green strips onto the web surface. Lightly press with fingures. With a rotary cutter or with sharp scissors, cut out the strips together with the web. Lightly curve the edges of the strips. You don't want them to be perfectly straight.

Remove the paper from the back and position the strips on the embroidered piece around the embroidery. Steam-A-Seam fuses permanently only after ironing, so feel free to play around with the layout of the applique. When you are satisfied, press the strips with a hot iron - the web will melt and permanently fix the strips in place.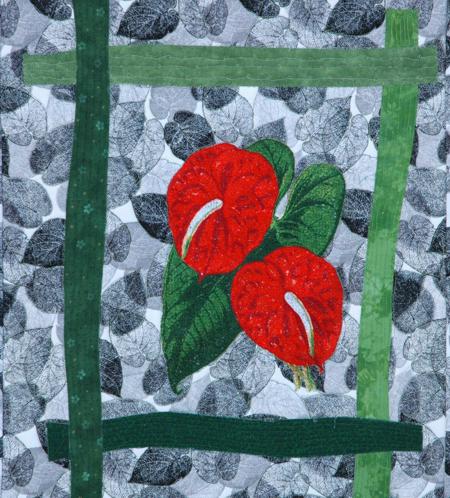 Quilting and Finishing:
Now place the backing/lining on a flat surface (table) face down. Cover with batting. Spread your working piece over it.

Pin all three layers together with 1" pins. We quilted around the embroidery and all over in a free-motion style. Remove the pins while quilting.

Press the work with heavy steam and square the work -- all corners should be 90 degrees and opposite sides should be of the same length.
Finish the raw edges with binding.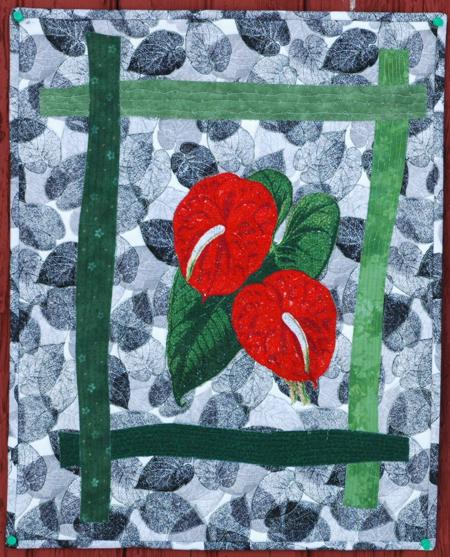 Enjoy!
Happy Stitching!
Back to Anthurium (Flamingo Flower)
Back to Projects Page