Quilted Kitchen Placemats with One-Color Embroidery
This set of beautiful placemats features the designs from the Kitchen Redwork Set III for the large hoop (5" x 7").
The finished size of the mats is about 15" x 29" .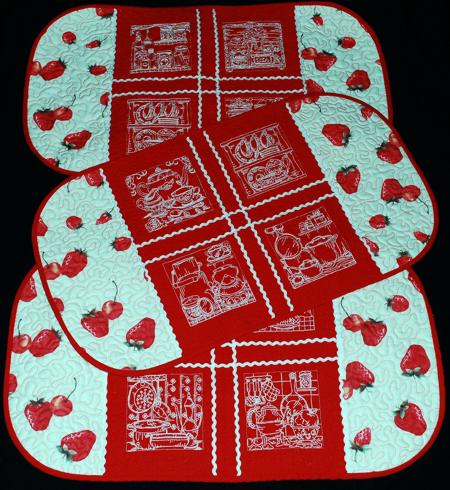 For each mat you will need 1 fat quarter of solid red cotton fabric and 1 fat quarter of brightly-patterned fabric (we used fabric with a strawberry print). You will also need batting, fabric for backing and binding, and white rick-rack.
For embroidery you will need light-weight cut-away stabilizer and embroidery threads.
Cutting:
For each mat, graph on the red fabric into 4 squares measuring 8 1/2" x 8 1/2" (do not cut them out yet, you will do this after embroidery); out of the patterned fabric cut 2 rectangles measuring 7" x 15".
Embroidery:
Working with one square at a time, stabilize the fabric and embroider a design from the
Kitchen Redwork Set III in the center of the square.
Embroider the designs in each of the four squares.
Cut away the excess stabilizer.
Cut out the squares. Trim them to 8" x 8".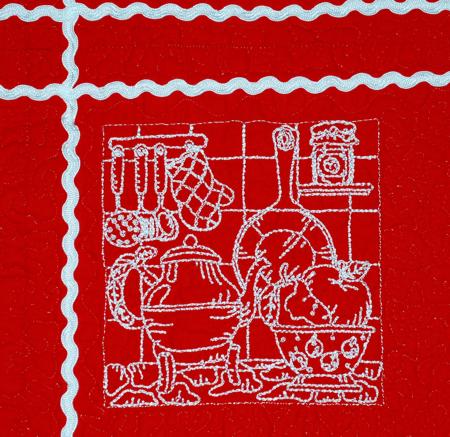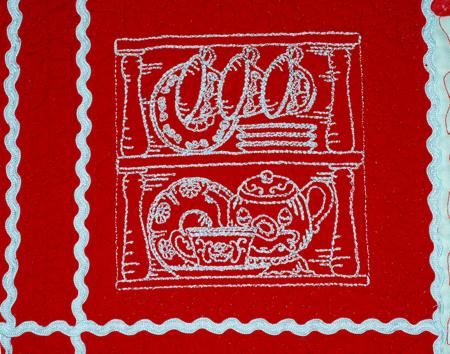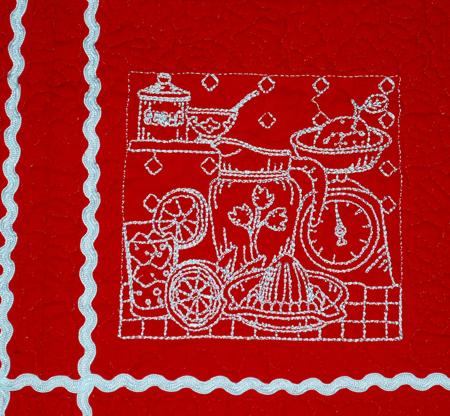 Assembly:
Sew the squares with embroidery into 2 rows, 2 squares in each strip.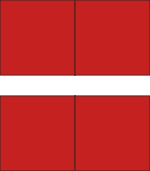 Sew both rows into a central block. Sew the bright-colored 7" x 15" strips to the left and right sides of the central part.

Quilting and Finishing:
Now place the backing/lining on a flat surface (table) face down. Cover with batting. Spread your working piece over it.
Pin all three layers together with 1" pins. We quilted around the embroidery and all over the mat in a free-motion style. Remove the pins while quilting.
Press the work with heavy steam and square the work -- all corners should be 90 degrees and opposite sides should be of the same length.
Cut the rick-rack into 6 strips, each 16" long. Position 2 strips horizontally between the upper and lower rows. Pin in place. Topstitch in place.
Position the remaining 4 strips vertically - 2 strips between the embroidered blocks and 2 strips to cover the seams between the red and patterned blocks. Pin in place. Topstitch in place.
Out of stiff paper make a rounded template, and use that to round off the edges of the placemat: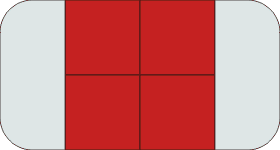 Finish the raw edges with binding.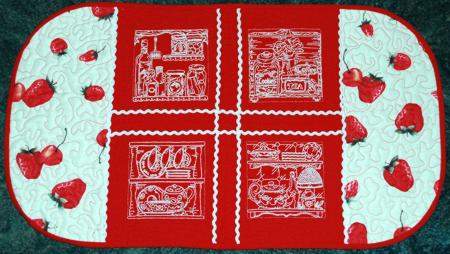 Enjoy!
Happy Stitching!
Back to Kitchen Redwork Set III
Back to Projects Page