Burlap Table Runner with Applique Leaves
This table runner uses earth tones and burlap to create an attractive, rustic look. Leaf applique completes the Autumn theme. The table ruuner is very easy to make and should take you no more than a few hours, most of which will be embroidery time.

We used the Leaves Applique Set III and Applique Leaf Bouquet.

The finished size of the table runner is 18" x 50", however its size is adjustable - you can make it longer or shorter, wider or narrower.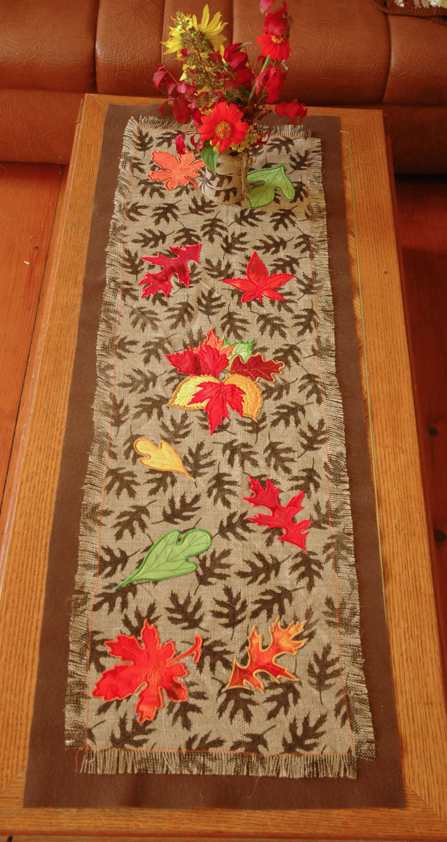 Besides embroidery thread (either polyester or rayon, however polyester is preferable because it lasts longer), you will need

wool, wool/polyester, or polyester felt - a piece measuring 18" x 50".
applique fabric for the leaves,
organza as a base fabric for the applique,
water-soluble mesh,
a piece of burlap measuring 18" x 50". (We used burlap with a leaf pattern available from Jo-Ann Fabrics; they have a large selection of patterned burlaps),
a painter's brush or small sponge and a glass of water,
sewing machine and an invisible thread.
Embroidery
We embroidered leaf applique on organza and water-soluble mesh. Embroider all the leaves you need. Follow the embroidery instructions on the instruction pages of the designs.
When you are done, with a pair of sharp scissors, cut away the excess stabilizer and organza around the embroidery. Do not wash out the stabilizer!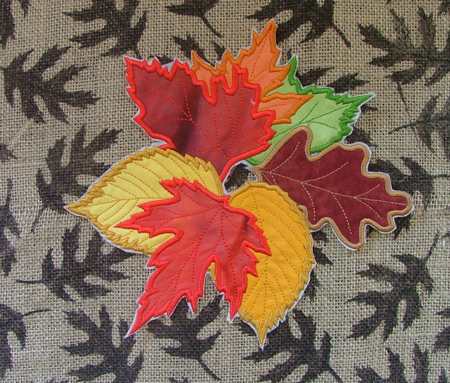 Burlap Layer:

Press the burlap 18" x 50" piece with steam.

Pull threads from the edges until the inner burlap measures 14" x 46" with about 2" of fringe along all edges.

Using zig-zag, stitch along the edges of the inner burlap.

With the rotary cutter (or scissors), trim the fringe to 1", the burlap piece will measure 16" x 48" including the fringe.
Sewing the Table Runner:

Spread the felt piece on your working table. Spread the burlap layer over the felt. Leave margins of about 1" arond the burlap layer. Pin the 2 layers together with 1" pins in several places .

Position the applique leaves all over the burlap. When you like the arrangement, take a glass of water and a painter's brush or a small sponge. Wet the brush or sponge in water and apply a small amount of water to the back of the applique to wet the water-soluble stabilizer. Then place the applique back in the spot you picked for it and press firmly with your hands. The stabilizer will work as temporary glue and the applique will remain in place while you work.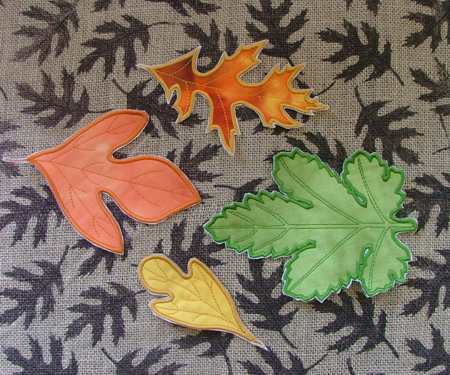 In this way, adhere all the applique pieces to the burlap. Press with an iron or wait for the applique to dry.
Add more pins to secure the two layers together. Thread your sewing machine with invisible thread and topstitch the applique to the table runner through both layers - burlap and felt. Use running stitch inside the applique outine.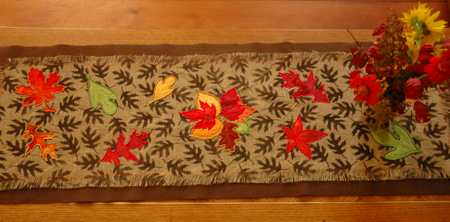 The table runner is done!
Enjoy!
Happy Stitching!
Back to Leaves Applique Set III
Back to Applique Leaf Bouquet
Back to Projects Page