Whimsical Christmas Placemats with Redwork Embroidery
These whimsical Christmas-themed placemats feature designs from the Redwork Christmas Border Set for the large hoop.

They're simple and fun to make and make a delightful casual accent to your kitchen table.

The finished size of each placemat is about 15 1/2" x 21 1/2".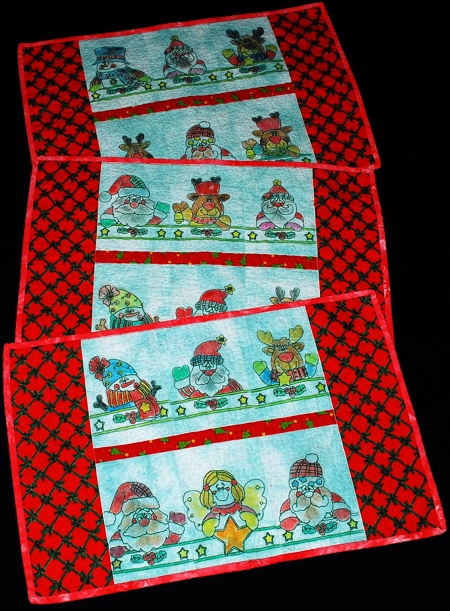 You will need

embroidery thread (either polyester or rayon)
light-colored fabric (for embroidery),
Christmas-patterned fabric (for the borders) and binding,
fabric markers, pencils or paints (we used Derwent's fabric pencils)
batting and
fabric for the backing
Emboridery
We made the embroidery first and then put the placemats together. You can do it this way, or you can assemble the tops first and then embroider them.
With a removable fabric marker, graph the light-colored fabric into 8" x 8" squares. Do not cut the fabric yet as that would make it difficult to hoop.
Embroider the designs in the center of each square. For each placemat we used 6 stitch-outs.
Cut out the squares. Trim each square to 5 1/2" wide. Align the embroidery and sew the stitch-outs together in rows - 3 stitch-outs per row. Seam allowance is 1/4". Press the seams open.
Dyeing

Use the fabric paints, markers or pencils to color in the Redwork designs. Follow the manufacturer's instructions.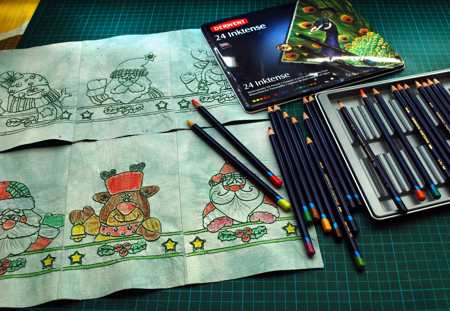 To fix the colors, the Derwent pencils that we used need to be soaked with water or a special fixative.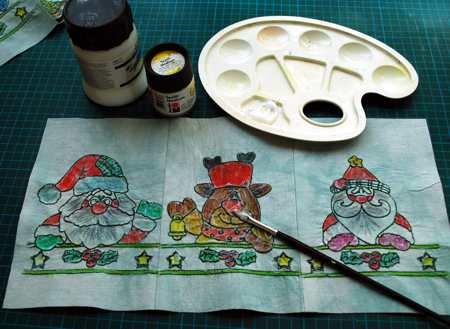 After the medium is dry, we pressed the pictures. Now the paint will not run or fade.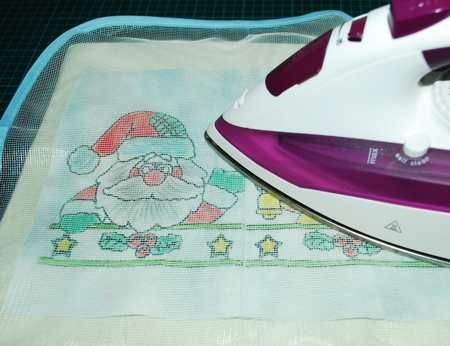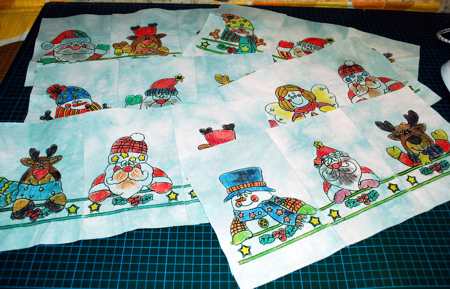 Cutting:
Out of patterned fabric for each mat, cut

1 strip measuring 1 1/2" x 15 1/2" for the sashing ;
2 strips measuring 3 1/2" x 15 1/2" for the borders;
strips 2 1/2" wide for the binding, for each mat you will need about 74" of binding.
Assembling the Top

Note: Seam allowance is 1/4".
Sew the 1 1/2" x 15 1/2" strip between the 2 embroidered strips. Press.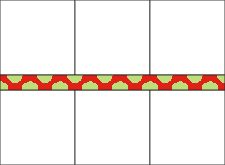 Sew the 3" borders to the left and right edges of the working piece.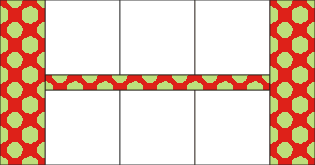 Quilting and Finishing:

Spread the backing on your table, face down. Cover the backing with batting. Cover with the working piece. Pin all three layers together with 1" pins.
We quilted around the embroidery and all over the quilt in a free-motion style.
Press the work with heavy steam and square the work -- all corners should be 90 degrees and opposite sides should be of the same length.

Finish the raw edges with binding.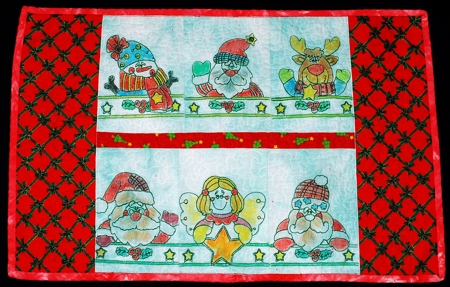 Your placemat is ready!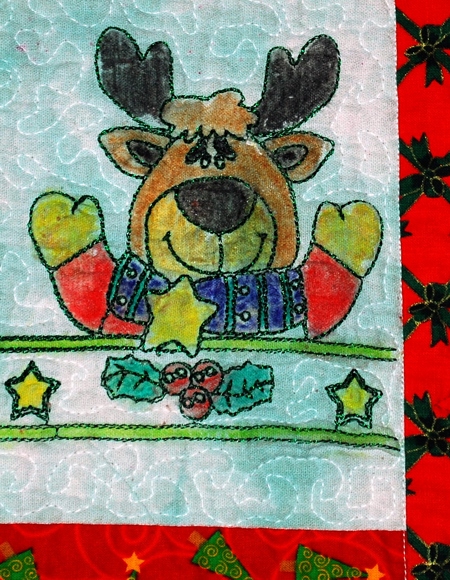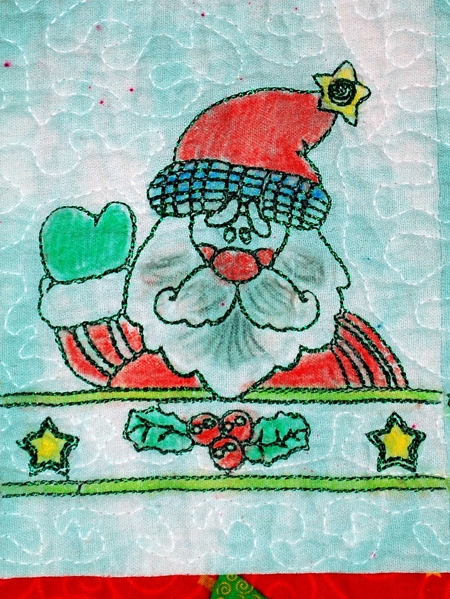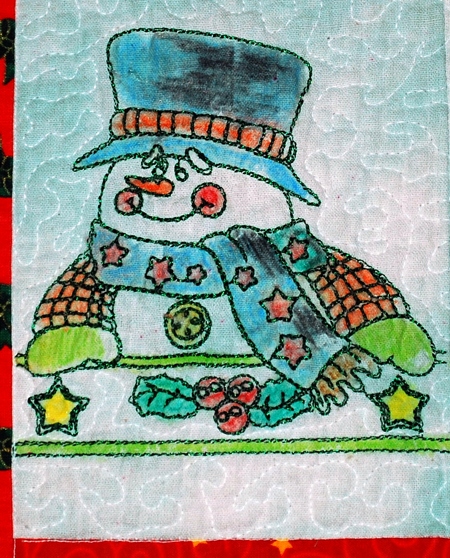 Enjoy!
Happy Stitching!
Back to Redwork Christmas Border Set
Back to Project Page