Easter-Themed Greeting Cards with Redwork Embroidery
These Easter themed greeting cards with redwork embroidery are very quick and easy to make. This last-minute hand-made gift makes the perfect keepsake.

For the cards we used the designs from the Redwork Chicken Set and Daffodil Set for the small hoop (4" x 4").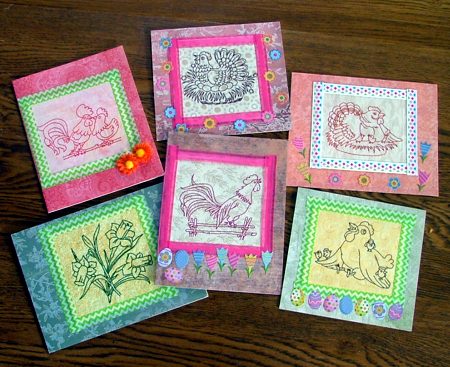 For embroidery, you will need:

pieces of light-colored cotton fabric,
light-weight cut-away stabilizer and
temporary fabric adhesive, such as KK 2000 by Sulky, or similar by other companies.
For the cards, you will need:
cardstock,
Easter-themed stickers (optional),
multi-colored scotch tape for scrapbooking, self-adhesive ribbons, or regular ribbons and white glue.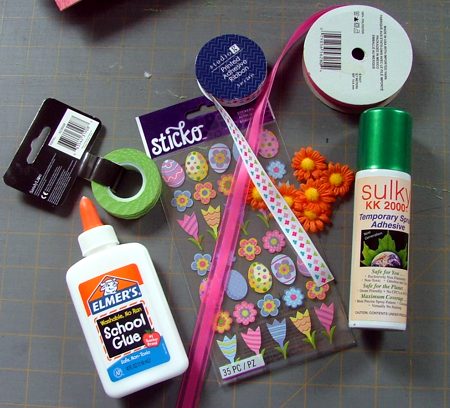 Embroidering :
Cut your fabrics into 4" x 4" squares and the stabilizer into 8" x 8" squares. Spray temporary adhesive onto the back of the fabric square and adhere it in the center of the stabilizer square.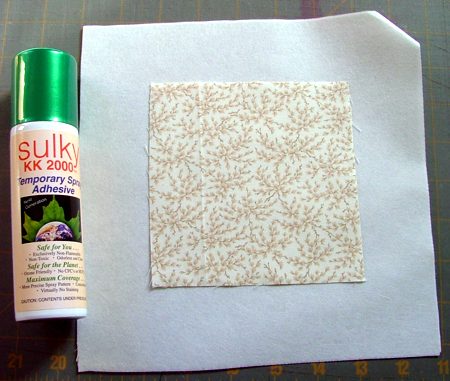 Embroider the designs you like.

Do not remove the stabilizer under the fabric. Trim the edges by cutting away the excess fabric and stabilizer around the embroidery.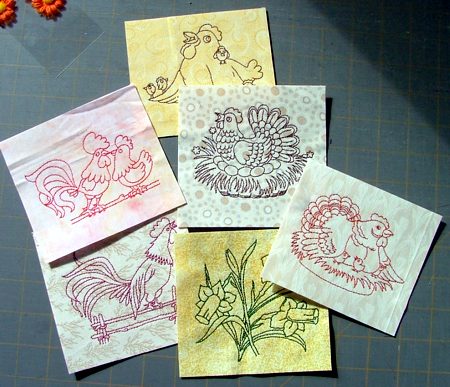 Making the Card:
Fold the cardstock sheets in half widthwise. Press the crease with something heavy.

Place several drops of white glue on the back of the embroidery. Press it onto the right half of the cardstock.

Place the cards under something heavy and wait for the glue to dry.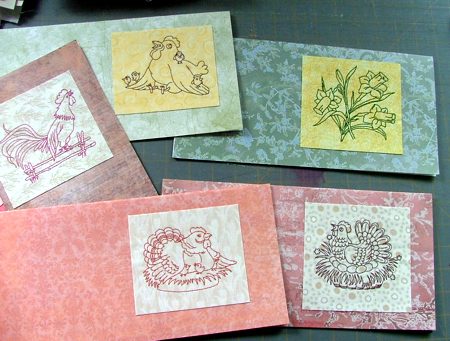 You can finish the edges of the embroidery with either an adhesive ribbon...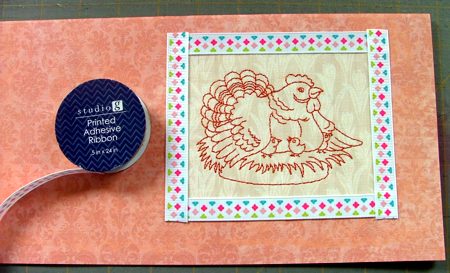 ...printed scotch tape for scrapbooking...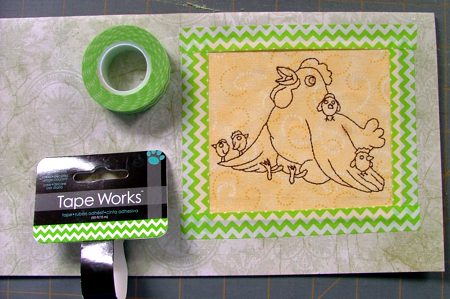 ...or with regular ribbon, trim or braid. To attach the regular ribbon, apply a few small drops of glue to the back of the ribbon and press it to the card with your fingers. You will also have to wait until the glue dries.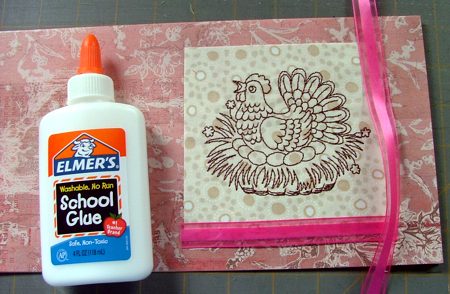 Finally, you can embellish the cards with stickers.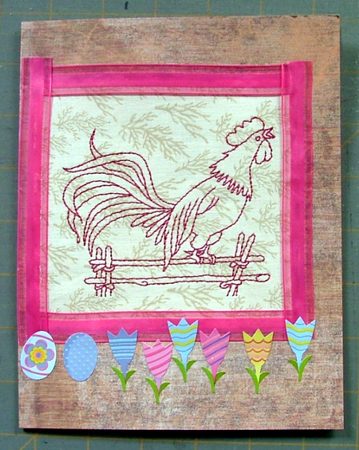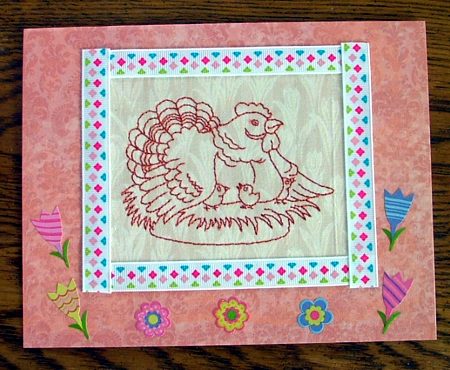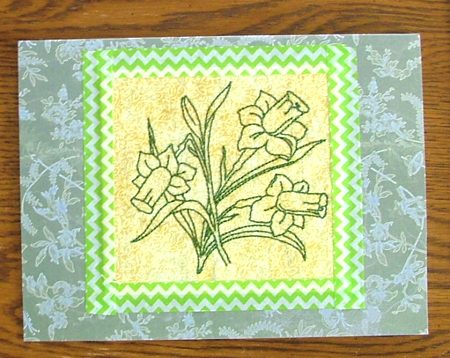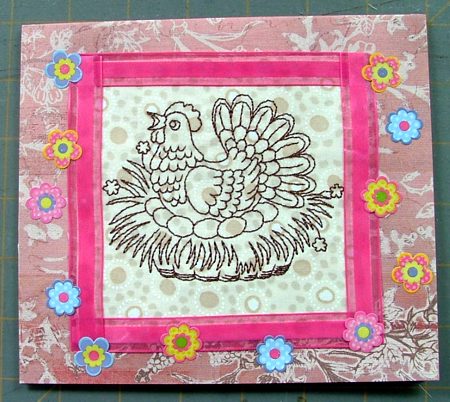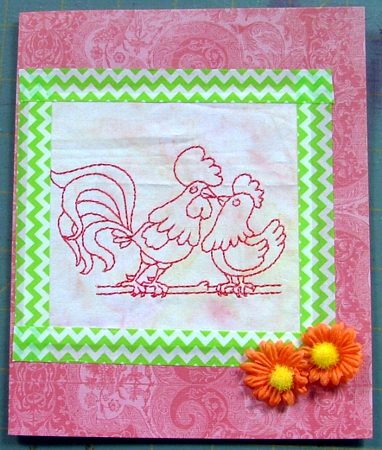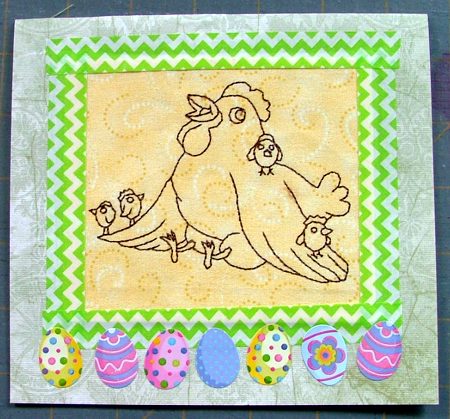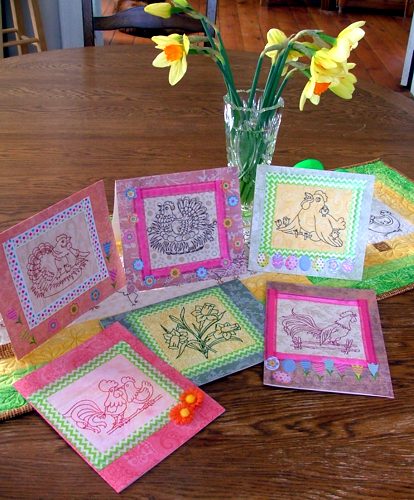 Enjoy!
Happy Stitching!
Back to Redwork Chicken Set and Daffodil Set
Back to Projects Page