FSL Paisley Earrings
These are instructions on how to embroider the FSL Paisley Earrings.
The design is for a small, 4" x 4", hoop. Please note that the size of the embroidery file is 74 x 55 mm, the actual size of an earing is about 35 x 55 mm/ 1.37" x 2.16".
Size: 74 x 55 mm / 2.9" x 2. 16"
Stitches: 13027
Colors: 2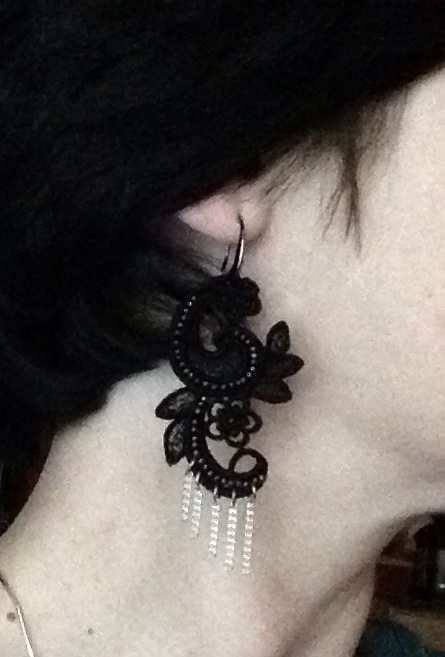 Stabilizers: We recommend to use water-soluble mesh, such as Vilene. Vilene D0102 is a non-woven dissolvable stabilizer which is imported into the US, is sold in large rolls and is sometimes packaged under different brand names. Some of these brand names are Fabri-Solvy by Sulky, Avalon Plus by Madeira, Wash-Away, and Aqua Magic.
Film-like water soluble stabilizers, such as Solvy by Sulky, Avalon by Madeira and Badge Master are not suitable for Free-Standing Lace embroidery.
Threads: The thinner the thread, the finer the final product will be.
You can use for the project any embroidery threads - rayon, polyester, cotton.

To get two-sided embroidery, use threads of the same color in the needle and in the bobbin.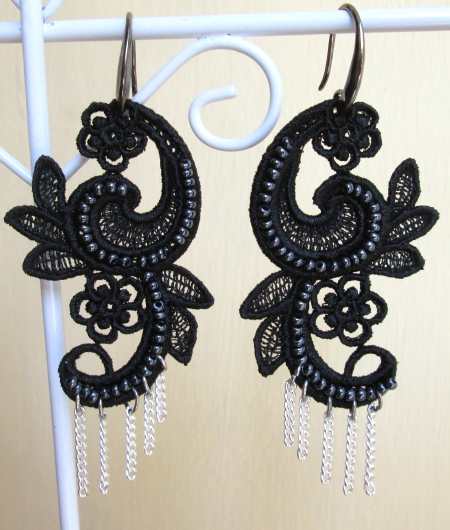 Needles: We use size 80/12 embroidery needles and 80/12 metallic needles for metallic thread.
Most Importantly: ALWAYS make a test stitch-out and wash away the stabilizer. This helps you to select the threads, needles, stabilizers and settings of your machine correctly. It's very important to select the correct thread tension!
Washing out the Stabilizer:
Rinsing away the stabilizer is an important step, because the lace can be stretched or distorted if this is done incorrectly. We recommend to use a foam board and stainless pins.
Cut away the excess stabilizer close to the stitches. Take your time and carefully pin the lace's outer edge to the board.
Now place the board into a bowl with luke-warm water. Leave the board in the water for at least half an hour. Change the water a couple of times.
Take the board out of the water and leave to air dry. Do not unpin the lace until it's completely dry.
Making the Earrings

Besides embroidery threads and watersoluble stabilizer your will need earring and beads or crystals to your taste (optional).
Embroider the earrings in any color you like. Wash away the stabilizer and air dry the stitch-outs.
Decorate the stitch-outs with beads. Insert the earring. You are done!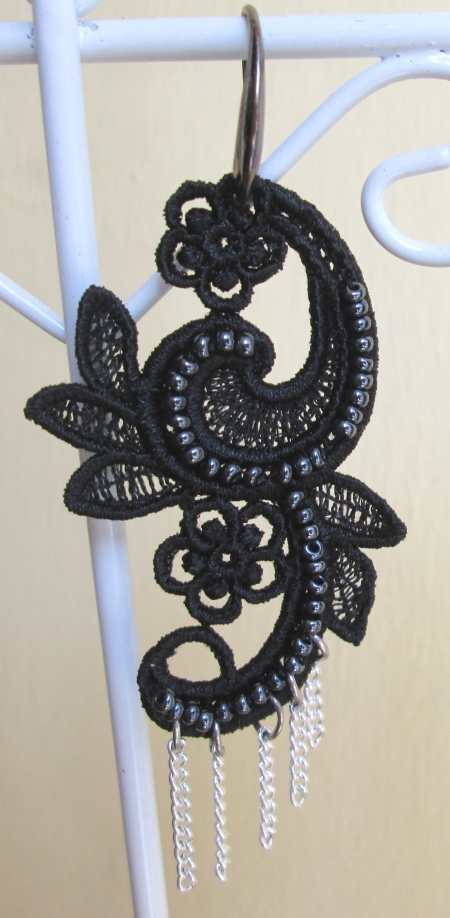 Happy embroidering!
Back to FSL Paisley Earrings