Oriental Themed Wall Hanging with Cross Stitch Embroidery
This gorgeous Oriental-themed wall-hanging uses designs from the Oriental Lotus Set in cross-stitch and one design of a gold fish from the Japanese Redwork Set.
The finished size of the wall hanging is about 21" x 21".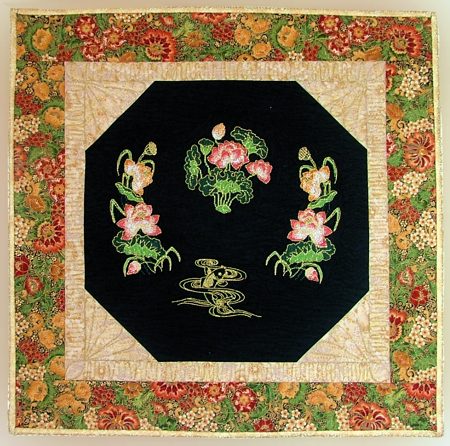 For the top we used

1 fat quarter of black fabric
1 fat quarter of oriental-themed fabric (it featured flowers in black, yellow-gold and yellow-brown hues) and
1/4 yard of light cream and gold pattern fabric.
You will also need batting and fabric for the backing.
For embroidery we used medium-weight, iron-on cut- away stabilizer and embroidery threads. For the last color in the lotus designs we used metallic thread. The gold fish is also embroidered in gold metallic thread. To avoid problems with metallic threads we recommend using a metallic needle and spraying the thread with silicone spray.
Cutting:
Out of black fabric, cut a square measuring 14" x 14".

Out of cream-with-gold fabric, cut

4 squares measuring 4" x 4",
2 strips measuring 1 1/2" x 14" and
2 strips measuring 1 1/2" x 16",
Use the rest of the fabric for the binding.
Out of oriental-themed fabric, cut
2 strips measuring 3" x 16" and
2 strips measuring 3" x 21".
Assembly of the Top:

Position the black square, face up, on your table. Place a 4" x 4" square, face down, in the upper right corner of the black square. Align the one corner and edges. Pin the smaller square in place. With a pencil and ruler draw a diagonal from the upper left corner to the lower right corner of the smaller square.
Topstitch along the line. Cut away the excess fabric leaving 1/4" of seam allowance. Unfold the corner and press.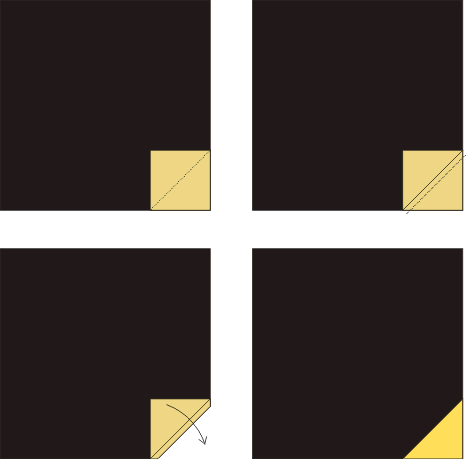 Repeat for the remaining 3 corners.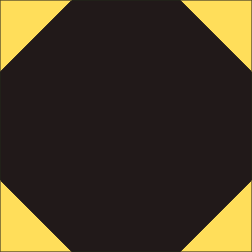 Sew the 3" x 16" strips to the upper and lower edges of the working piece.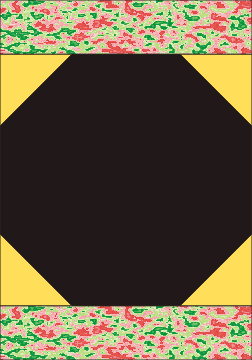 Sew the 3" x 21" strips to the left and right edges of the working piece.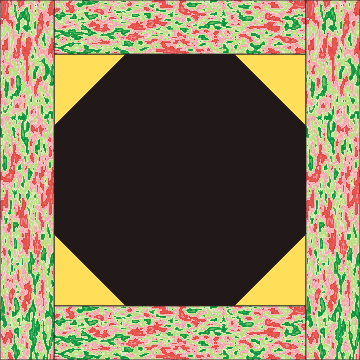 Embroidery:
Using the paper templates, mark the position of the embroidery on the central black part of the quilt. Stabilize the fabric and embroider the designs one by one.

Quilting and Finishing:
Spread the backing on your table, face down. Cover with the batting. Spread the working piece on top. Pin all three layers together with 1" pins.
We quilted around the embroidery and all over the black part with black thread in a free-motion style immitating ripple on water. The rest of the quilt we quilted with gold metallic thread also in a free-motion style. Remove the pins while working.
When you are finished, press the work with heavy steam and square the work -- all corners should be 90 degrees and opposite sides should be of the same length.

Finish the raw edges with the binding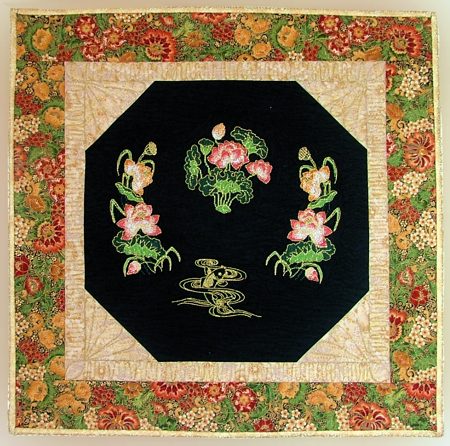 Enjoy!
Happy Stitching!
Back to Oriental Lotus Set and Japanese Redwork Set
Back to Projects Page