Geisha with Parasol Applique
These are instructions on how to embroider the Geisha with Parasol design .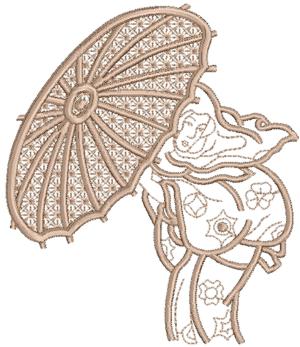 Size: 129mm x 149mm (5.16" x 5.96")
Stitches: 15578
Colors: 1
Besides embroidery thread (either polyester or rayon), you will need base fabric, stabilized with a stabilizer appropriate to your project and a piece of applique fabrics.
Emboridery
Step One: Hoop your base fabric (the fabric on which you are making the embroidery) with cut-away mesh stabilizer. Thread the needle with embroidery thread. Start embroidering. The machine will embroider an outline of the parasol and stop.
Step Two: Place a piece of applique fabric over the outline, and start the machine. It will embroider the same outline again and stop.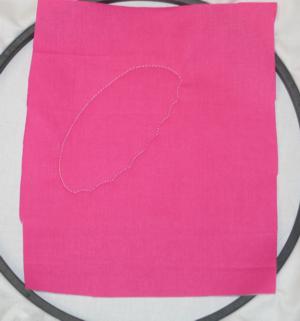 Step Three: With a pair of sharp scissors cut away the excess applique fabric as close to the outline as possible.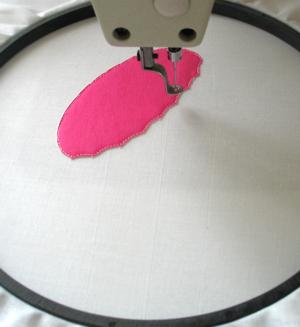 Step Four: Return the hoop to the machine. Finish the embroidery. Change threads if needed.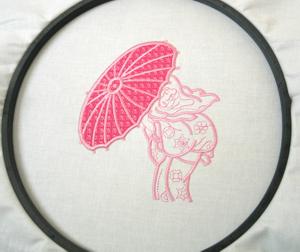 This is a stitch-out of the finished design.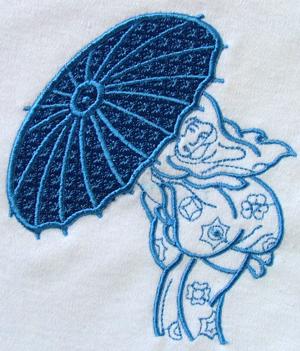 Enjoy!
Happy Embroidering!
Back to Geisha with Parasol