Fall-Themed Table Runner with Autumn Leaves Embroidery
This very easy-to-make Fall-themed tablerunner uses the embroidery designs from the Autumn Leaf Set for the large (5" x 7") hoop.

The finished size of the tablerunner is about 15" x 42" (38 cm x 107 cm).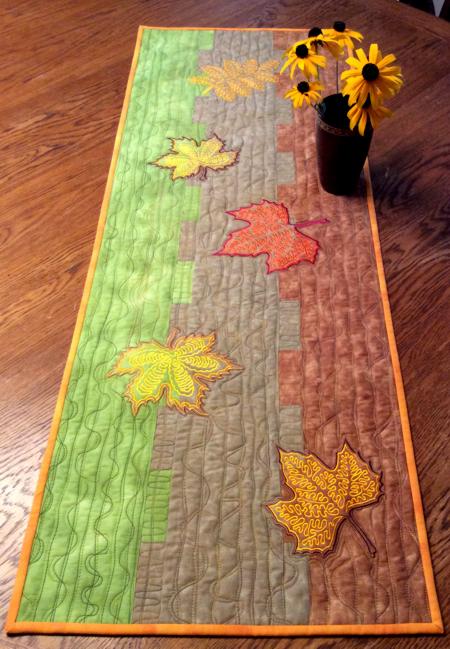 Besides embroidery thread (either polyester or rayon), you will need

medium-weight cut-away stabilizer,
3 cotton fabrics in Fall colors, 1/4 yard each. It's better to pick slightly subdued colors, so the embroidered leaves stand out better,
fabric for the backing and binding,
batting,
quilting threads to match the fabrics,
quilter's ruler and rotary cutter (or graphic pencil and sharp scissors).
Cutting:
One of the three colored fabrics will go in the middle between the other two colors.

Out of each Fall-colored fabric cut 1 strip measuring 1 1/2" and the length of the width of the fabric (42"-44"). Subcut these strips into strips 3 1/2" long. You will need 14 strips of the middle color and 7 strips each of the side colors.

Out of the middle fabric, cut a strip measuring 5" and the length of the width of the fabric (42"-44''). If your fabric is narrower, that's ok, but the finished table runner will be shorter.

Out of the fabric for the side parts, cut 2 strips 6"-7" wide and the length of the width of the fabric. We need these side strips wider for easier hooping, but we will eventually trim them to size.
Assembly of the Top:
Sew the 1 1/2" x 3 1/2" strips into 2 long strips alternating the colors. One strip should use the colors of the middle fabric and one side fabric; the other strip should use the colors of the middle and the other side fabric.

Sew the first strip between the first side strip and the middle.

Sew the second strip between the central panel and the second side panel.

Emboridery
Using your embroidery software, print out templates of the designs. Use the templates to choose the positions of the embroidery on the top.

Upload the files into the machine and make the embroidery. Use medium-weight cut-away stabilizer.

Cut away the stabilizer around the stitch-outs.

Quilting and Finishing:
Now place the backing on a flat surface (table) face down. Cover with batting. Spread your working piece over it.

We quilted in a free motion style all over the top.
After the quilting is finished, press the work with heavy steam and square the work -- all corners should be 90 degrees and opposite sides should be of the same length. Trim the side panels to 5" width if you wish, or leave them wider.

Finish the raw edges with the binding.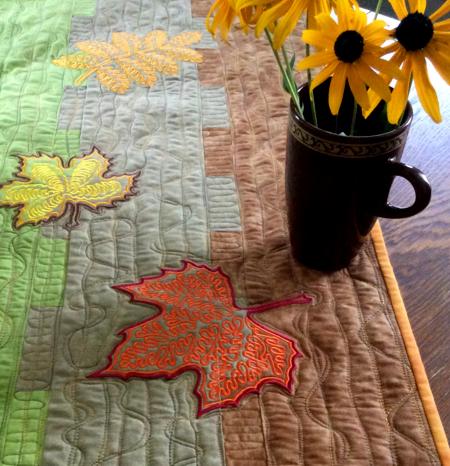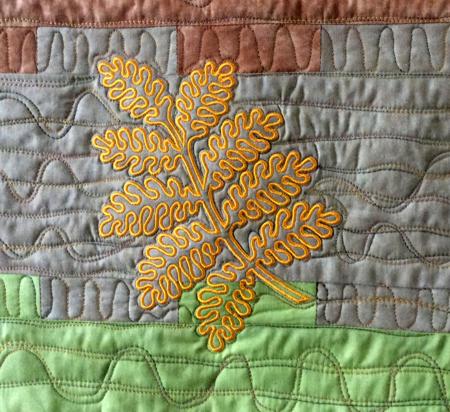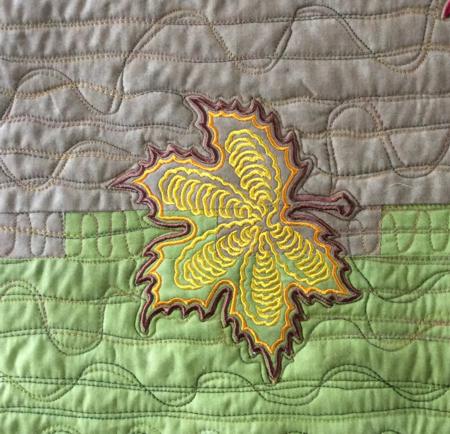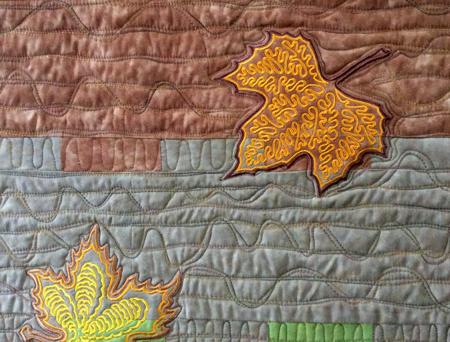 Your table runner is ready. Enjoy!

Happy Stitching!
Back to Autumn Leaf Set
Back to the Project Page