Geisha with Book Cutwork design
These are instructions on how to embroider the Geisha with Book cutwork design.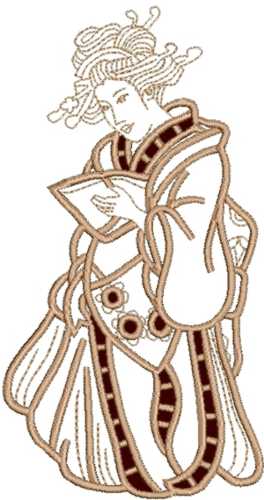 Size: 94mm x 178mm (3.76" x 7.12")
Stitches: 21385
Colors: 1
Stops: 2
You will need fabric, water soluble mesh and embroidery threads.
We recommend to use water-soluble mesh, such as Vilene. Vilene D0102 is a non woven dissolvable stabilizer which is imported into the US, is sold in large rolls and is sometimes repackaged under different brand names.
Some of these brand names are Fabri-Solvy by Sulky, Avalon Plus by Madeira, Wash-Away, and Aqua Magic.
40-weight embroidery polyester threads are preferred for the project.
Cotton thread is not suitable because the embroidery will be too bulky.
Rayon thread is softer and more sensitive to the chemicals in the water-soluble mesh. We do not like to use rayon thread for cutwork lace projects.
Please note: ALWAYS make a test stitch-out on scrap before you make a stitch-out on the real item.
Emboridery
Step 1: Hoop the fabric with a layer of water soluble mesh. Start embroidering. The machine will embroider the outline of the design and stop.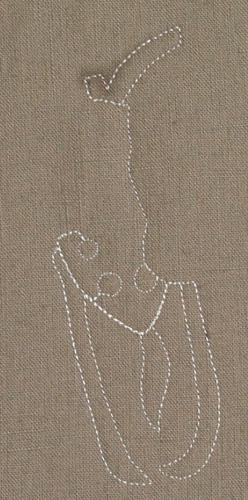 Step 2: Take the hoop from the machine. With a pair of sharp scissors cut away the fabric. The areas of fabric which are meant to be removed are shown in the picture.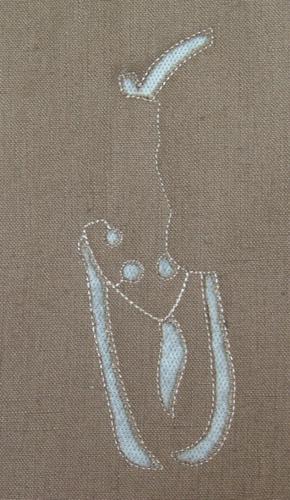 Step 3: Return the hoop to the machine and finish embroidering.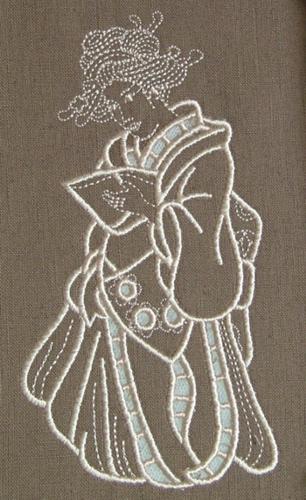 Step 4: Wash away the stabilizer and press the embroidery with steam if needed.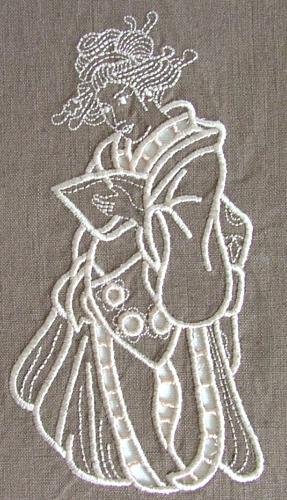 Enjoy!
Happy Embroidering!
Back to Geisha with Book