Quilted Potholder with Embroidery
For this charming, old-fashioned potholder, we used the design Geranium for a large, 5" x 7" (130 x 180 mm), hoop.

The finished size of the potholder is about 8" x 35 1/2".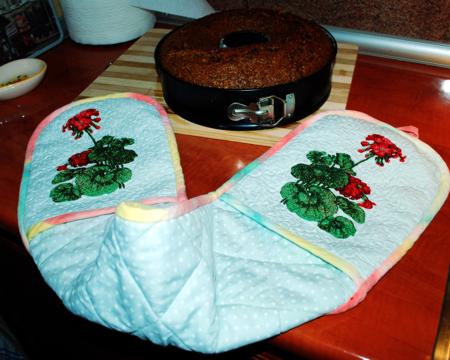 Besides embroidery thread (either polyester or rayon), you will need

light- to medium-weight cut-away stabilizer,
about 3/4 yard of light-colored cotton fabric,
a piece measuring 9" x 36" of Therma-Flec Heat Resistant Fabric, or similar product,
batting,
quilting threads,
quilter's ruler and rotary cutter, or a graphic pencil and sharp scissors,
removable fabric marker,
binding.
Cutting:
Out of heat resistant fabric cut a strip measuring 9" x 36".

Cut strips of the same size out of the cotton fabric and batting.

Also out of the cotton fabric, cut 4 squares measuring 10" x 10". Cut 2 squares of the same size from batting.
Emboridery and Quilting of the "Pockets".
Embroider the Geranium designs on the 10" x 10" squares. Use light- to medium-weight cut-away stabilizer for embroidery. You'll need 2 stitch-outs.
After the embroidery is finished, cut away the excess stabilizer around the embroidery.

Place the remaining 2 fabric squares on your working surface, face down, and cover with the batting squares. Place your stitch-outs, face up, over the batting. Pin all 3 layers together and quilt in a free-motion style.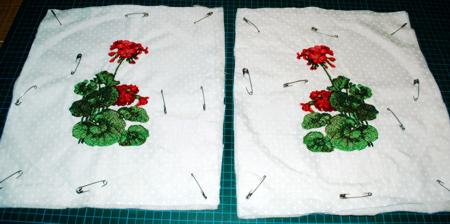 Trim the working piece to 8" x 8" square. Finish the lower raw edges with the binding.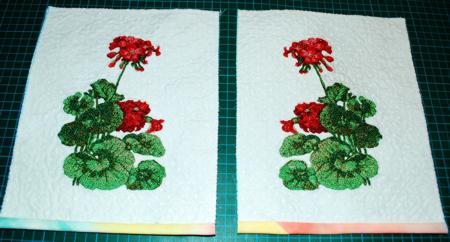 Quilting and Assembly:

Lay the heat resistant strip, face down, cover it with the batting strip and place the cotton strip on top.

With the removable marker draw a 2" x 2" graph on the cotton strip.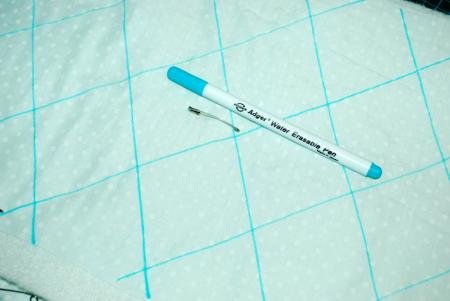 Quilt along the graph lines.

Trim the strip to 8" x 35 1/2".
Place the "pockets" on the ends of the quilted strip. Pin in place.


Using a plate, draw a rounded edge on the corners.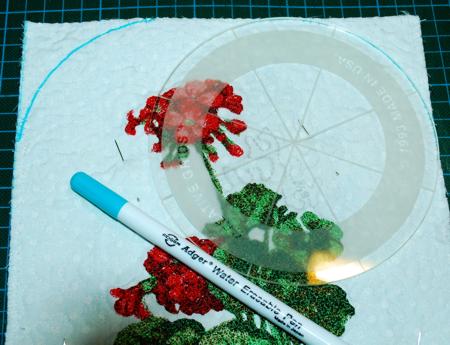 Cut away the corners. Using either zig-zag stitch, or straight stitch with 1/4" seam allowance, stitch the pockets to the strip.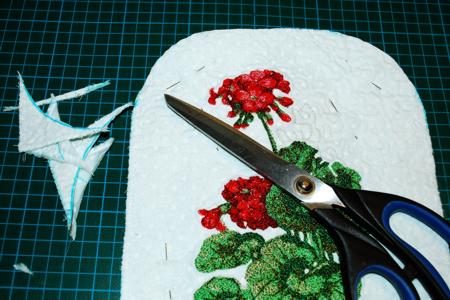 Make 2 loops and pin to the short ends.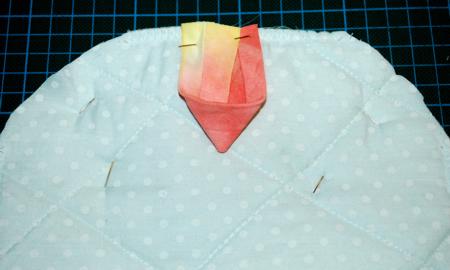 Finish the raw edges with the binding.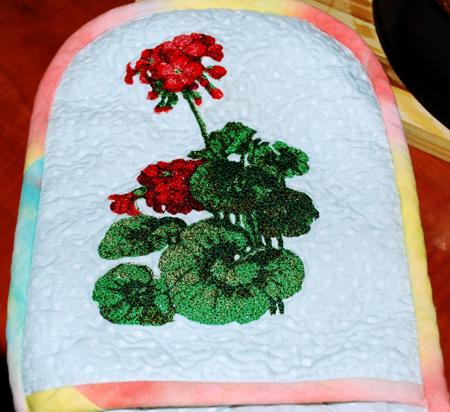 Your potholder is done!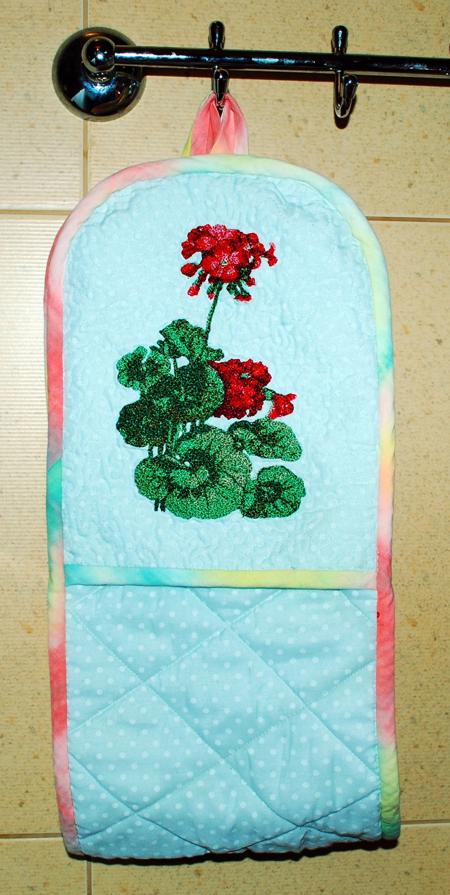 Enjoy!
Happy Stitching!
Back to Geranium
Back to the Project Page