Star with Santa Wall Quilt or Table Topper
This gorgeous star-shaped quilt features the pattern Santa Claus for the mega (7" x 8") hoop.

The finished size of quilt is about 25 1/2" x 20 1/2" (65 cm x 52 cm).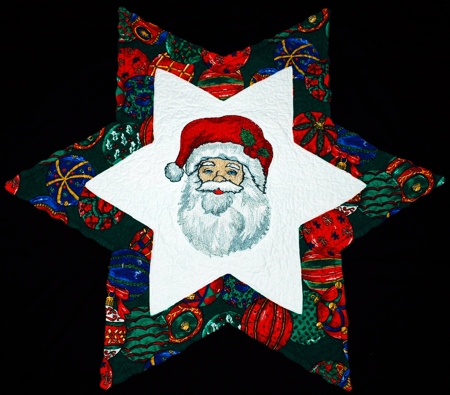 You will need:

embroidery thread (either polyester or rayon)
medium- to light-weight iron-on stabilizer or interfacing,
light-colored fabric for the central embroidered part,
Christmas patterned fabric for the star-shaped border,
fabric for the backing (we used the same fabric for the border and for the backing),
batting,
graphic pencil, scissors and fabric glue (optional).
Sewing the Quilt/Table Topper

Step One: Although it's not too difficult to make the template from scratch, using our ready-made one is much easier! Download the file with the template. To open and print the template, which is a PDF file, you will need Adobe Reader or a similar program. The program is free to download and install.

Step Two: Print out the template.
Step Three: Adhere the fabric for the top to the iron-on cut-away stabilizer or interfacing.

Lay the piece out with the stabilizer facing up. Position your template over the stabilizer and trace the template with a pencil.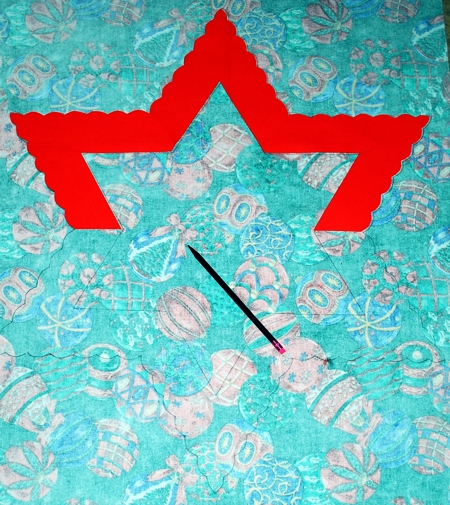 Step Four: With a pair of sharp scissors, cut out the central part 1/2" from the inner line.

Cut notches into the seam allowance from the edge to the inner line.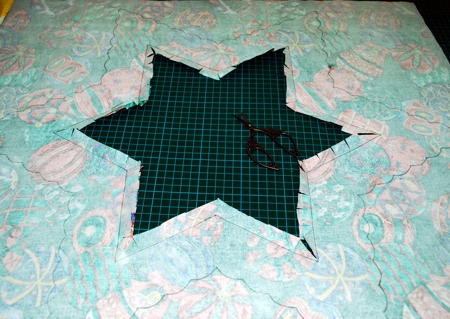 Step Five: Fold the notched fabric back, press. Optional: using fabric glue, adhere the notches to the stabilizer. Leave to dry.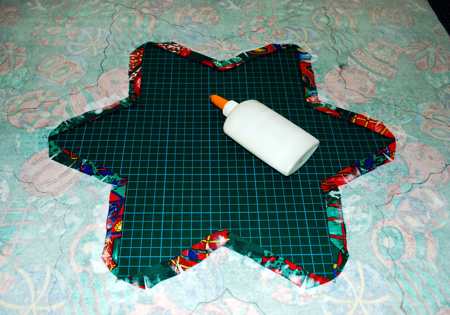 Step Six: Position the batting on the table and cover with the fabric for the backing, face up.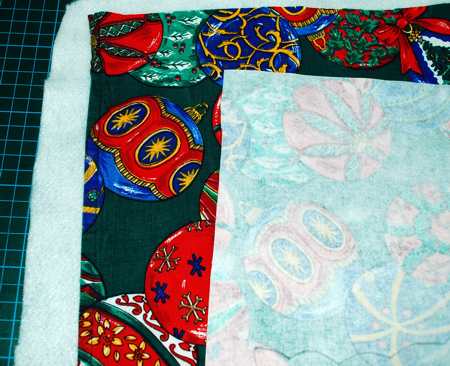 Cover with the working piece, face down.
Pin all the layers together.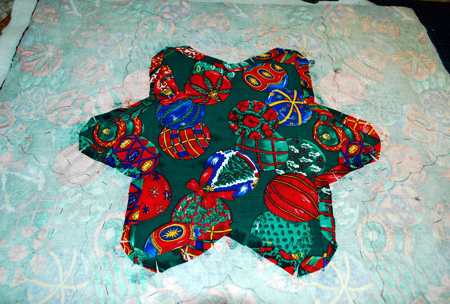 Step Seven: On your sewing machine, topstitch along the outer line.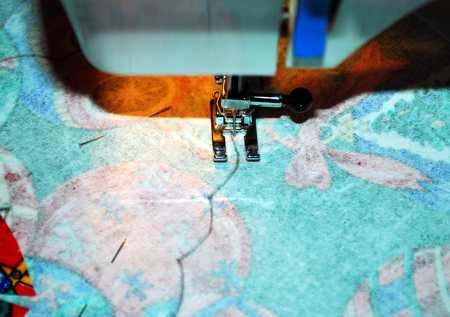 Step Eight: Cut away excess fabric and batting along the outer line leaving about 1/4" of seam allowance.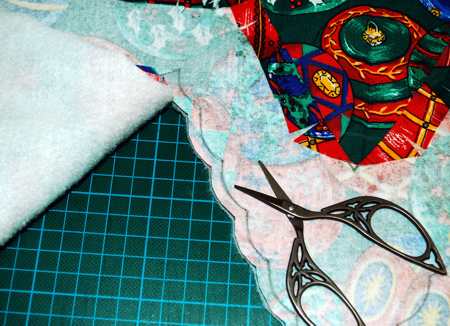 Then cut away the batting under the seam allowance close to the stitches.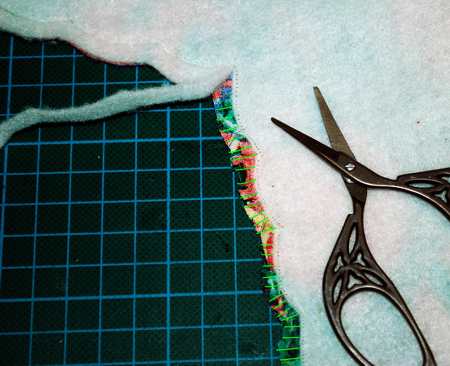 Cut notches in the seam allowance.
Step Nine: Turn the working piece right side out and lay flat.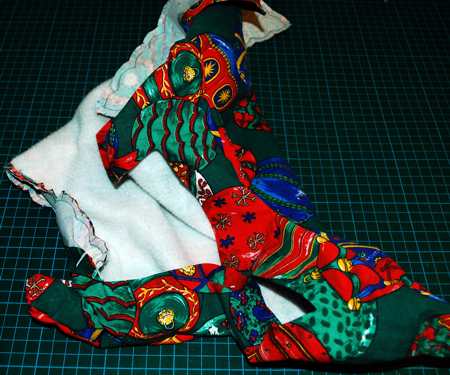 Take your time to straighten all of the star's rays. Press the seams, if needed.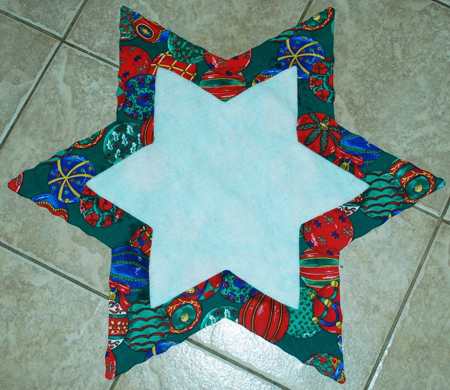 Step Ten: Top-stitch 1/4" (6 mm) from the outer edge.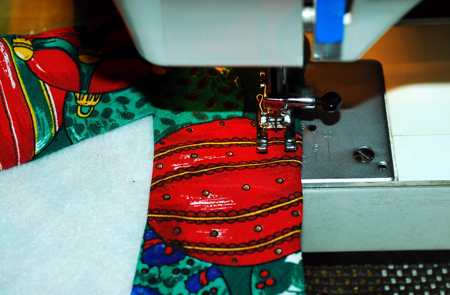 Embroidery:
Step Eleven: On the fabric for the central part, make the embroidery.
Step Twelve: Using your template, trace its inner line with a removable marker over the fabric with the stitch-out. Cut out with 1/2" of seam allowance.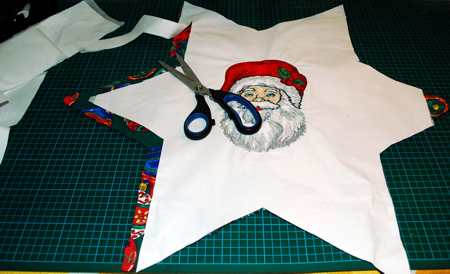 Step Thirteen: Insert the central part with the stitch-out into the "frame". Straighten all the rays of the star.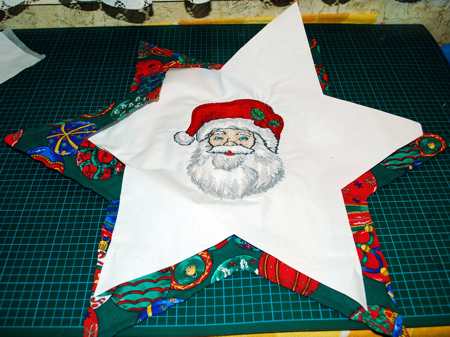 Step Fourteen: Pin all layers together. On your sewing machine, topstitch along the inner line of the frame.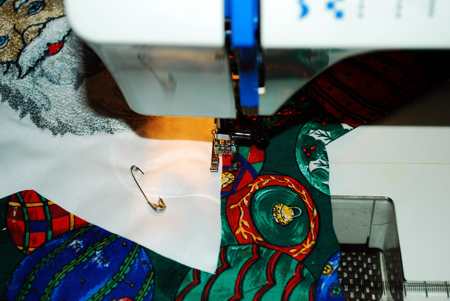 Then quilt around the embroidery and all over the piece.
That's all! The quilt is done!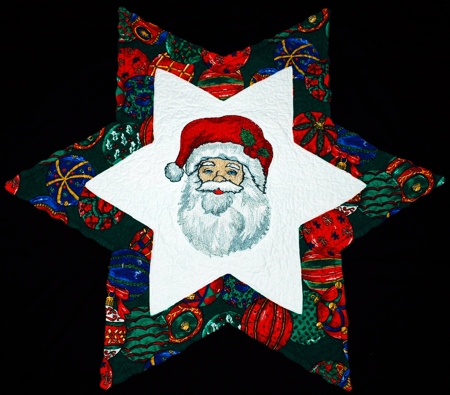 Enjoy!
Happy Stitching!
Back to Project Page
Back to Santa Claus