VanGogh Olive Trees Coloring Quilt
For this small, charming wall quilt, we used the embroidery design Olive Trees with Yellow Sky and Sun by Vincent van Gogh for a mega hoop.

You can hang this up on your wall, or a great alternative idea is to make a quilted greeting card with a stitch-out for a large, 5x7, hoop.

Besides embroidery thread (either polyester or rayon), you will need

light-weight cut-away stabilizer,
a piece of light-colored cotton fabric for embroidery,
fabric inks, pencils, coloring blocks or markers - whichever you prefer,
scraps of cotton fabrics to match the coloration of the quilt (choose them after you color the picture),
batting,
quilting threads to match the fabrics,
quilter's ruler and rotary cutter (or graphic pencil and sharp scissors).
Emboridery
Stabilize the light-colored piece of fabric with light-weight cut-away stabilizer for embroidery. Upload the design into the machine and embroider it with a dark thread - e.g black, dark brown, dark green.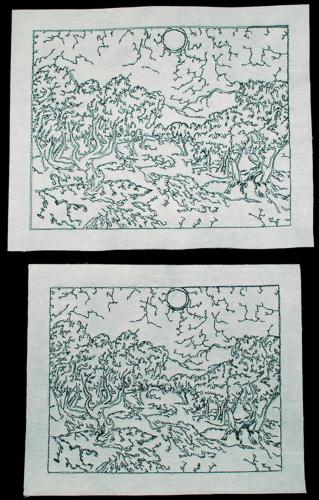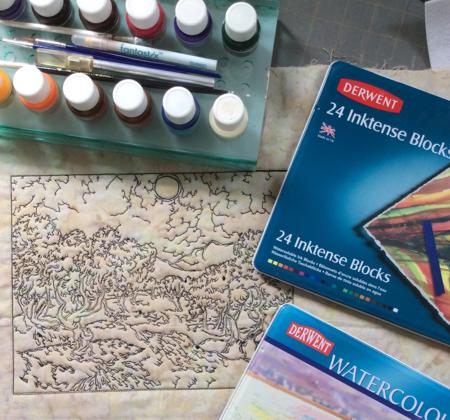 Coloring:

Using fabric dyes, color the embroidery. You can choose color to match Van Gogh's original painting, or pick your own. Follow the instructions of the dye manufacturer. If you used wet paints, inks or fixator, leave the stitch-out to dry.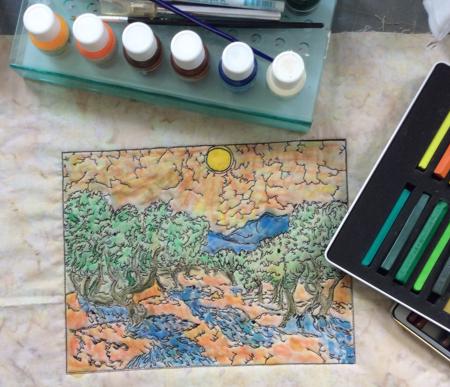 After the coloring is finished, using a ruler and a rotary cutter, trim the stitch-out leaving 1" around the embroidery.

Cut away the excess stabilizer around the embroidery. Do not remove the stabilizer under the embroidery.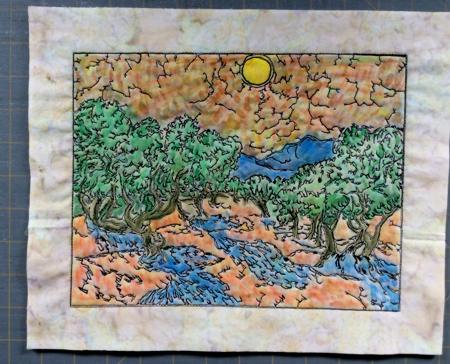 Now select fabrics of matching colors. Batiks work best for the purpose, in our opinion.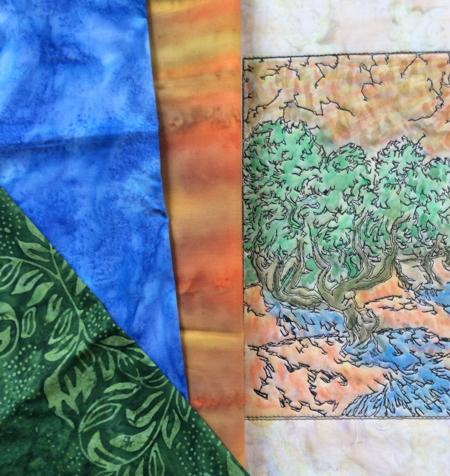 We made 3 narrow borders around the stitch-out.
The first border is orange and 3/4" wide. Cut strips 1 1/2" wide.
The second border is blue and 1/2" wide. Cut strips 1" wide.
The third border is dark green and 1 3/4" wide. Cut strips 2" wide.
Cut the binding out of the same dark green batik.

Quilting and Finishing:
Now place the backing on a flat surface (table) face down. Cover with batting. Spread your working piece over it.

Pin all three layers together with 1" pins and start quilting. We quilted with parallel lines along the light margin around the embroidery, the first and the second borders. The third border is quilted with a meandering pattern.
After the quilting is finished, press the work with heavy steam and square the work -- all corners should be 90 degrees and opposite sides should be of the same length.

Finish the raw edges with the binding.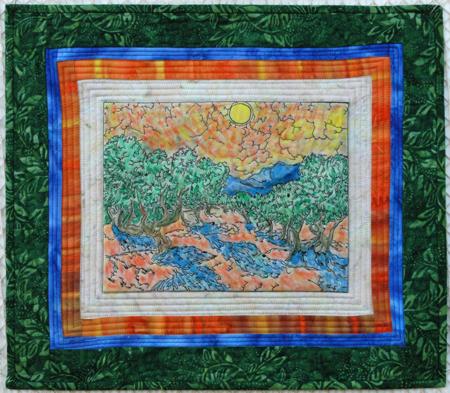 Your quilt is ready. Enjoy!

Enjoy!
Happy Stitching!
Back to Olive Trees with Yellow Sky and Sun by Vincent van Gogh.
Back to the Project Page