Glass Case in-the-Hoop
These are instructions on how to embroider and finish the design Glass Case-in-the-Hoop. The case can also be used as a pen holder.

The finished size is about 6" long x 3" wide (at top) x 3 3/4" wide (at bottom).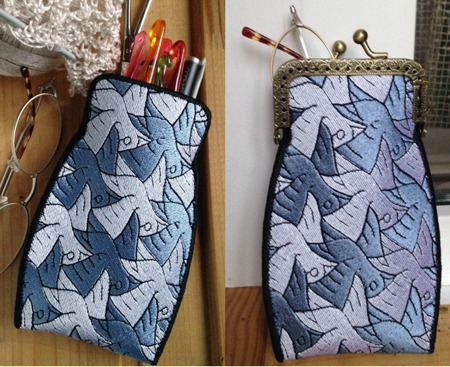 You will need

embroidery thread (either polyester or rayon), choose the colors to your taste,
light- to medium-weight cut-away stabilizer,
light-weight polyester non-fraying fabric,
sew-on square purse frame 3" wide (optional)
Embroidery:
Upload the design of the Glass Case into the machine. Stabilize your fabric, and embroider the design.

We chose shades of grey. You can choose any colors you like.
After the embroidery is done, cut away the stabilizer.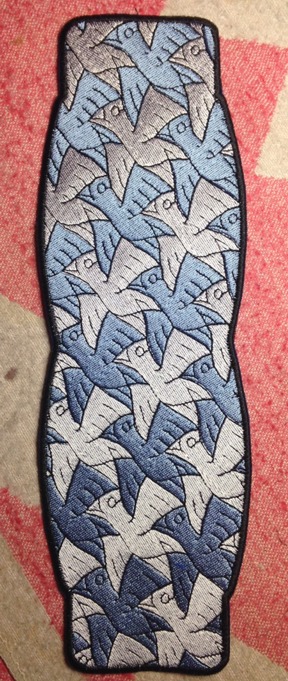 Assembly :

Fold the working piece in half widthwise. Align all edges.
On your sewing machine, using the same thread with which you embroidered the edge, sew the sides together. Start from the points marked with blue arrows in the picture below:

If you have an appropriate purse frame, attach it by hand at this point.
However, you do not need the frame, you can use the case without it.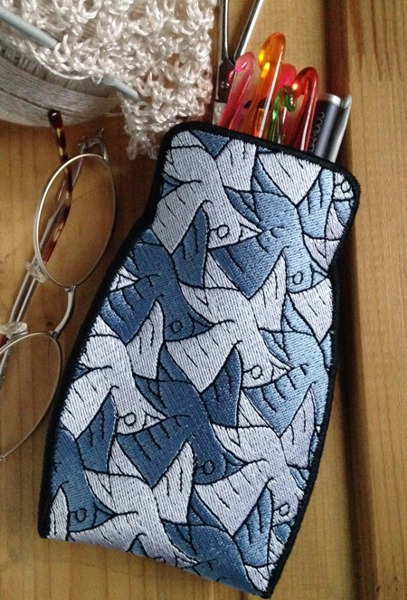 Your glass case is done. Enjoy!

Back to Glass Case-in-the-Hoop