Quilted Cushion with Poppy Embroidery
For this project, we used the photo-stitch design Poppy for the large and mega hoops. As you can see, the composition is quite minimalist, yet I think it works well with this particular design. The finished cushion has a very simple, clean look with something of an Oriental flavor.

The finished size is about 16" x 16".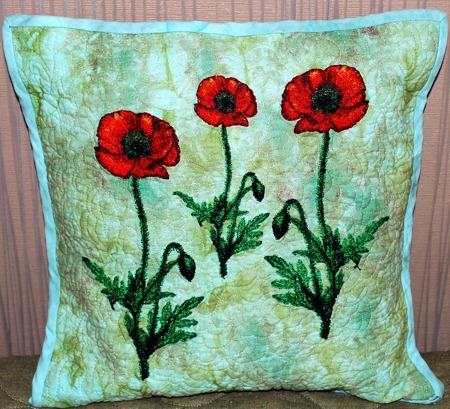 You will need

about 1/2 yard (or 2 fat quarters) of light-colored marble or batik fabric,
medium-weight cut-away stablizer,
low-loft batting or polyester craft felt,
either stuffing or a pillow shape about 14"-15" square,
bias tape or binding.
Embroidery:
Cut the fabric for the pillow in half, stabilize one half with medium-weight cut-away stabilizer. Upload the Poppy files into the machine. Embroider the design three times.

If you have embroidery software on your computer and a printer, you can use print-outs to decide the position of the embroidery before you stitch.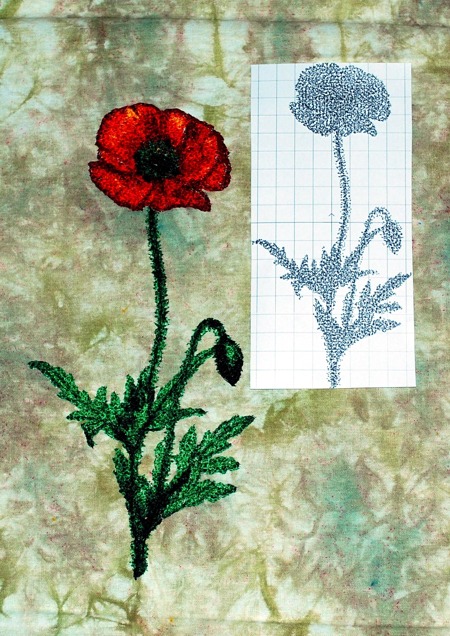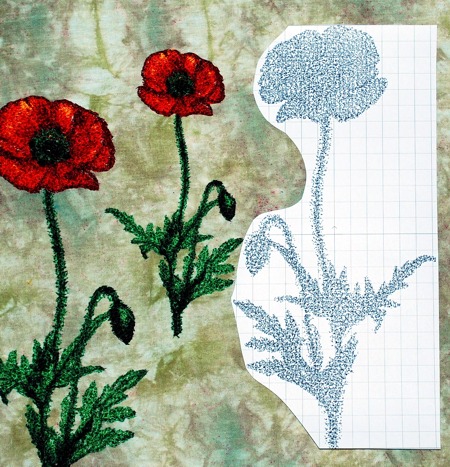 Trim the stitch-out to 18" x 18".
Out of the remaining fabric cut a square measuring 18" x 18".
Quilting:

Spread both squares over the pieces of polyester craft felt or low-loft batting. Pin both layers together.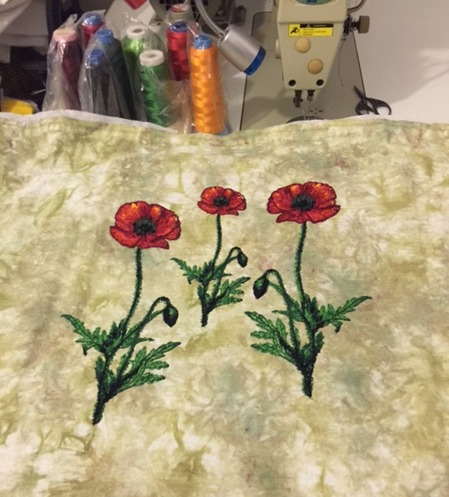 Quilt both the front and the back panels in a free motion style. Remove the pins while quilting.
When finished, press the panels with heavy steam and square the work -- all corners should be 90 degrees and opposite sides should be of the same length.
Trim both panels to 16 1/2" x 16 1/2" squares.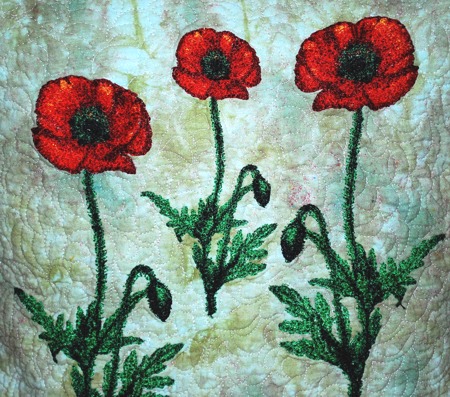 Finishing:
Place the back panel face down, and cover with the front panel face up. Align all edges. Pin them together. Sew them together along the edges with seam allowance 1/4". Leave an opening about 10"-12" long.
Through the opening, insert a pillow form. Sew the opening closed.
Finish the raw edges with binding.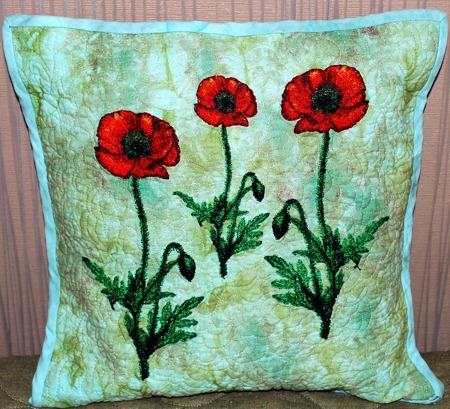 Your pillow is done. Enjoy!

Back to Poppy
Back to the Project Page