Stained Glass Applique Wall Hanging or Tablerunner
In this project, we used the Stained Glass Applique Flower Panel design for the mega hoop to create a small, colorful wall hanging

The finished size is about 16 1/2" x 33".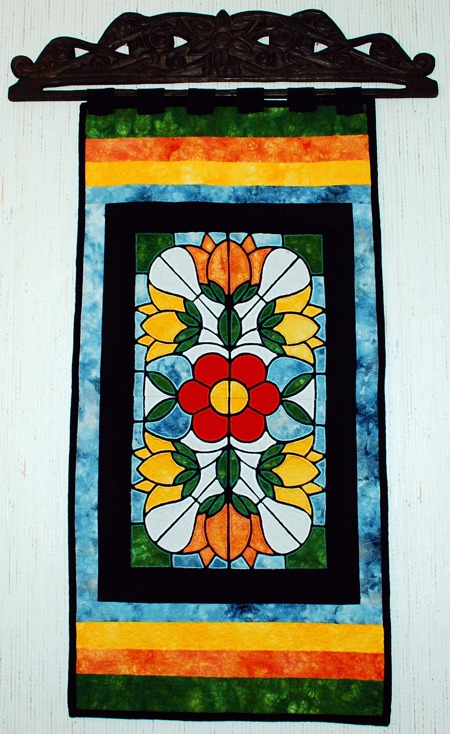 You will need

base fabric (we recommend black) about 1/2 yard;
4 fabrics in bright colors used for the wall-hanging top and for the applique,
small amount of white fabric for the applique,
light-weight cut-away stabilizer,
scissors with curved ends for cutting away excess applique fabric,
rotary cutter and quiter's ruler, or ruler, pencil and scissors.
backing, batting and binding.
Embroidery:
Please read the instructions on how to embroider and assemble the central panel.
Cutting:

Trim the central panel to 14 1/2" x 18 1/2".

Out of blue fabric, cut

2 strips measuring 1 1/2" x 18 1/2" and
2 strips measuring 1 1/2" x 16 1/2";
Out of the yellow and orange fabrics each, cut 2 strips measuring 2" x 16 1/2",
Out of green fabric, cut 2 strips measuring 2 1/2" x 16 1/2".
Assembly of the Top:

Note: seam allowance is 1/4". Press every seam immediately after you make it.
Sew the blue 1 1/2" x 18 1/2 strips to the left and right edges of the front panel.


Sew the remaining blue, yellow, orange and green strips into two blocks: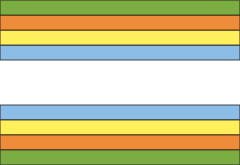 Sew the blocks to the top and bottom edges of the central part.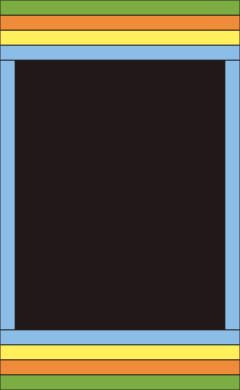 Quilting and Finishing:
Press the top. Place the backing on a flat surface (table) face down. Cover with batting. Spread the top over it.

Pin all three layers together with 1" pins and start quilting. We quilted in a free-motion style around the embroidery along the black lines and with a meandering pattern on the borders.
After the quilting is finished, press the work with heavy steam and square the work -- all corners should be 90 degrees and opposite sides should be of the same length.

Finish the raw edges with the binding.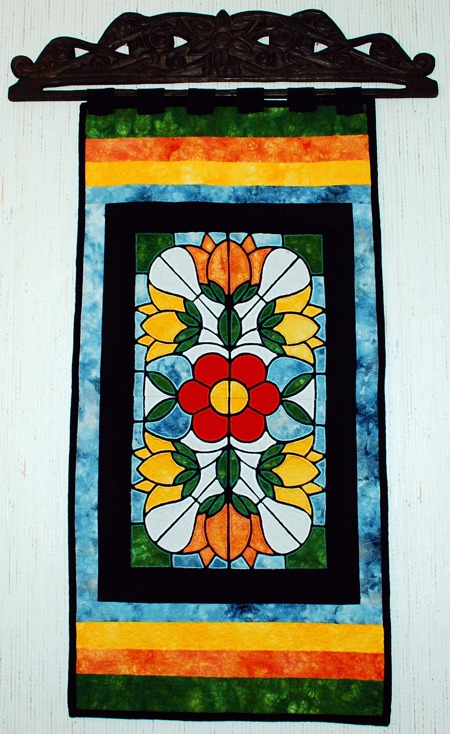 Your wall-hanging is done. Enjoy!

Back to Stained Glass Applique Flower Panel
Back to the Project Page