This colorful, zany wall quilt features a fun tropical theme and the design of the Great Hornbill Bird. It's great for a children's room.

The finished size is about 15" x 21".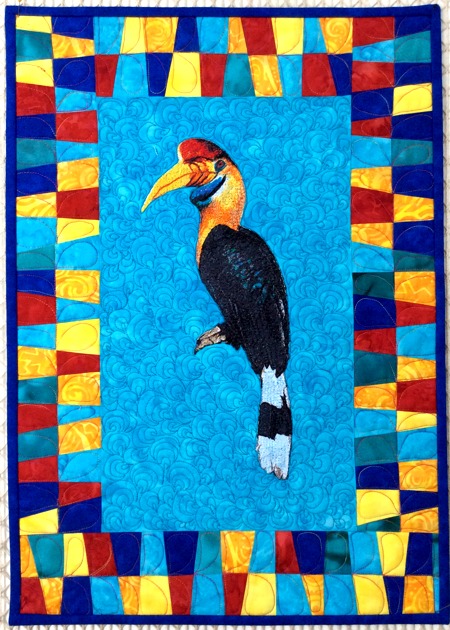 .

You will need :

embroidery threads (follow the color card of the Great Hornbill design),
a fat quarter of peacock blue cotton fabric or batik for the central embroidered part;
scraps of different fabrics - yellow, blue, red, etc. (it's best to do the embroidery before selecting your scraps; this way, you can match the colors of the embroidery exactly);
medium- to heavy-weight iron-on cut-away stabilizer for the embroidery,
batting,
fabric for the backing and binding,
quilting thread,
quilter's ruler and rotary cutter, or pencil and scissors.
Cutting:
Out of fabric for the central part, cut a piece measuring 9 1/2" x 15 1/2".
Out of fabrics for the borders, cut strips measuring 2" x 14 1/2". You need 14 such strips of different colors.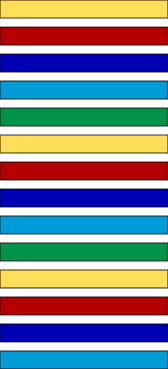 Sew these strips together in pairs to get seven 2-color strips. Note: seam allowance is 1/4", press each seam after you make it.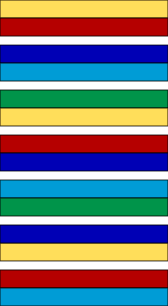 Stack the 2-color strips on top of each other. Align all edges.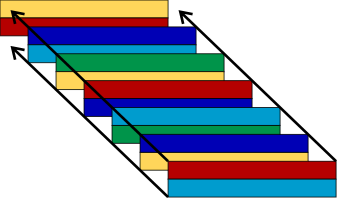 Using a quilter's ruler and rotary cutter, make 9 cuts through the stack. You will get 10 irregularly shaped stacks.
Assembly on the Borders

:
Note: seam allowance is 1/4", press each seam after you made it.
On your working table lay out the pieces of each stack in a column.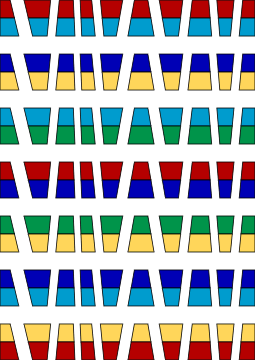 At random, take 1 piece from the first column, 1 piece from the second column, 1 piece from the third column and 1 piece from the fourth column, etc., until you form a new strip with all 9 pieces in it.

Sew the pieces together.

Repeat with the remaining strips. You'll get seven 3 1/2" x 9 1/2" "crazy" strips.

Sew 6 strips in pairs to get 3 long strips.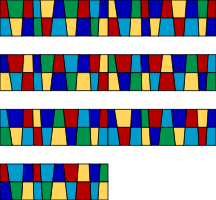 Assembly of the Top:
Sew the seventh (short) strip to the upper edge of the central part.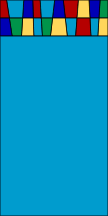 Sew long strips to the left and right edges of the central part.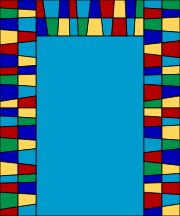 Sew the remaining long strip to the bottom of the top. The strip is longer than needed. Press the seam and trim the protruding ends.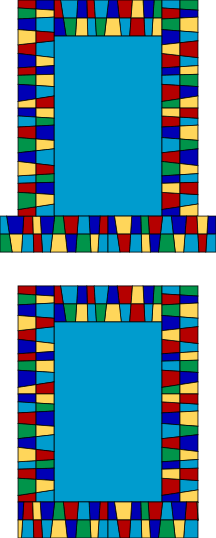 Embroidery:
Upload the file of the Great Hornbill into the embroidery machine. Stabilize the central part with heavy-weight stabilizer. Embroider the file in the center of the quilt.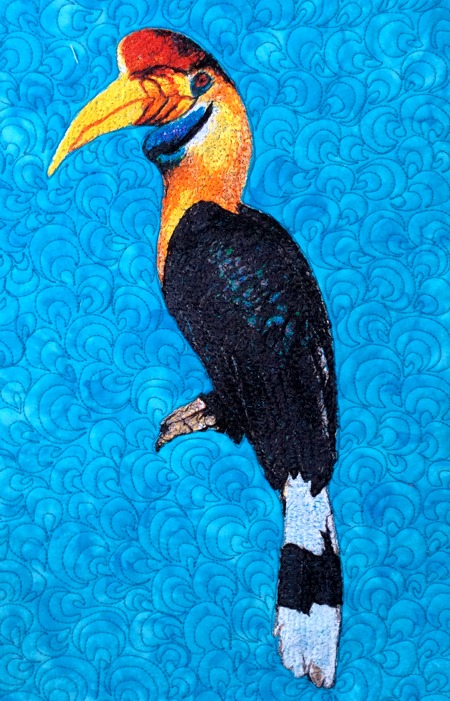 Quilting and Finishing:
Now place the backing on a flat surface (table) face down. Cover with batting. Spread your working piece over it.

Pin all three layers together with 1" pins and start quilting. We quilted around the embroidery and all over the quilt in a freemotion style.
After the quilting is finished, press the work with heavy steam and square the work -- all corners should be 90 degrees and opposite sides should be of the same length.
Finish the raw edges with the binding.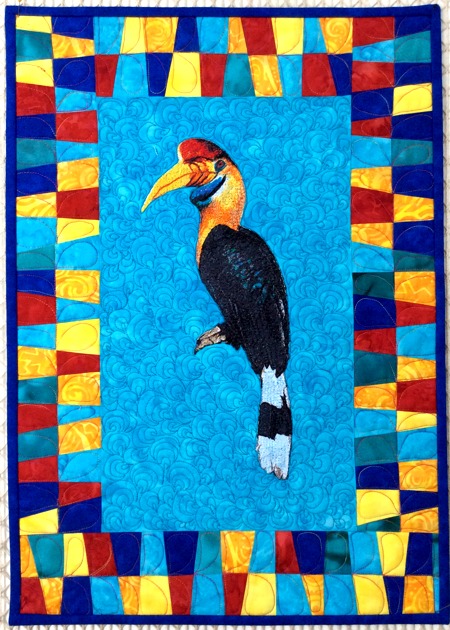 Enjoy!
Back to Great Hornbill Bird
Back to Projects Page