This festive table runner is quick and simple to put together. We used the design Applique Christmas Tree Ornament for the commercial (8" x 12") hoop.

The finished size of the table runner is about 16" x 48".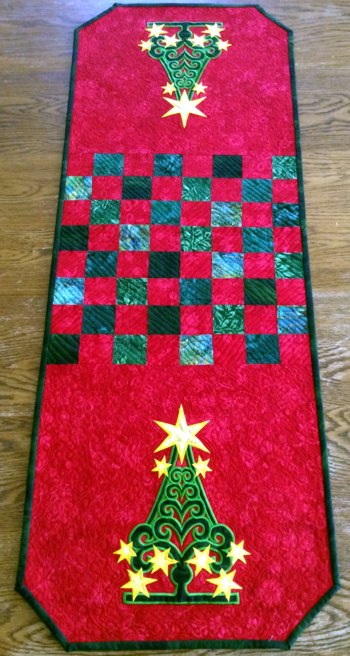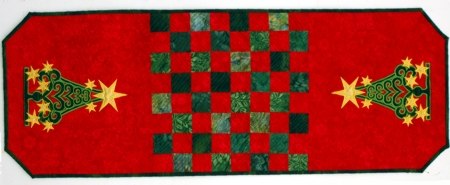 You will need :

embroidery threads (either rayon or polyester),
light-weight cut-away stabilizer,
about 3/4 yard of red cotton fabric,
scraps of green fabrics,
1 fat quarter each of yellow/gold and green fabric for the applique,
batting,
fabric for the backing,
binding,
quilting thread,
quilter's ruler and rotary cutter, or pencil and scissors.
Cutting:
Out of red fabric, cut 2 squares measuring about 19" x 19", or large enough to be hooped in your largerst hoop. After embroidery these squares will be trimmed to 16 1/2" x 16 1/2".

Out of red fabric, cut 32 squares measuring 2 1/2" x 2 1/2".

Out of scraps of green fabrics, cut 32 squares measuring 2 1/2" x 2 1/2".
Embroidery

:

Upload the file of the Applique Christmas Tree Ornament into your machine. Stabilize the red squares with light-weight cut-away stabilizer and embroider the file on the fabric. The file contains the instuctions on how to make a 3D ornament. Follow steps 1 through 9 of the instructions, but place the applique fabric on the top of the hoop only. You do not need to change the bobbin threads because this applique is one-sided.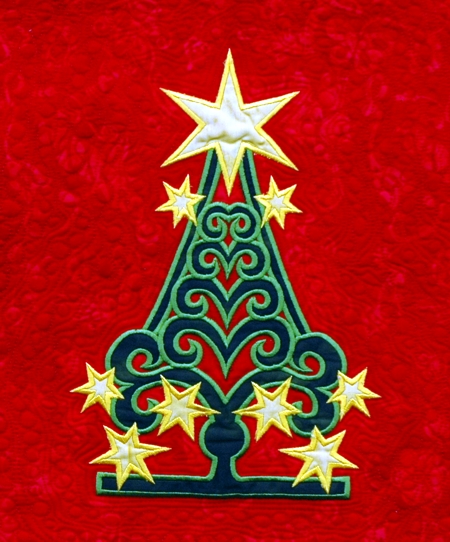 After the stitch-out is done, trim the stitch-outs to 16 1/2" x 16 1/2" squares.

Assembly of the Top:
Note: seam allowance is 1/4", press each seam after you made it.
Sew the 2 1/2" red and green squares into 8 strips, 4 red and 4 green squares per strip:


Sew the strips together to get the central part of the tablerunner.

Sew the embroidered squares to the ends of the the central part.


Quilting and Finishing:
Now place the backing on a flat surface (table) face down. Cover with batting. Spread your working piece over it.

Pin all three layers together with 1" pins and start quilting. We quilted in a freemotion style all over the tablerunner.
After the quilting is finished, press the work with heavy steam and square the work -- all corners should be 90 degrees and opposite sides should be of the same length.

You can leave the tablerunner with a recangular shape.

If you want it to have our shape, measure 3" along both sides of each corner, mark the place. With a rular connect both marks, draw a diagonal, cut along this diagonal.
Finish the raw edges with the binding.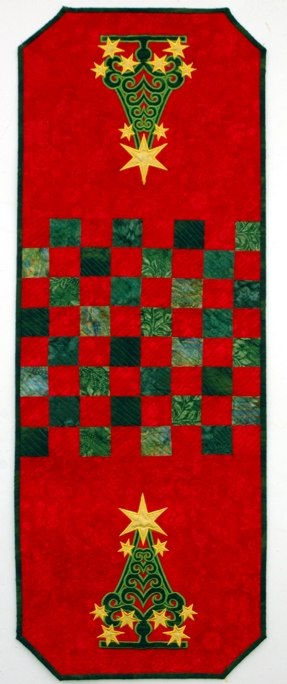 Enjoy!
Back to Applique Christmas Tree Ornament
Back to Projects Page