Coral Reef Table Runner with Machine Embroidery
For this fun ocean-themed table runner, we used the designs from the Nautical Set II and Fairy Tale Fish Set.

Please note that the designs from the nautical set are in the cutwork technique. We did not cut away the fabric and embroidered them as regular satin-stitch designs.

The finished size of the table runner is about 16" x 42".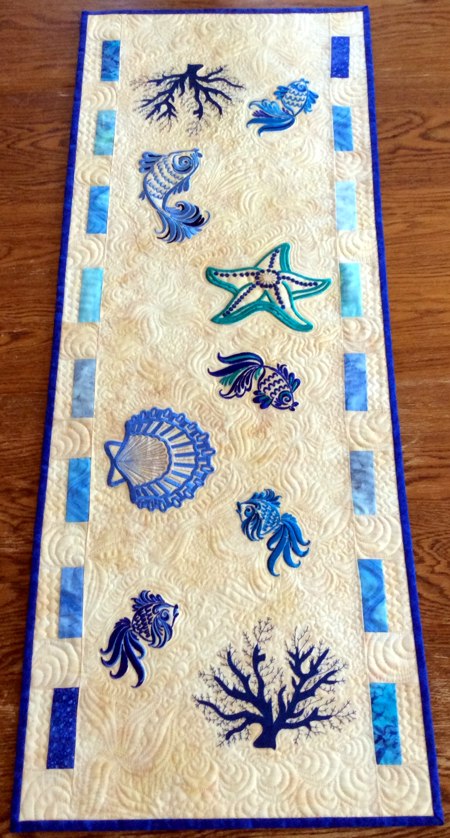 You will need :

embroidery thread (you can pick any colors you like; we used blue tones to match our fabric),
light-weight cut-away stabilizer,
3/4 yard of sand-colored cotton fabric (we used a sand-colored batik),
3 strips (2 1/2" x 38"-40") of blue fabric for the binding,
scraps of blue and turquoise cotton fabrics (in the text, we're calling them "blue" strips),
batting,
fabric for the backing,
quilting thread,
quilter's ruler and rotary cutter, or pencil and scissors.
Cutting

Out of the sand-colored fabric, cut

a piece measuring 12 1/2" x 42 1/2",
18 squares measuring 2 1/2" x 2 1/2"
16 strips measuring 1 1/2" x 3 1/2".
Out of the scraps of blue and turquoise fabrics, cut 16 strips measuring 1 1/2" x 3 1/2".
Assembly of the Top:
Note: seam allowance is 1/4", press each seam after you made it.
Sew the sand and blue strips together in pairs along one long side. You'll get sixteen 2 1/2" x 2 1/2" two-colored squares.

Alternating the two-colored and sand-colored 2 1/2" squares, sew 2 strips. Each strip starts and ends with a sand-colored square and uses 8 two-colored and 9 sand-colored squares.


Sew the new strips to the long edges of the central part. The blue strips should be touching the central part.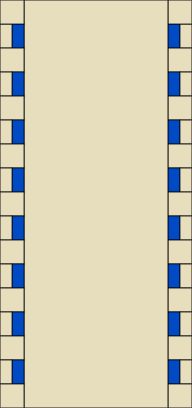 Embroidery:
Using your computer and embroidery program, print out templates of the designs from the Nautical Set II and Fairy Tale Fish Set. Print as many templates as you need.

If you do not have either a printer or embroidery software, or both, make templates out of paper. Construction paper of the same color as your embroidery thread works well for this. Check the exact size of each design (it's listed on the product page) and cut out a rectangle of that size. Make templates for all designs that you're going to use. If you're going to use a design more than once, make multiple templates.

Arrange the templates on the central part of the table runner. Pin them to the fabric.

Upload the files into your embroidery machine.

Embroider the files one by one. Use light-weight cut-away stabilizer.

Quilting and Finishing:
Now place the backing on a flat surface (table) face down. Cover with batting. Spread your working piece over it.

Pin all three layers together with 1" pins and start quilting. We quilted all over the runner in a free motion style.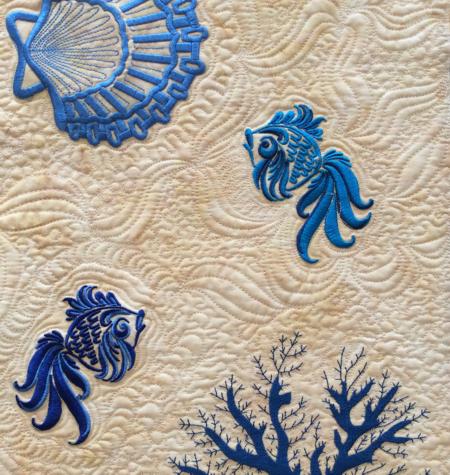 After the quilting is finished, press the work with heavy steam and square the work -- all corners should be 90 degrees and opposite sides should be of the same length.
Finish the raw edges with the binding.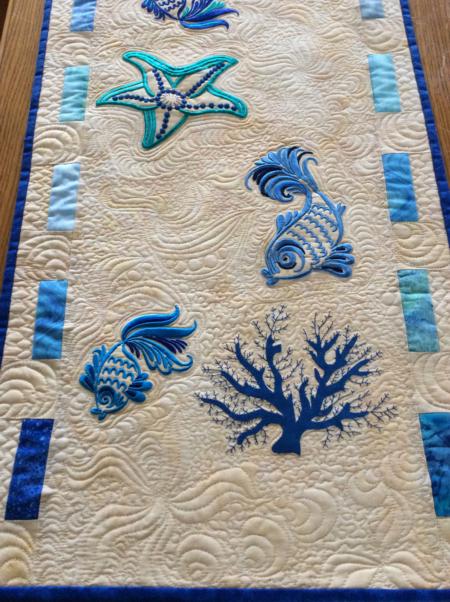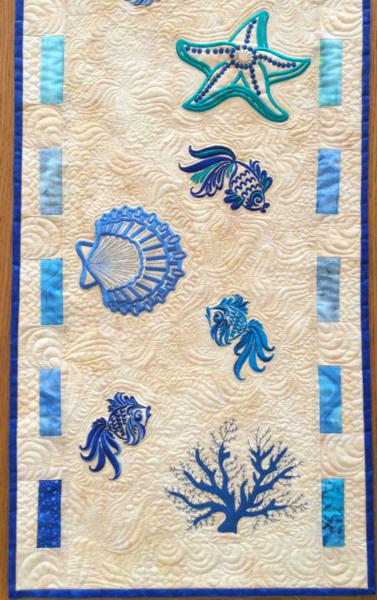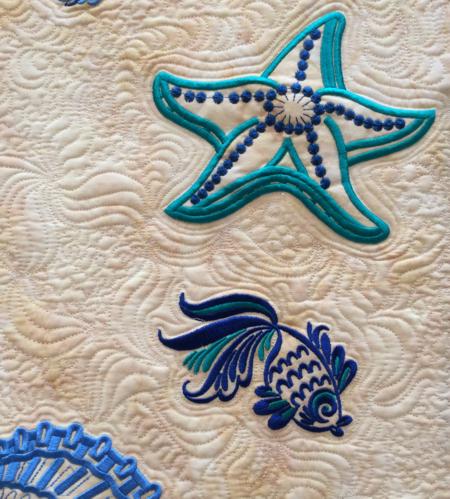 Enjoy!
Back to Nautical Set II and Fairy Tale Fish Set.
Back to Projects Page