Quilt Blocks / Frames with Redwork Corner Set # 22620
In this tutorial we show how you can make squares with the designs from the Redwork Corner Set. These are great for forming a frame around another embroidery design or another object.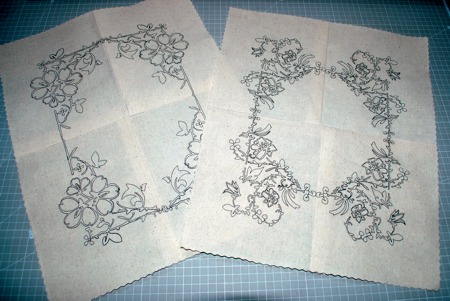 You will need :

embroidery threads,
light-weight cut-away stabilizer,
cotton fabric for the embroiudery,
pins, quilter's ruler and rotary cutter, or pencil and scissors.
Embroidery:

Upload any file from the Redwork Corner Set into your embroidery machine.

Stabilize the fabric with light-weight stabilizer. Hoop it, tighten the hoop.

Embroider the file. Hoop another piece of fabric and embroider the file again.

Either in your software, or better in your embroidery machine, flip the file to get its mirror image. Embroider the mirror image file twice.

Cutting and Assembly of the Blocks:

Note: seam allowance is 1/4", press each seam after you made it.
Using a quilter's ruler and a rotary cutter, trim the stitch-outs. You can leave as large margins as you'd like.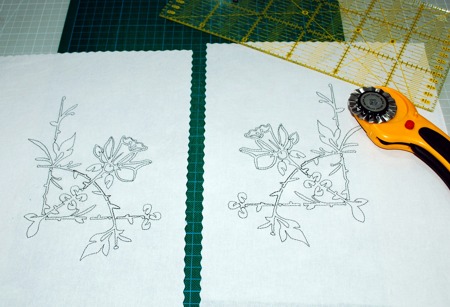 Position 2 stitch-outs with mirror images together, face to face. Align the edges. On your sewing machine stitch them together.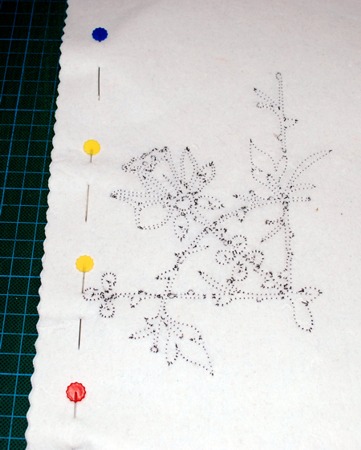 Sew another pair of stitch-outs together.
Position both parts face to face, align the edges. Sew them together.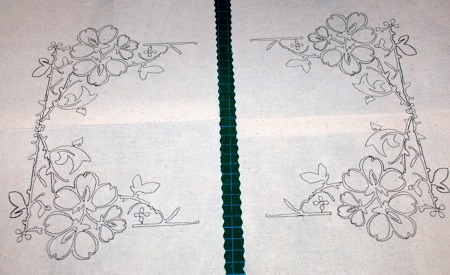 Press the last seam. The frame is done!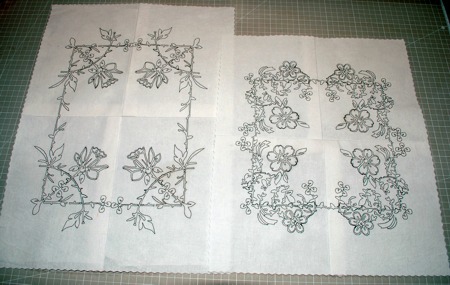 Enjoy!
Back to Redwork Corner Set
Back to Projects Page