Van Gogh Boats Coloring Art Quilt
For this small and simple nautical quilt we used the embroidery design of Fishing Boats on the Beach by Vincent van Gogh for the mega hoop. You can use any of the one-color designs from our Fine Art section. Just adjust the colors of the fabrics you use accordingly.

The finished size of the quilt is about 19" x 15".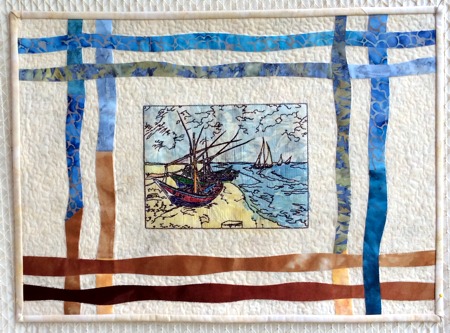 You will need

embroidery thread (either polyester or rayon)
light-weight cut-away stabilizer,
a piece of light-colored cotton fabric for embroidery (about 16" x 20"), we used sand-colored batik,
fabric inks, pencils, coloring blocks or markers - whichever you prefer,
scraps of cotton fabrics to match the coloration of the quilt (choose them after you color the picture),
Steam-a-Seam2 (fusible web) or similar product for applique,
batting,
quilting threads to match the fabrics,
quilter's ruler and rotary cutter (or graphic pencil and sharp scissors).
Embroidery:

Stabilize the light-colored piece of fabric with light-weight cut-away stabilizer for embroidery. Upload the design into the machine and embroider it with a dark thread - e.g black, navy blue, or dark green.
Coloring:

Using fabric dyes, color the embroidery. You can choose colors to match Van Gogh's original painting, or pick your own. Follow the instructions of the dye manufacturer. If you used liquid paints, inks or fixator, let the stitch-out dry before the next step.
Appliqued Borders:

After the stitch-out is dry, select fabrics for the appliqued borders. Cut them into strips 1" wide and about 16"-17" and 20"-21" long. You will need 4 strips of each size.
Following the fusing web directions, remove tissue paper from one of the sides of the web and lay your strip out on it.
Use a rotary cutter or scissors, to cut wavy edges into the strips.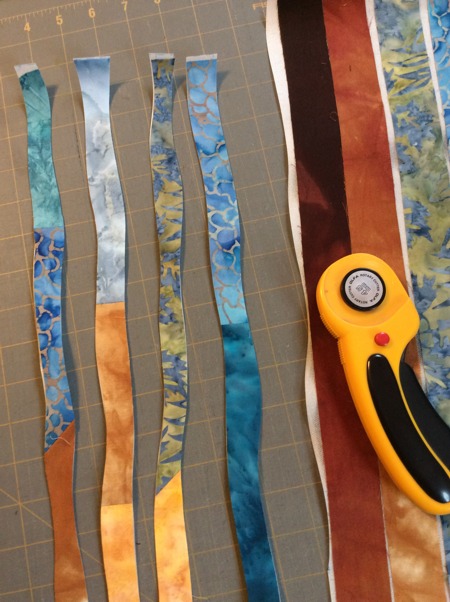 Remove the tissue paper from the other side of the web. Position the strips around the embroidery. Move them around until you are satisfied with the composition. Use a hot iron to fuse the strips to the fabric.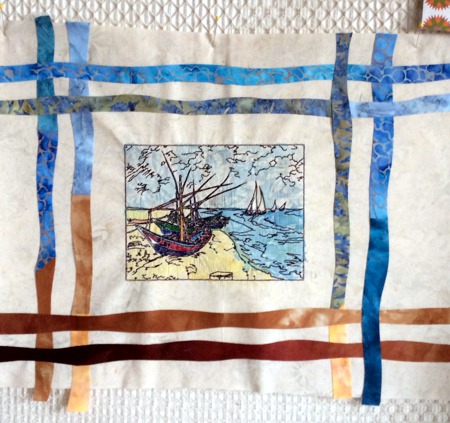 Quilting and Finishing:
Now place the backing on a flat surface (table) face down. Cover with batting. Spread your working piece over it.

Pin all three layers together with 1" pins and start quilting. We quilted around the embroidery and around the border strips with a free motion stippling pattern.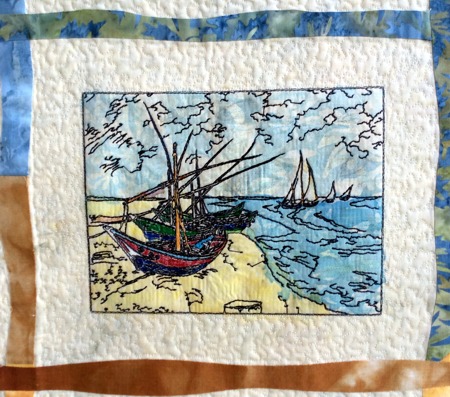 After the quilting is finished, press the work with heavy steam and square the work -- all corners should be 90 degrees and opposite sides should be of the same length.
Finish the raw edges with the binding.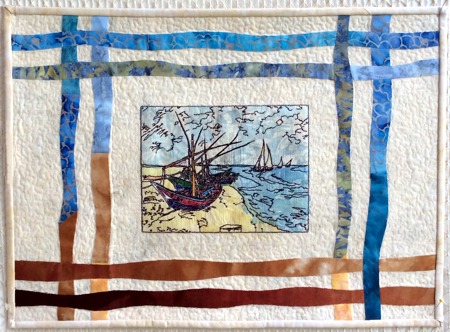 Enjoy!
Back to Fishing Boats on the Beach by VIncent van Gogh
Back to Projects Page