These are instructions on how to embroider the designs from the Crystal Snowflakes In-the-Hoop Set. The designs are for the small hoop (4" x 4").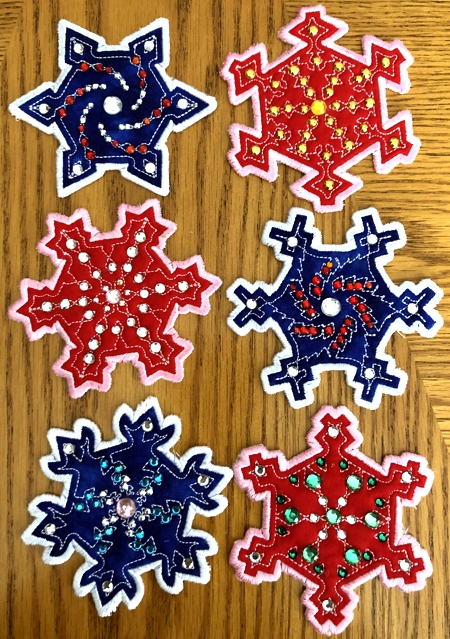 Size: 100 x 100 mm
Average number of stitches: 5,500
Colors: 3/3

You will need

embroidery thread, colors of your choice,
wash-away mesh stabilizer,
cotton fabric for the top, color of your choice,
polyester craft felt, colors of your choice,
scissors,
bowl of water,
rhinestones or hot fix crystals of different sizes (from 3 mm up to 8 mm) and shapes.
tweezers (optional, but very useful for smal crystals)
depending on the type of rhinestones and crystals, you might need either special/universal glue or iron (check the instructions).
Embroidery

:

Step One

: Prepare a sandwich out of a layer of water-soluble mesh, polyester craft felt and cotton fabric.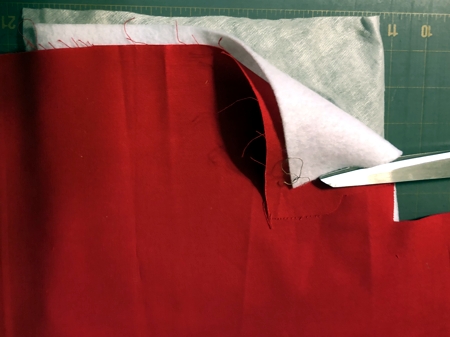 Hoop this sandwich, tighten the hoop.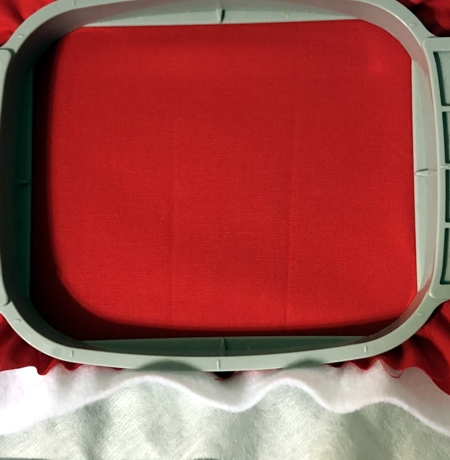 Step Two:

Upload a file into the machine. Start the machine and embroider the first 2 colors - the snowflake motif and the outline.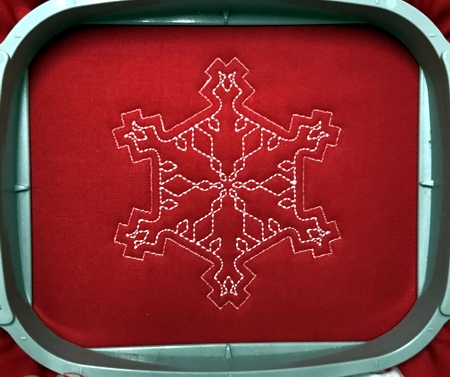 Step Three:

DO NOT UNHOOP! With a pair of sharp scissors, neatly cut away the top fabric around the outline. Take care not to cut through the stitches.
Then neatly cut away the felt. Take care not to cut through the stitches and the stabilizer!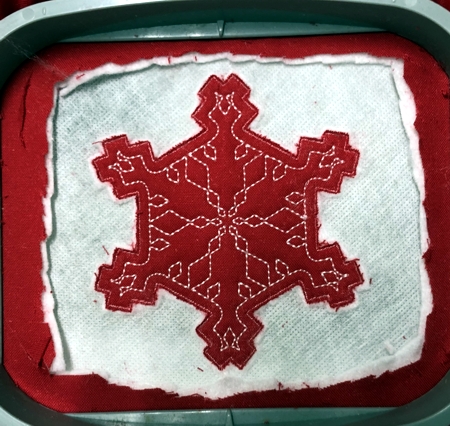 Step Four:

Return the hoop to the machine. The last color will finish the raw edges.

Open the hoop. Cut away the stabilizer close to the stitches.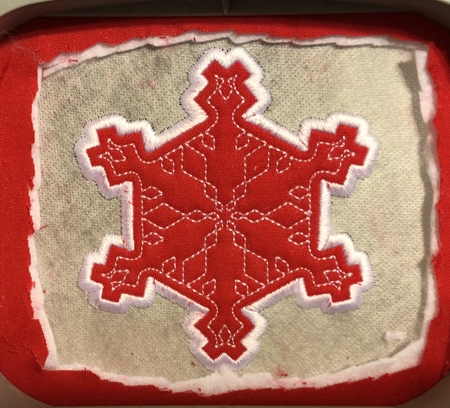 Step Five:

Fill the bowl with warm water and dissolve the remaining stabilizer.
Place the stitch-outs on the towel and leave to air dry.
Press if needed.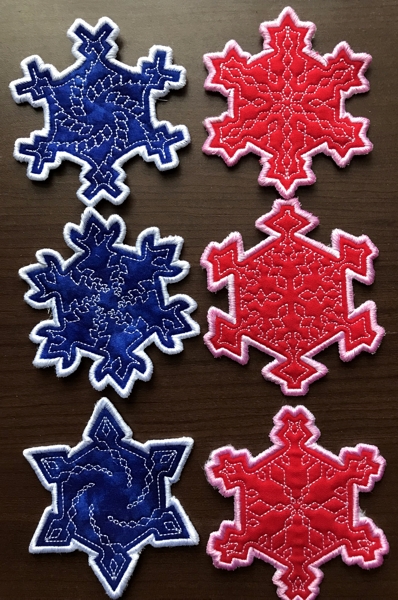 Get your rhinestones and/or crystals and tweezers. Depending on the type of rhinestones you'll need either glue or an iron.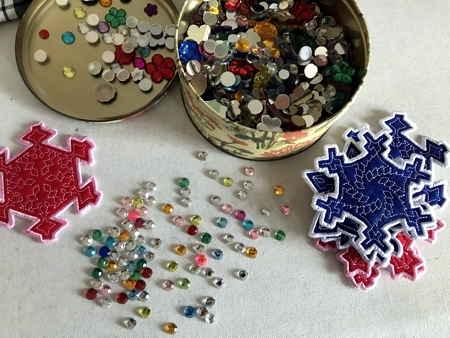 Follow the embroidery lines inside each snowflake and adhere the crystals.
We can recommend some products which used from Amazon.com: hot-fix crystals, which have an adhesive back activated by pressing with a hot iron. For attaching other types of embellishments, we recommend Beacon Adhesives Gem-Tac Permanent Adhesive.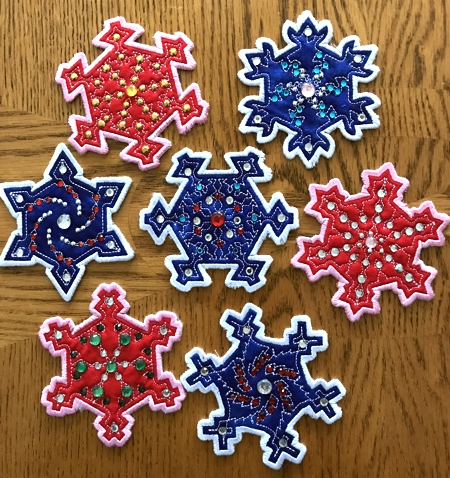 That's it! Have fun!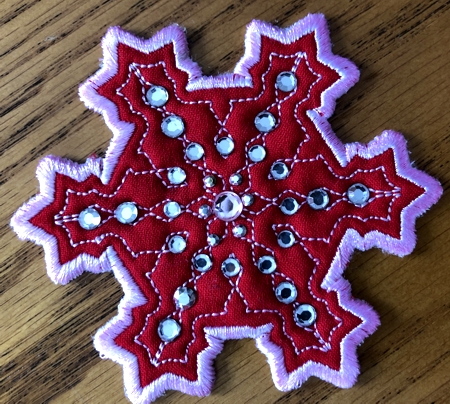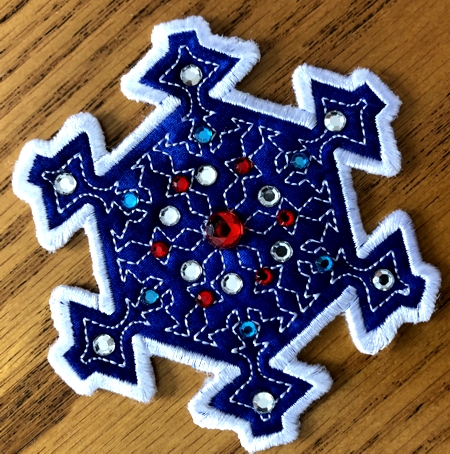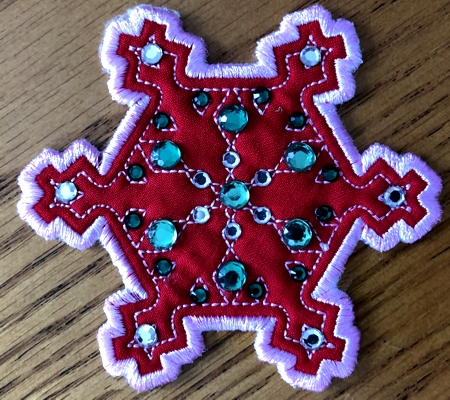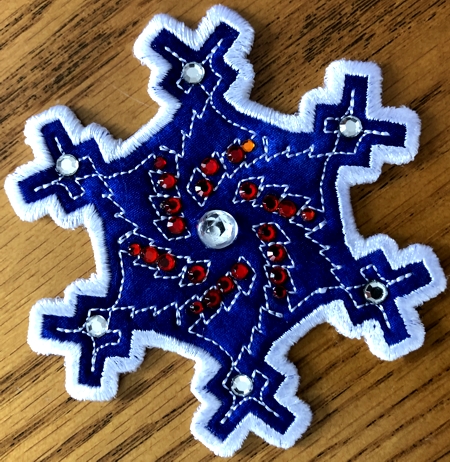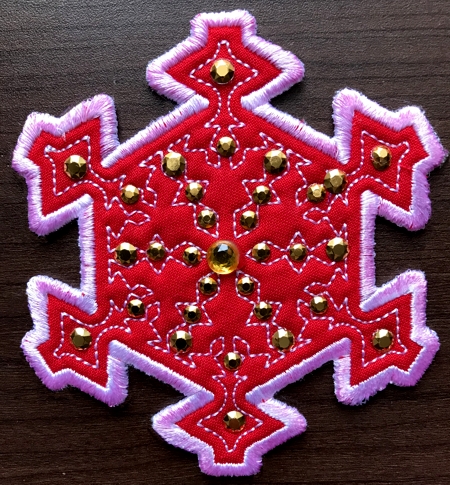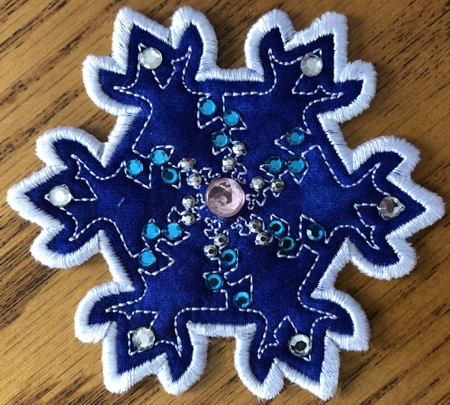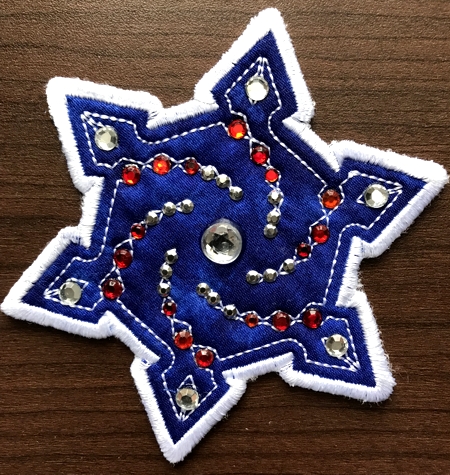 Back to Crystal Snowflakes In-the-Hoop Set
Back to Projects Page