Halloween Tree
We put up a Christmas Tree every year, so why not a Halloween Tree for a change? This is a great project to put together with your kids.

To make ornaments for the tree, we used the designs from the Jack-O-Lantern Set and Spider.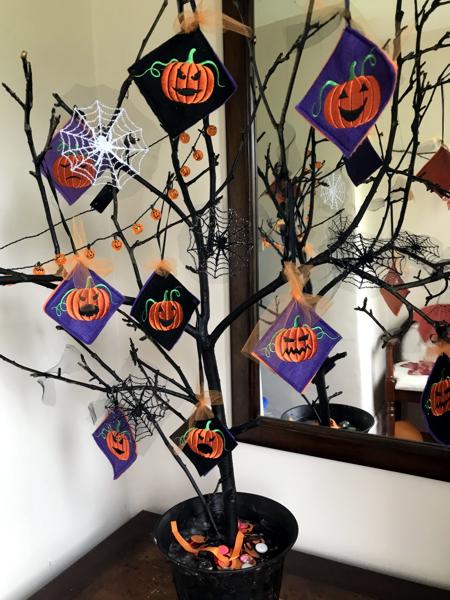 You will need:

For the ornaments:
embroidery thread,
polyester craft felt (black and/or purple),
tear-away stabilizer,
narrow satin ribbon for the loops,
black or white tulle,
wash-away stabilizer,
rotary cutter or scissors,
quilter's ruler.
For the tree:
a tree branch,
black acrylic paint,
medium-size flower pot,
plaster of Paris (1 pack),
some pebbles,
a dropcloth or some newspapers to protect your working space
Emboidery:
On black and purple felt embroider the small designs from the Jack-O-Lantern Set. Stitch the designs as many times as you like.

After you are done, trim the embroidered fabric to diamond shapes.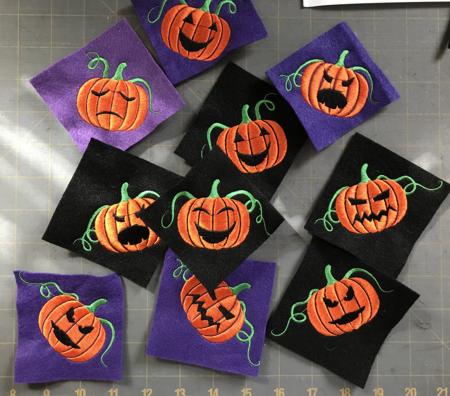 Out of felt scraps, cut the backings.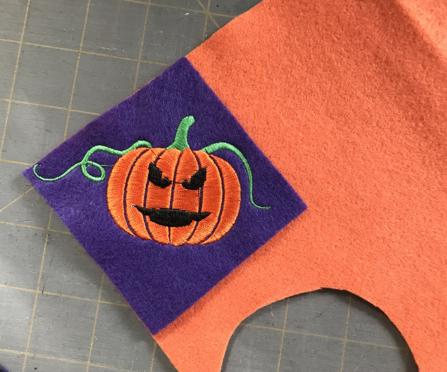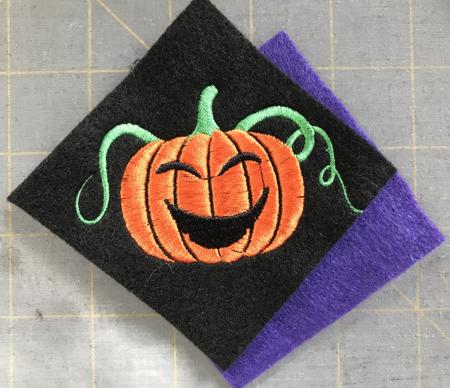 Cut the ribbon into pieces 10-12" long, fold them in half. Position the ends onto a corner of a backing diamond. Cover the backing with the embroidered piece.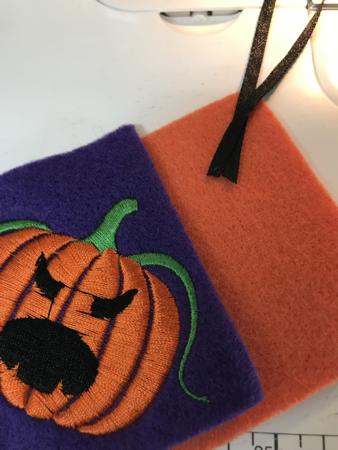 On your sewing machine stitch along the edges.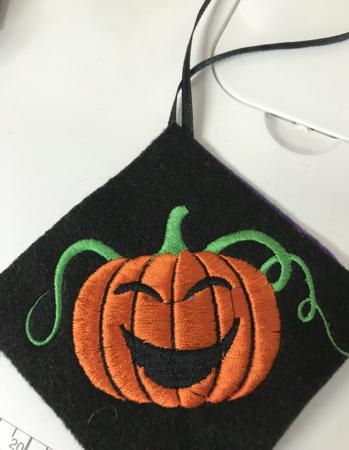 For the Spider ornament, hoop a piece of tulle with the wash-away stabilizer.

Please note that both the tulle and stabilizer are very thin. The hoop may not hold them tightly enough. We recommend to wrap the long sides of the lower frame with strips of muslin and pin the tulle ahd stabilizer to the wrapped sides.

Embroider the spider design. Wash away the stabilizer.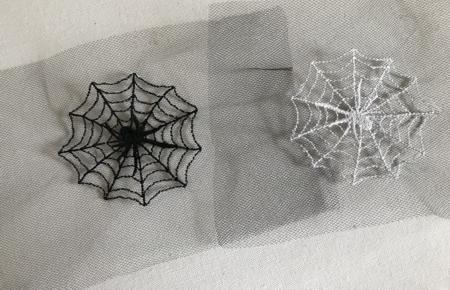 Cut out the stitch-outs leaving about 1/2" around the stitches. The tulle will cling to the branches, so we didn't use a hanging loop. However, if you feel like you need a hanger, some fine wire will do the trick.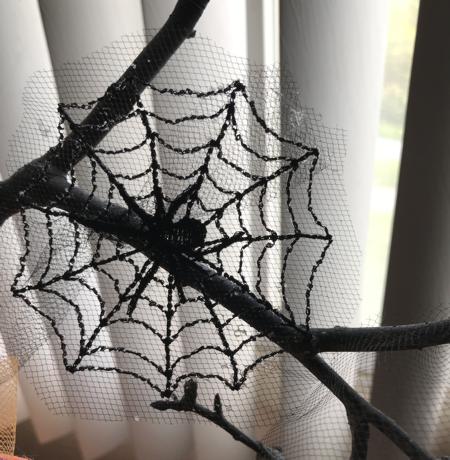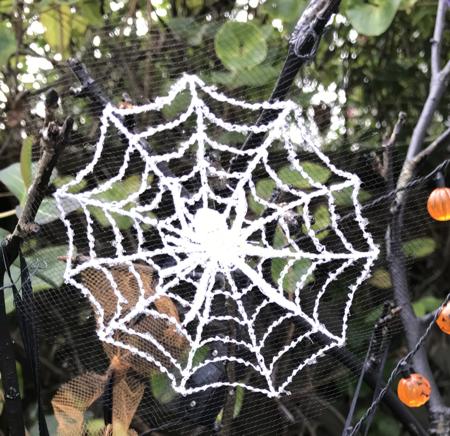 Making the Tree:

Do this part of the work outside. Place the pebbles into the flower pot. Following the manufacturer's instructions, mix the plaster of Paris with water and pour it into the pot.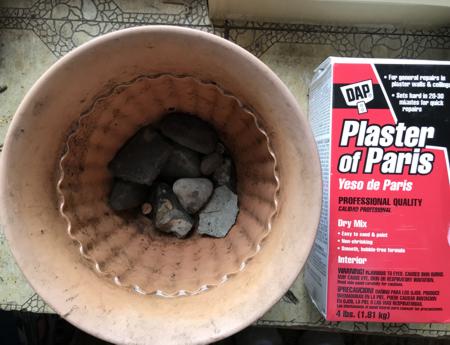 Insert the branch into the pot and hiold it for about 5 minutes until the plaster begins to dry. Leave to dry completely for 30-40 minutes.

After the plaster dries, the tree is ready to be painted.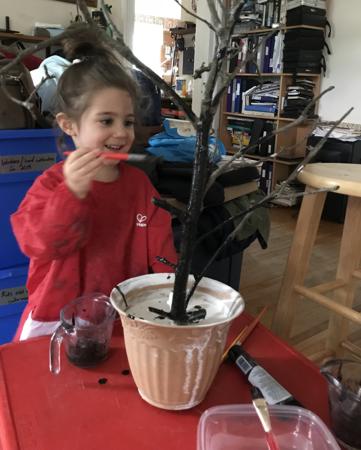 Paint the branches, the pot and the plaster. Leave to dry.

Decorate the tree with the ornaments: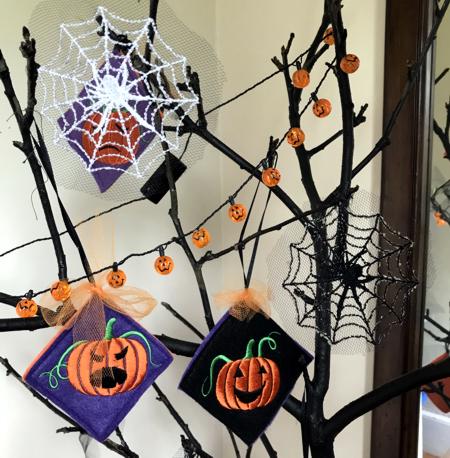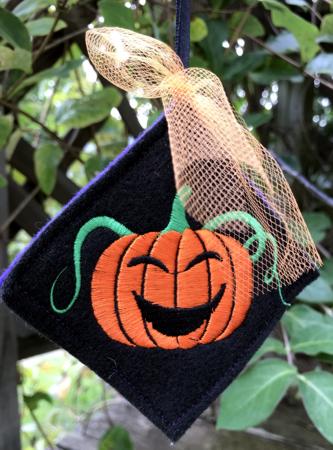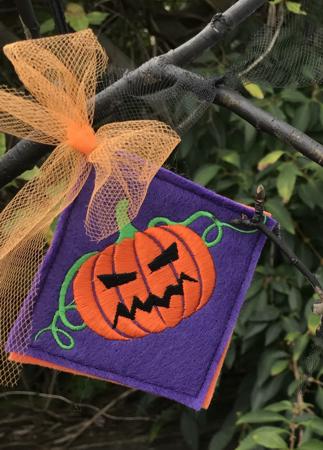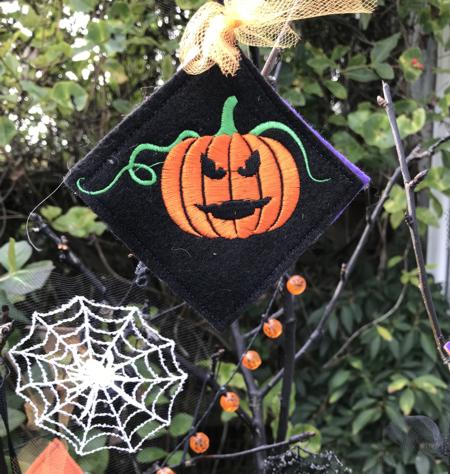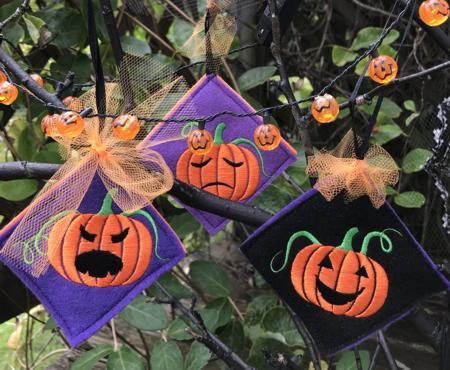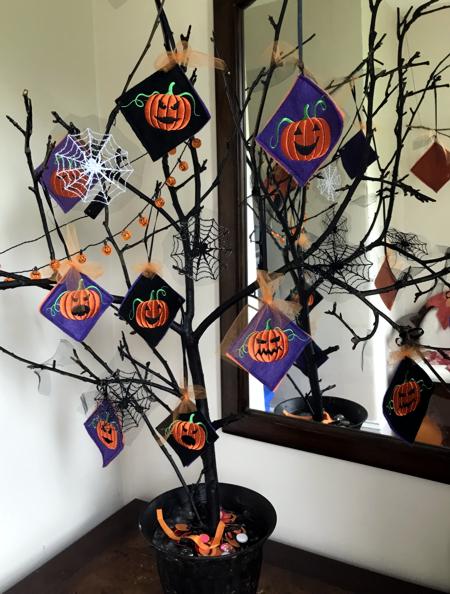 Enjoy!
Back to Jack-O-Lantern Set and Spider.
Back to Projects Page