This wholecloth quilt is easy to make, requiring no piecing.
We used the designs from the Jack-O-Lantern Set , Halloween Moon Applique
and the Bat Applique. The "Happy Halloween" lettering can be downloaded from this page for free.

The finished size of the quilt is about 28" x 25". You can adjust the size to make it larger or smaller.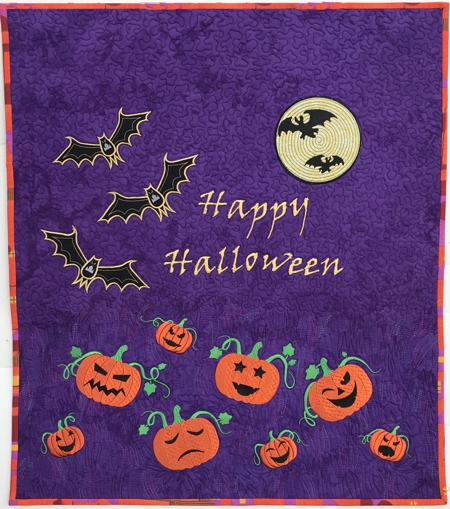 Click to enlarge
You will need :

embroidery threads according the colors cards of the designs,
light-weight cut-away stabilizer,
applique fabric for the applique designs (we used black for the bats and yellow for the moon),
1 yard of purple fabric,
1 yard of orange fabric for the backing and binding,
#12 universal sewing or quilting needles,
quilting threads of matching colors,
low-loft batting,
rotary cutter,
quilter's ruler,
scissors,
iron.
Embroidery

:

We recommnend doing the embroidery before you cut the fabric to the size you need, so hooping is easier. Instead, draw the boundaries of the quilt on your piece of fabric with chalk.
Download the "Happy Halloween" lettering below, unzip and upload into your embroidery machine. Alternatively, you can use built-in lettering from your machine.
Stabilize the center of the purple fabric and embroider the words.

Using paper templates, pick the position of other embroidery designs around the words. We made a patch of Jack-O-Lanterns below the words, placed the Halloween Moon Applique over the words and embroidered three Bat Appliques to one side.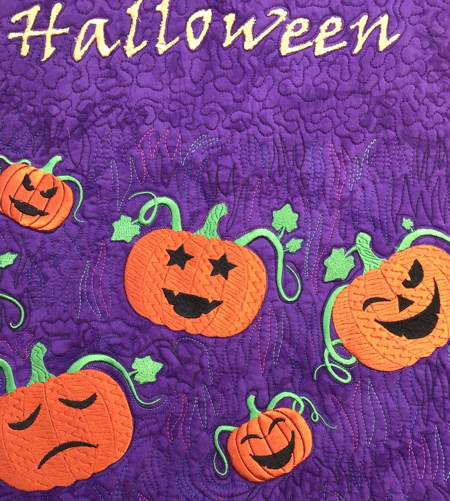 Stabilize the fabric for each design, and embroider the designs one by one. Cut away the excess stabilizer immediately after a design is finished.
Quilting and Finishing

:
Now place the backing on a flat surface (table) face down. Cover with batting. Spread your working piece over it. Smooth the top with your hands.

Pin all layers together with 1" pins and start quilting. We quilted in a free motion style all over the quilt.
After the quilting is finished, press the work with heavy steam and square the work -- all corners should be 90 degrees and opposite sides should be of the same length if you are up to classic look. Alternatively, you can make the sides of different lengths to give it a more casual look.

Finish the raw edges with the binding.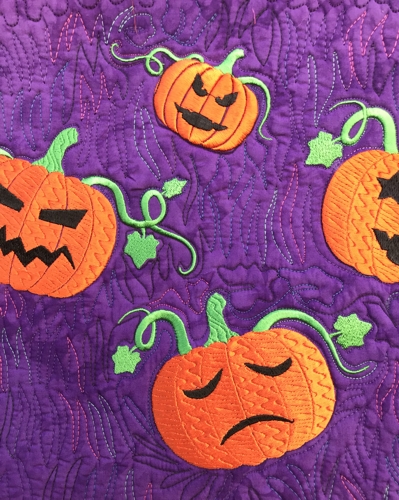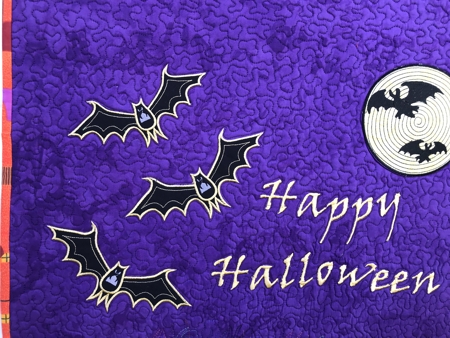 Enjoy!
Back to Jack-O-Lantern Set , Halloween Moon Applique ,
Bat Applique
Back to Projects Page