This tiny quilt is very to quick to make. It's perfect to hang on your door, or in the kitchen or dining room. It also makes a great gift.

We used designs from the Thanksgiving Chicken Set and from the FSL Autumn Leaves Set.

The finished size of the quilt is about 13" x 10 1/2", but feel free to adjust the size as you like.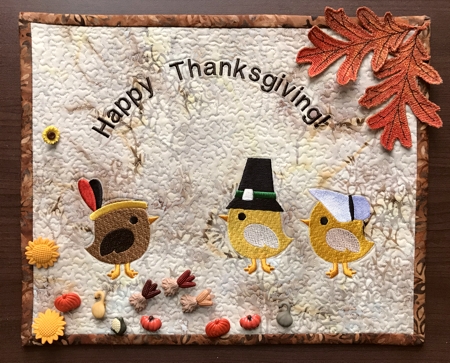 You will need :

embroidery threads according the JPG color card of the designs. However, in this case, you can feel free to choose your own colors.
light-weight cut-away stabilizer,
wash-away stabilizer for the freestanding leaves,
1 fat quarter of light-colored fabric for the background,
fabric for the backing and binding,
batting,
#12 universal sewing and quilting needles,
quilting threads of matching colors,
rotary cutter,
quilter's ruler,
iron,
harvest-themed buttons (optional).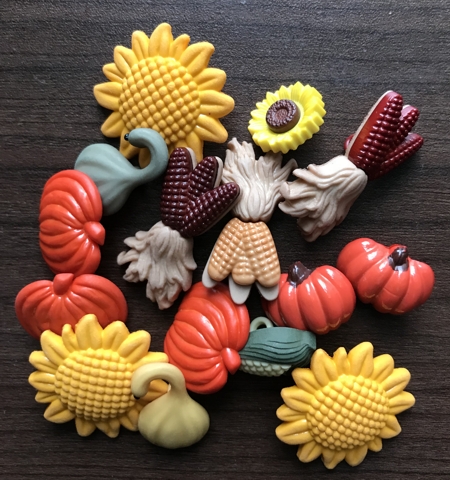 Harvest themed buttons are available in sewing and craft stores.
Preparing the Top:
On the fabric for the top mark the borders of the future quilt. Please note that for the sake of successfull hooping, the piece of fabric should be larger than the planned size of the quilt. If the piece of fabric is not large enough and you want it to be the top, you can baste margins from any waste fabric.
If you have embroidery software and a printer, print out templates from the embroidery files. If you do not have either software or a printer, make the templates from pieces of paper.

With the help of the templates make a composition of the scene on the top.
Embroidery

:

We recommend to start with the chickens. Stabilize the fabric with light-weight cut-away stabilizer. Hoop it tightly.

Upload the files into the machine and embroider them.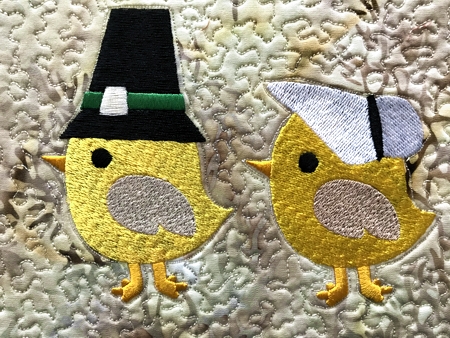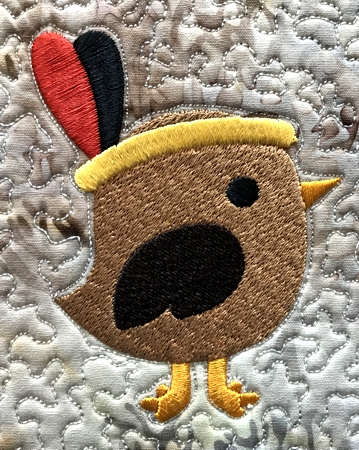 Over the chickens, embroider the words "Happy Thanksgiving". You can compose the greeting with the built-in letters of your embroidery machine. Use font about 1/2" high.

After you are done with embroidery, press the working piece.
Quilting and Finishing

:
Now place the backing on a flat surface (table) face down. Cover with batting. Spread your working piece over it.

Pin all layers together with 1" pins and start quilting. We quilted with a free motion meandering pattern.

After the quilting is finished, press the work with heavy steam and square the work -- all corners should be 90 degrees and opposite sides should be of the same length
Finish the raw edges with the binding.
Decorating:
Sew the leaves into an upper corner of the quilt.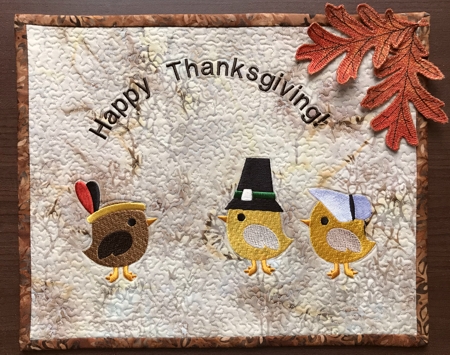 You can further decorate the piece with harvest-themed buttons.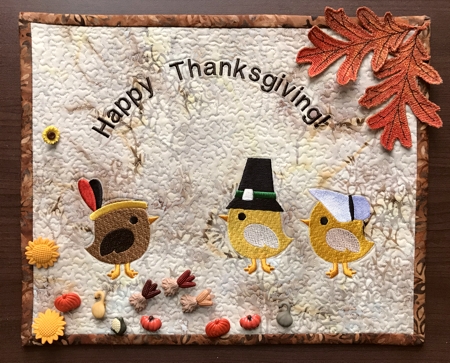 Enjoy!
Back to Thanksgiving Chicken Set and FSL Autumn Leaves Set.
Back to Projects Page