This wholecloth wall quilt fits in well within any moden-style decor. We used the designs from the Art Deco Flower Applique Set for the large size hoop (5" x 7"). It's easy and quick to make, and looks great!

The finished size of the quilt is about 29" x 20".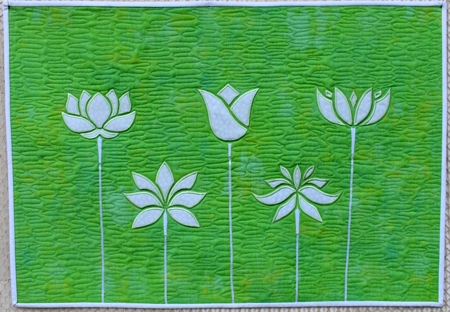 Click to enlarge
You will need :

embroidery threads of your choice, (we used very pale lime green and white) ,
light-weight cut-away stabilizer,
a piece of quilting cotton fabric measuring approximately 22" x 30"; the color is up to you, but we recommend to use batiks and not solid color fabrics, (we used a lime green batik),
fabric for the applique, color of your choice, (we used white),
No-Sew Fabric glue,
1/8" wide satin ribbon, color of your choice, (we used white),
batting,
backing,
binding (the same color as the applique, so white in our case),
#14 quilting needles
quilting threads of matching colors,
rotary cutter,
quilter's ruler,
scissors,
iron.
Embroidery

:

On your base fabric, mark the position of the flowers. Upload the files into the machine.

One by one, stabilize the marked locations, hoop tightly and embroider the files.

After the embroidery is done, remove the jump stitches and press the stitch-out and the fabric around it. Repeat for all flowers.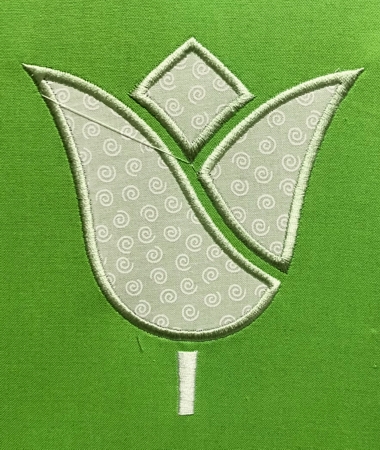 Quilting
Now place the backing on a flat surface (table) face down. Cover with batting. Spread your working piece over it.

Pin all layers together with 1" pins and start quilting. We quilted around the embroidery and all the quilt in a free motion style.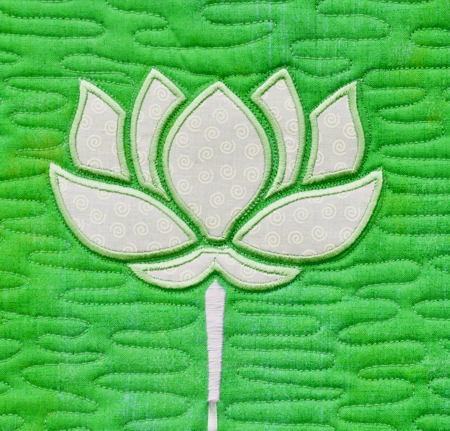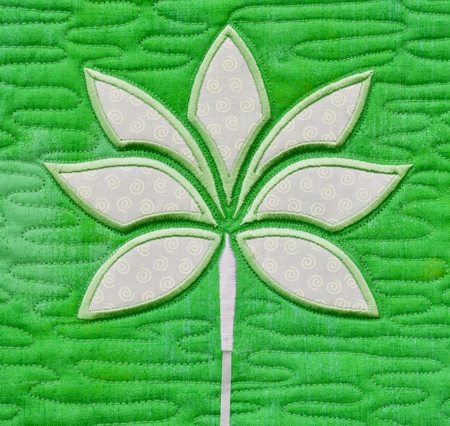 Finishing

:
After the quilting is finished, press the work with heavy steam and square the work -- all corners should be 90 degrees and opposite sides should be of the same length.
Now take the ribbon, cut it into pieces of the needed length. Using No-Sew Fabric glue, adhere the pieces so they make the long stems of the flowers. Follow the instructions of the glue manufacturer.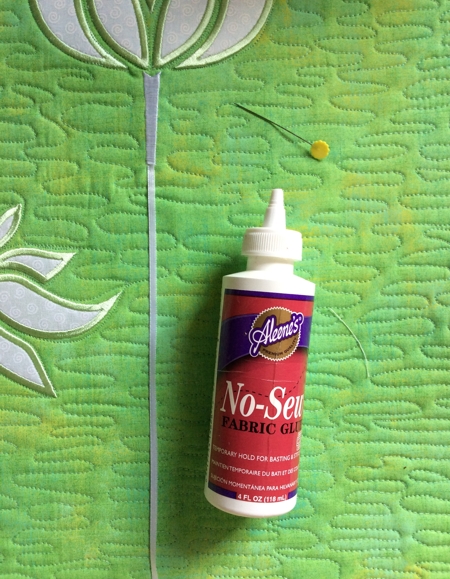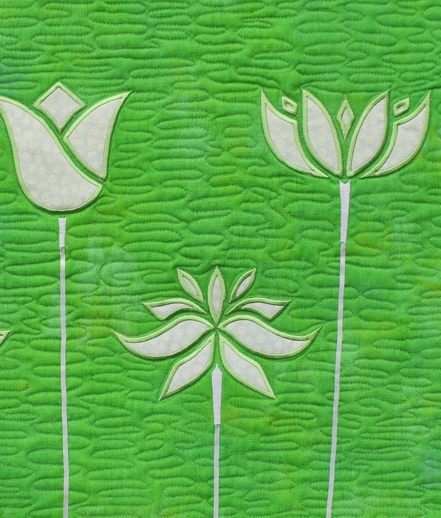 Finish the raw edges with the binding.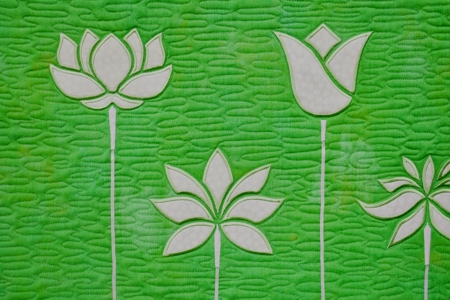 Have fun!
Back to Art Deco Flower Applique Set
Back to Projects Page