Quilted Tablerunner with Tulip Art Nouveau Motif Embroidery
This Spring-themed modern-style quilt is super easy to put together. We decorated it with the Tulip Art Nouveau Motif Set.

The finished size of the table runner is about 17" x 40".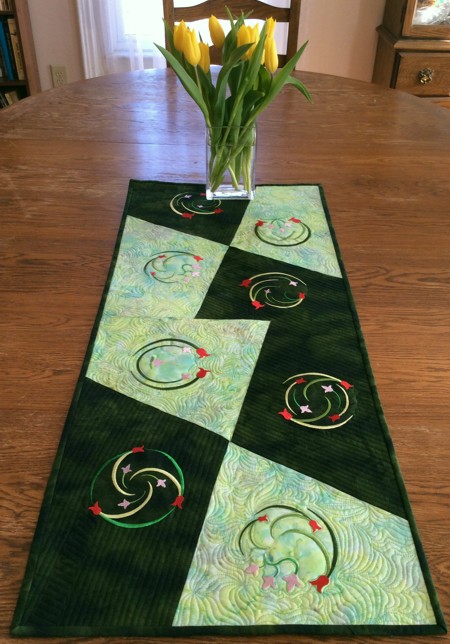 The designs from the set are in the satin stitch technique, so you can choose your own colors for the embroidery; it's not necessary to follow our color card.

You will need :
embroidery threads, either rayon or polyester,
light-weight iron-on cut-away stabilizer,
1 fat quarter (a piece measuring 18" x 20-22") of light green fabric,
2 fat quarters of dark green fabric (one fat quarter for the top and another for the binding),
#12 or #14 quilting needle,
quilting thread of matching colors,
rotary cutter and quilter's ruler,
batting,
fabric for the backing,

iron.
Making the Top of the Tablerunner:

Note: seam allowance is 1/4".
Take the light green and one dark green fat quarter and trim them to the same length (their widths will be 18", but the lengths may differ slightly).

Lay them one over the other and align all the edges.

Lay your ruler across the stack at an angle and cut along the ruler.
This will give you 4 pieces - 2 light green pieces and 2 dark green pieces.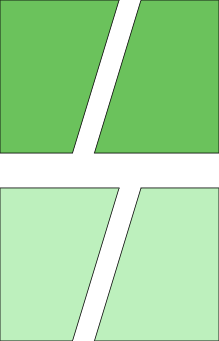 Take the dark left piece and the light right piece and sew them together along the cut line. Then sew together the other two pieces.

Press the seams towards the dark fabric.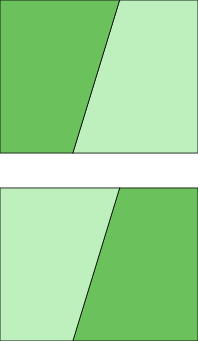 Again, position both pieces one over the another, face up. Align the edges. Place the ruler across the pieces, roughly perpendicular to the seam, and cut into two pieces again.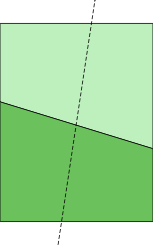 You'll get 4 new pieces.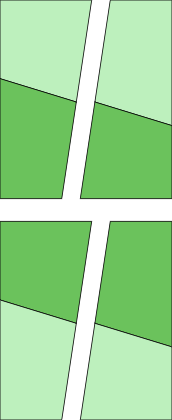 Sew the upper left piece to the lower right piece. Then sew the remaining two pieces together.

Finally, sew the 2 blocks together.

Embroidery:
Embroider the designs one by one. We used red and pink to embroider the flowers, and 2 shades of green for the stems.

After the embroidery is done, remove the stabilizer around the embroidery, do not remove it from under the embroidery and inside the circles. Press the top.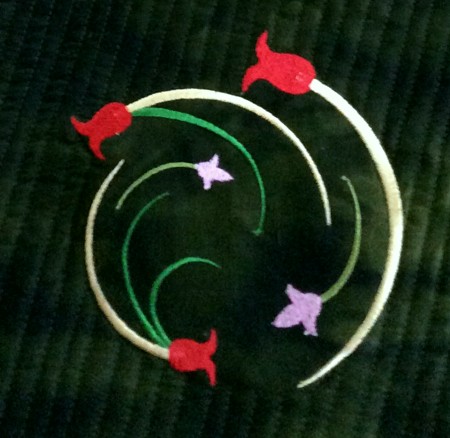 Quilting and Finishing:
Now place the backing on a flat surface (table) face down. Cover with batting. Spread your working piece over it.

Pin all layers together with 1" pins and start quilting.
We quilted the dark parts with parallel lines and the light parts in a free motion style.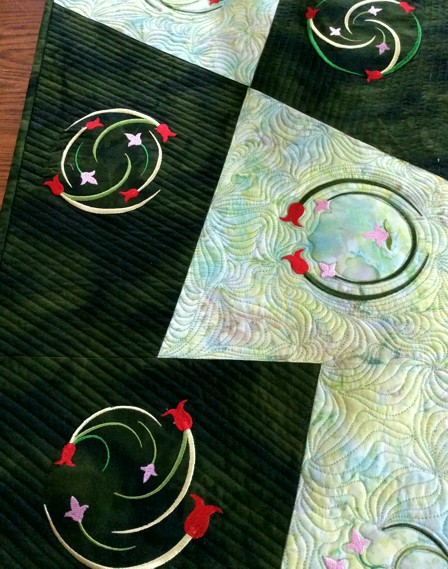 After the quilting is finished, press the work with heavy steam and square the work -- all corners should be 90 degrees and opposite sides should be of the same length.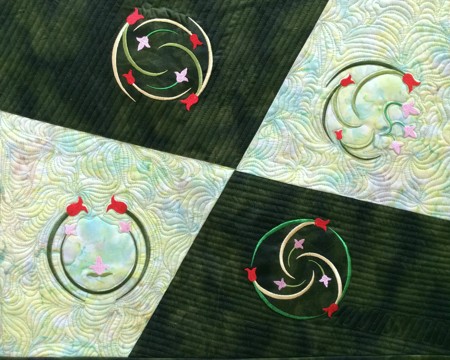 Cut the second dark green fat quarter into strips 2 1/2" wide and sew them into one long strip for the binding. Finish the raw edges with the binding.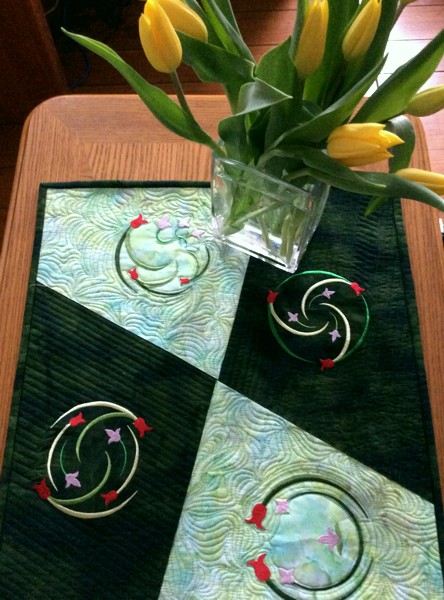 Enjoy!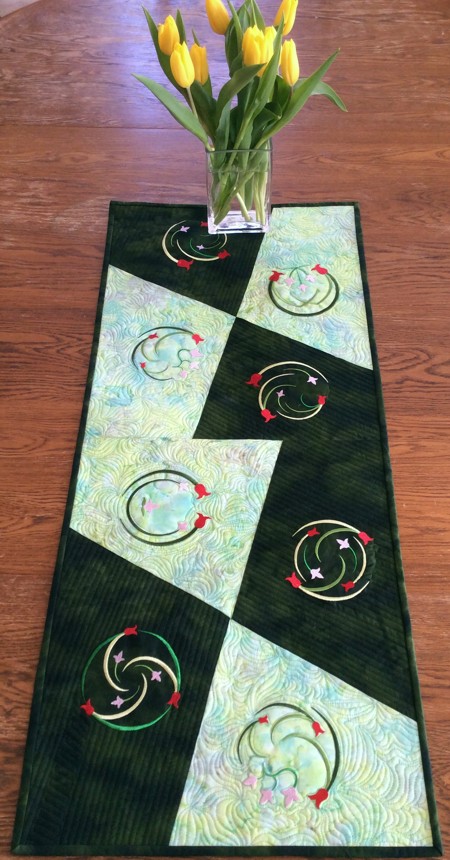 Back to Tulip Art Nouveau Motif Set
Back to Projects Page