This small artsy quilt is easy to put together and lets you get really creative.

We used a stitch-out of the Azure Rose design.

The finished size of the quilt is about 10 1/2" x 13", but feel free to adjust the size as you like.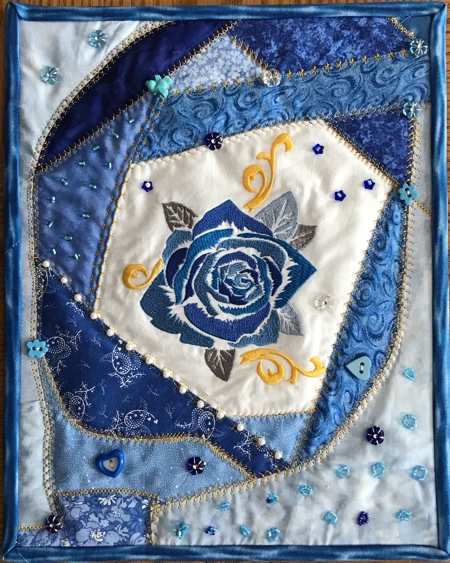 You will need :

embroidery threads, either polyester or rayon
light-weight cut-away stabilizer,
a piece of white fabric, about 12" x 14", for the embroidery,
scraps of blue fabrics of different shades and patterns,
fabric for the backing and binding,
batting,
#12 universal sewing needles,
Steam-A-Seam2 double stick fusible web, or similar product,
rotary cutter,
quilter's ruler,
iron,
small embellishments (beads, buttons, etc.)
Embroidery

:

Stabilize the center of the white fabric with light-weight cut-away stabilizer. Hoop it tightly.

Upload the file of the Azure Rose in the machine and embroider it, using the thread colors recommended in the JPG color card that comes with the design.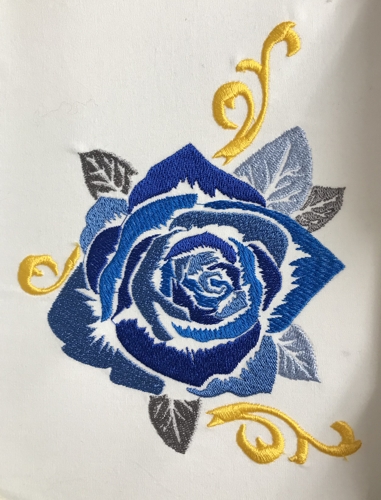 Assembly of the Top:
We used a non-traditional method of piecing for this quilt.

Lay out all your blue scraps. The sizes and shapes don't matter.

Remove the protective paper from one side of the Steam-A-Seam2 web. Position the scraps on it and press them with fingers. Then cut the scraps out.
Remove the protective paper from the other side of the Steam-A-Seam2.
Now position the scraps around the embroidery. The scraps can and should overlap each other. You can move and reposition them as much as you like until you like your arrangement.

After this, press the scraps with a hot iron to adhere them.
Quilting and Finishing

:
Now place the backing on a flat surface (table) face down. Cover with batting. Spread your working piece over it.

Pin all layers together in corners and along the edges, you do not need to use many pins, 8-10 will be enough.
On your sewing machine, top-stitch along the scrap edges using different decorative stitches.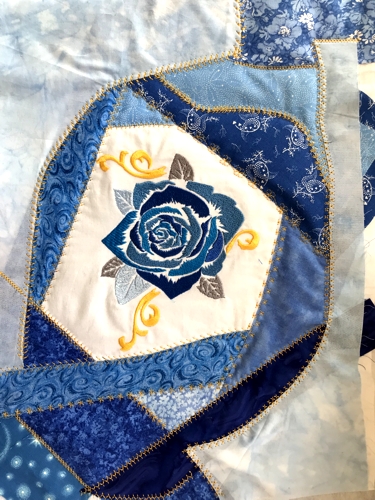 Press again. Either square the quilt, or cut it to any shape.
Finish the raw edges with the binding.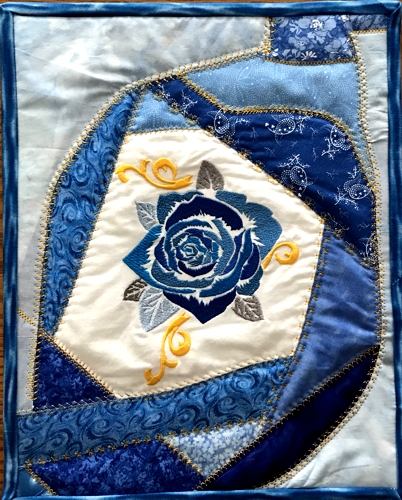 Sew the embellishments to the quilt by hand. We used buttons and beads in different shades of blue.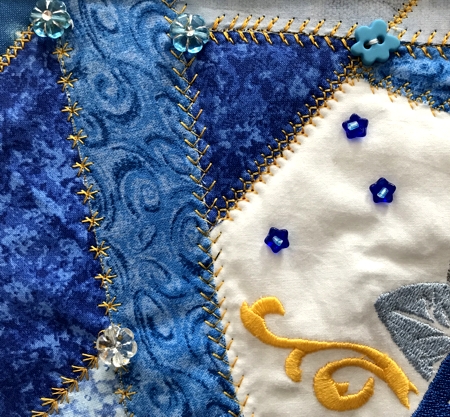 The quilt is done. Have fun!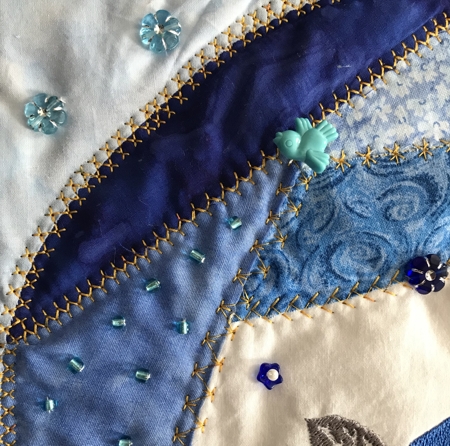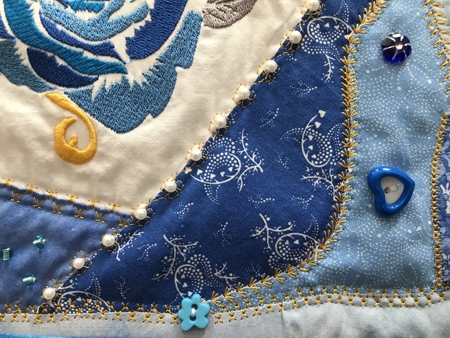 Back to Azure Rose
Back to Projects Page