This wholecloth tablerunner is cheerful and elegant. It looks just as good in the office as it does at home!

We used the designs from the Mandala Applique Set.

The finished size is about 17 1/2" x 41".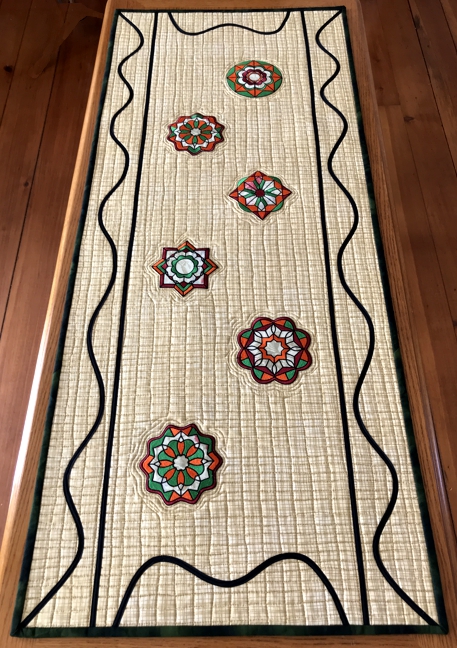 You will need :

embroidery thread, either polyester or rayon, the choice of colors is yours,
1/2 yard of golden fabric,
fabric for the applique,

light- to medium-weight cut-away embroidery stabilizer,
applique scissors,
1/4" wide black Quick Bias by Clover,
binding (choose either black or a color matching the embroidery),
fabric for the backing,
batting,

iron,
quilter's ruler,

rotary cutter,

chalk pencil,

quilter's safety pins,

sewing pins.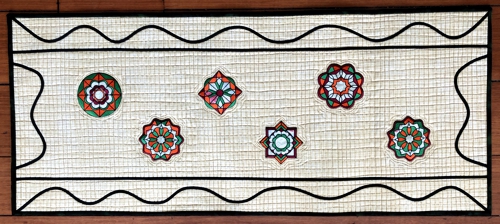 Embroidery:
Press the fabric. Please note that you need a piece 18" wide, which is the width of the tablerunner and 40"-42" long, which is the width of your fabric.

With the help of the ruler and chalk pencil, draw a rectangle on the fabric - 4" from the long edges and 5" from the short edges.

Distribute the embroidery designs within this drawn rectangle, try to make the stitch-outs equal distance from each other.

As applique fabric, you can use any thin fabric, but cotton is the easiest fabric to work with.

We recommend to prewash quilting cotton fabrics before using them for applique. It's a good idea to starch the fabric after washing.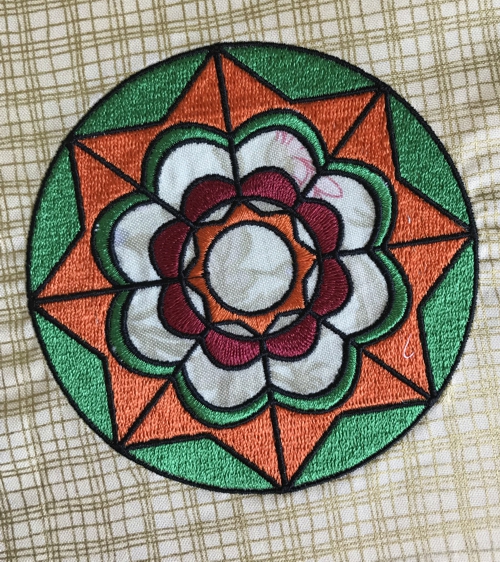 Upload the files into the machine. Select the threads. You can choose your own colors if you wish.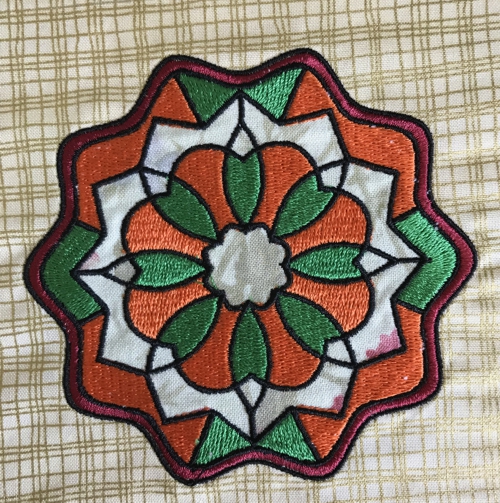 Stabilize the base fabric, hoop, and embroider the designs one by one.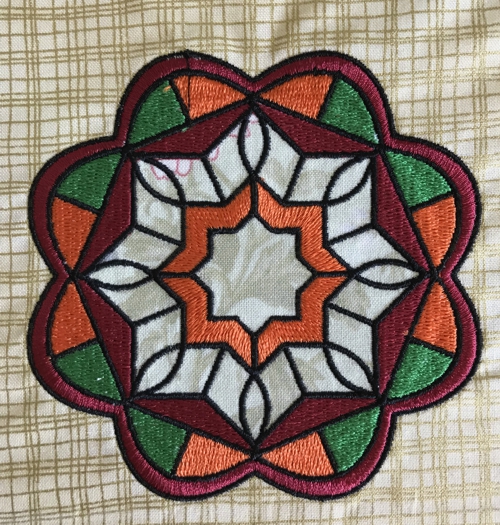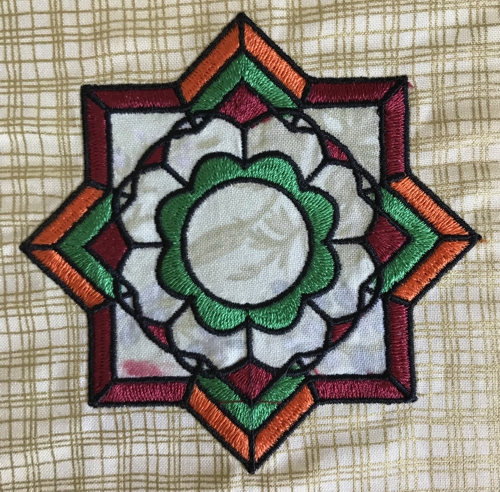 Quilting and Finishing:
Now place the backing on a flat surface (table) face down. Cover with batting. Spread your working piece over it.

Pin all layers together.

We quilted in a free-motion style all over the table runner - echo quilting around the stitch-outs and quilting irregular vertical and horizontal lines all over the table runner.

Press with heavy steam. Square the tablertunner.
Position 2 pieces of Quick Bias parallel to the long edges - 3" from the edge. With the help of the ruler check that the bias lays straight. Press it to adhere.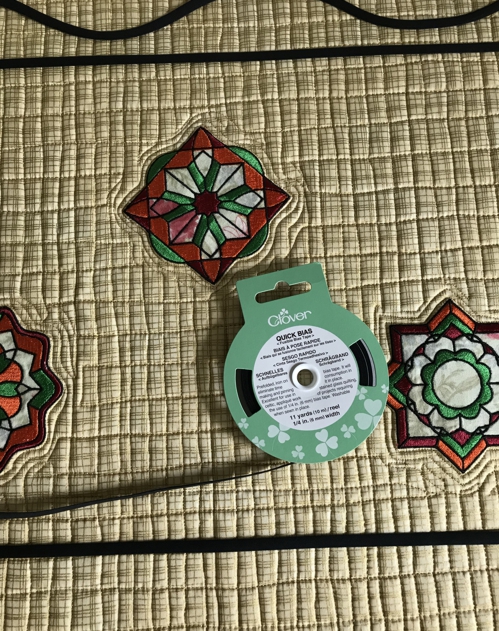 Then position the bias in wavy way along all edges. Pin the bias if it does not stitck well. When you are satisfied with the layout, press the bias in place.

On your sewing machine, topstitch along both edges of the bias, very close to the edges.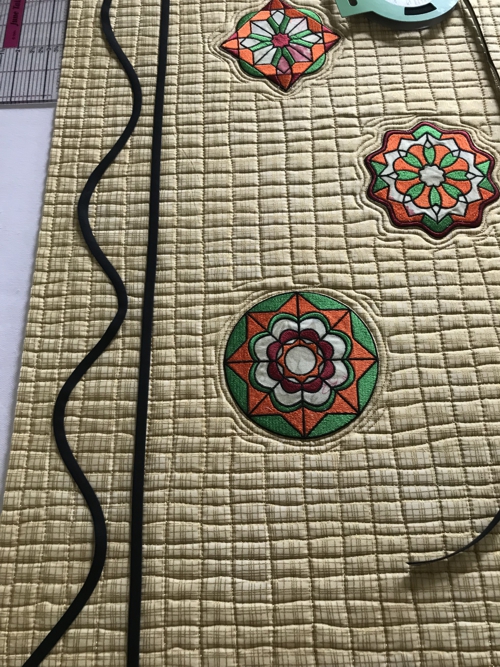 Finish the raw edges with the binding.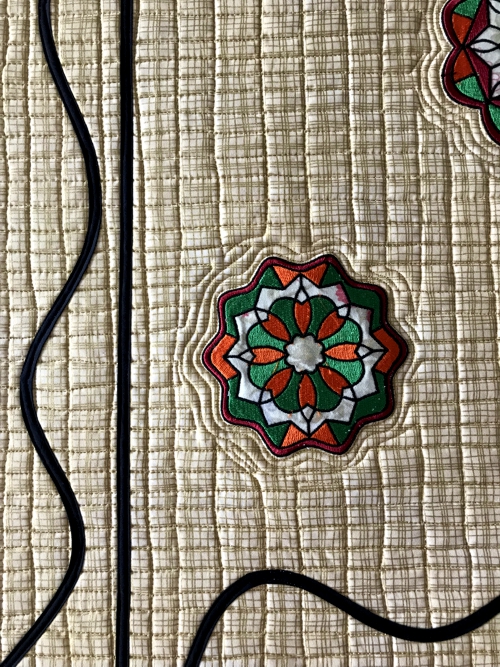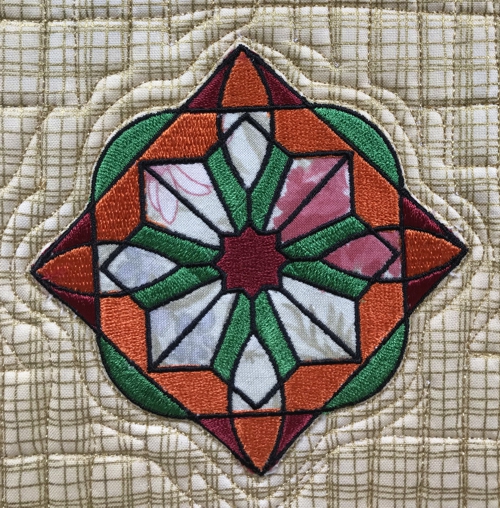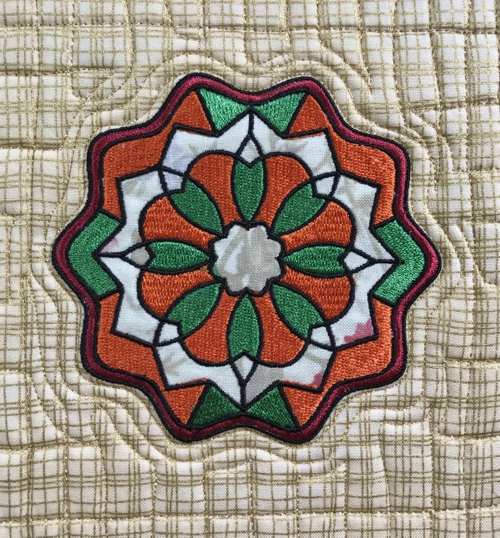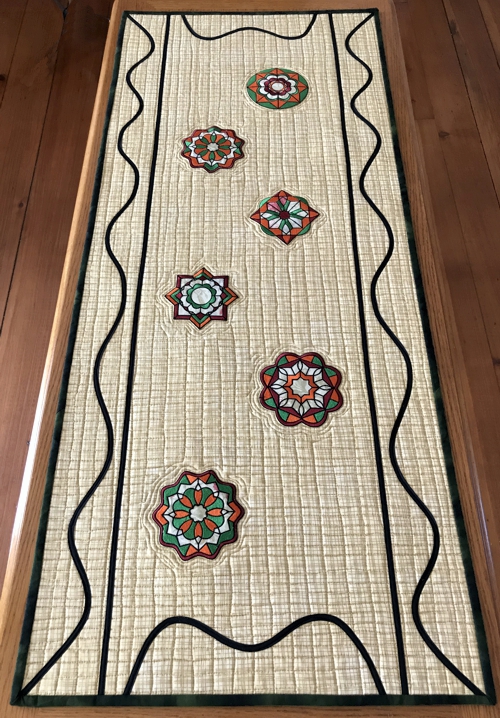 Back to Mandala Applique Set
Back to Projects Page