This very easy Fall-themed project makes a nice gift for .... We used the designs of Pumpkin Motif and of Owl (free design). Both designs are for the large (5" x 7") hoop.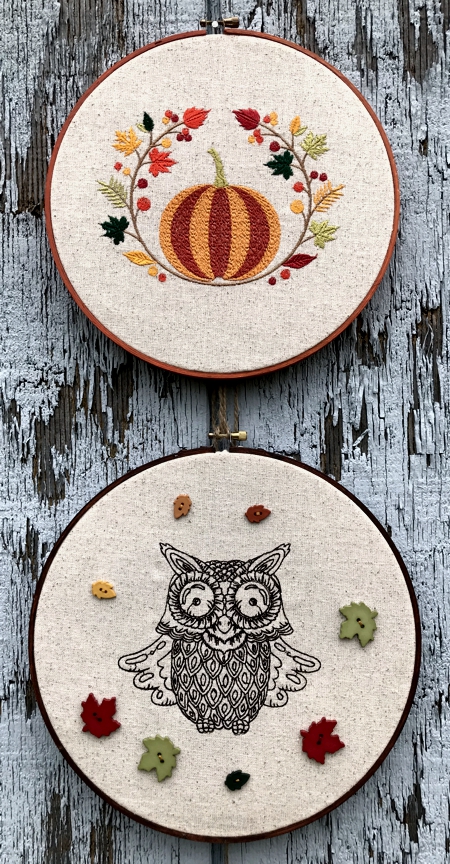 You will need :

embroidery threads, either polyester or rayon (feel free to choose your own colors),
cut-away medium-weight stabilizer,
light-colored fabric for the embroidery (wwe used Osnaburg),
2 round hoops for hand embroidery, 9" and/or 10" diameter,
sewing needle and thread (some hand-stitching will be required),
a piece of cord or ribbon to hang the finished work,
polyester craft felt of any color,
acrylic paint and brush,
scissors, graphic pencil,
iron,
small screw driver (the one from your machine kit will work),
(optional) additional embellishments, such as small beads, rhinestones or buttons. We used leaf shaped buttons in fall colors.

Embroidery

:

Stabilize the fabric for embroidery with medium-weight cut-away stabilizer. Hoop it tightly.

Upload the embroidery files into the machine and embroider them one by one.
Press the stitch-outs. Do not remove the stabilizer!

If you want to decorate the stitch-outs with rhinestones or hot-fix crystals, do it at this stage.

Now

set the stitch-outs aside for the time being.
You can download the free design here:
Painting the Hoop (optional)

:
While the machine is doing the embroidery, you can paint the hoops.

Open the hoop and paint the outer circle (the one with the screw). Leave to air dry.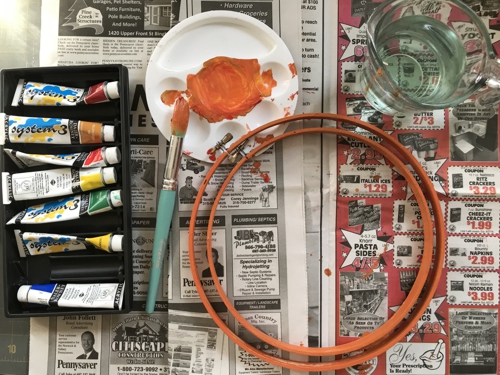 While you are waiting the hoops to dry, lay the craf felt on a table. Take the inner circle of the hoops and a graphite pencil.

Trace the inside of the inner circle.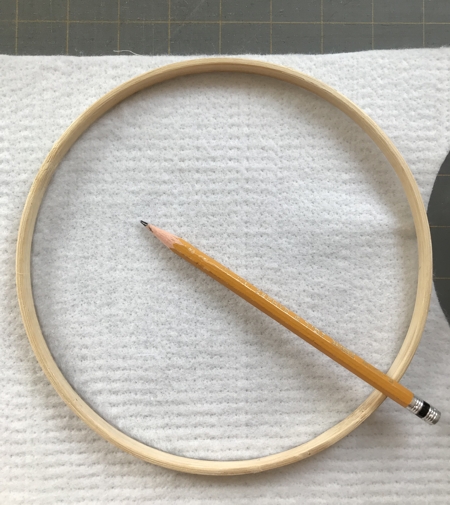 Cut out along the trace line. You'll need 2 felt circles.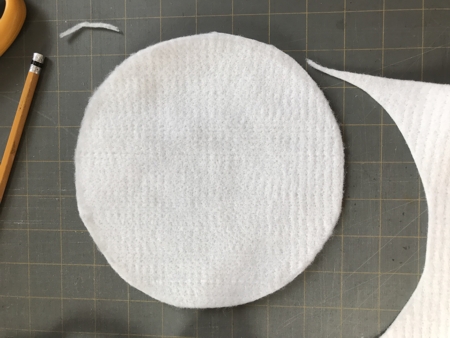 Assembly

:

Now insert the stitch-out into the hoop. Stretch the fabric to avoid any creases and folds. Tighten the screw.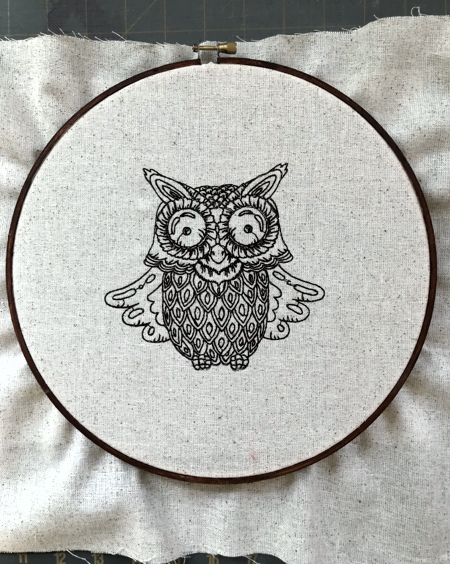 If you use decorative buttons , sew them on now.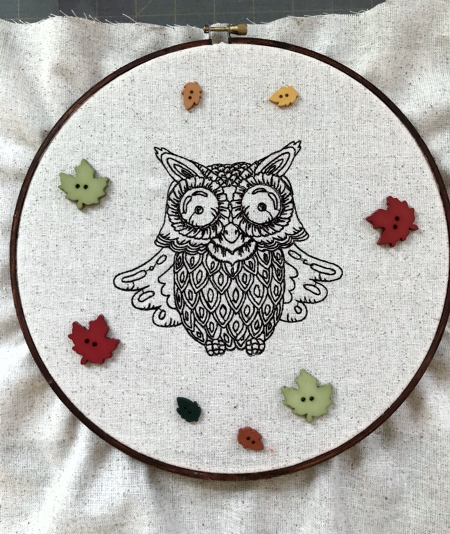 Cut away the excess stabilizer around the hoop ring. Take care not to cut the fabric.
Then cut away the excess fabric, leaving margins about 1 1/2"- 2".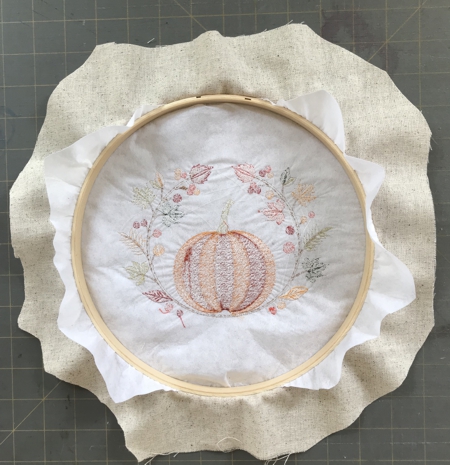 Thread the needle and baste along the outer edge. Pull the thread to gather the fabric. Tie the thread and cut.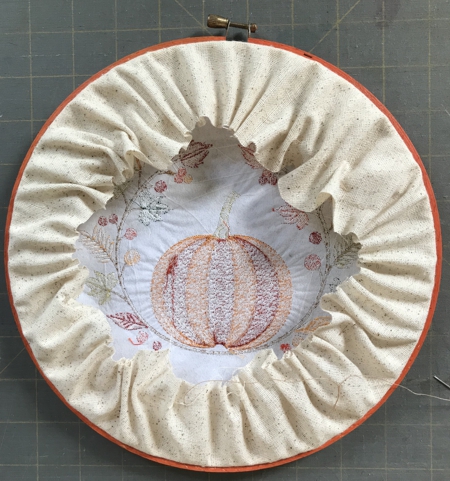 Cover the back with the felt circle. Sew the felt circle to the fabric along the outer edge of the felt.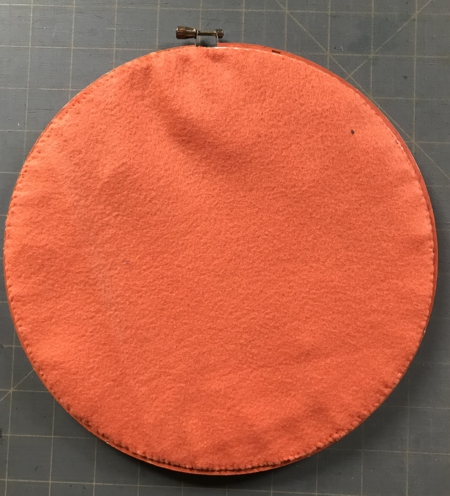 Attach small cord/ribbon loop to the screw and you are done.
Have fun!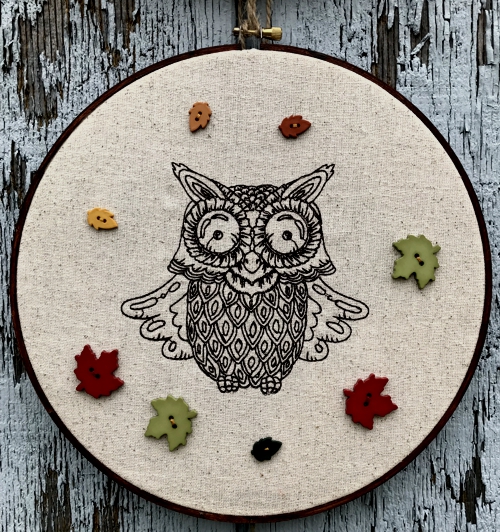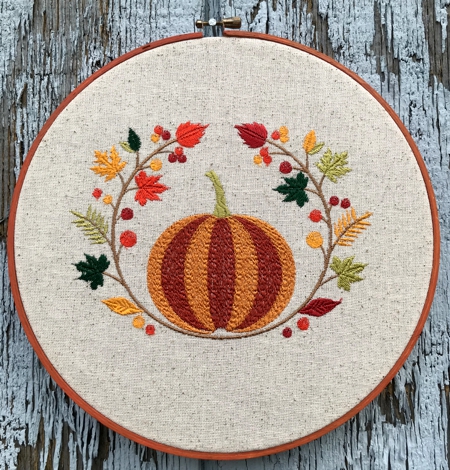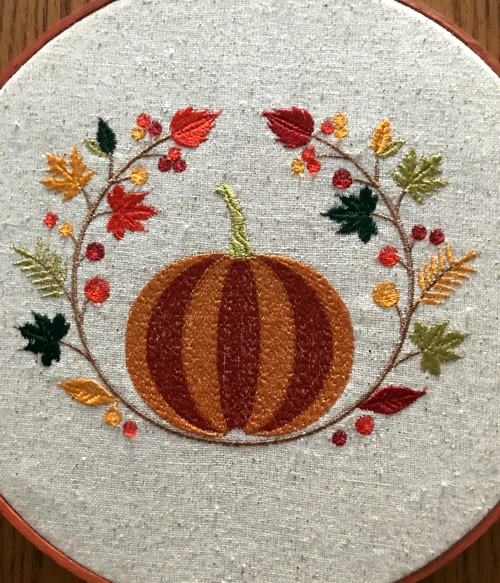 Back to Pumpkin Motif and of Owl (free design)
Back to Projects Page