This charming quilt is a great stash buster for those scraps you have left over from other projects. It uses designs from the Spring Branches Set.

The finished size of the tablerunner is about 18" x 54, but feel free to adjust its length to your needs.

All designs are for the large hoop (5" x 7").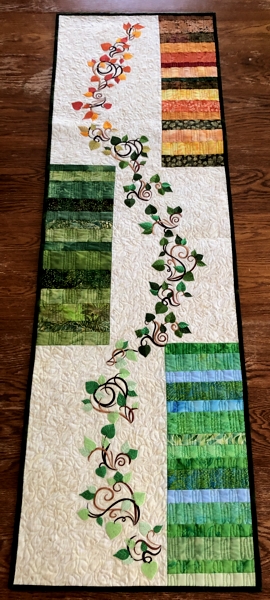 You will need :

embroidery threads, either polyester or rayon. The choice of colors is up to you. We used three different color styles: light greens for the Spring portion of the quilt, darker greens for Summer and Fall colors for the Fall portion. These also match the colors of our fabric scraps.
1 yard of light colored fabric for the background,
scraps of light green, lime, light blue, etc. for the Spring section,
scraps of all shades of green for the Summer section,
scraps of yellow, ochre, brown, orange, etc., for the Fall section
light-to medium-weight embroidery stabilizer,
fabric for the backing and binding,
medium-loft batting,
iron,
Cutting:
Out of the fabric for the background, cut 3 pieces measuring 12 1/2" x 18 1/2" each.

Sort all the scraps by colors for the Spring, Summer and Fall sections.

Cut all scraps into strips, each strips should be 6 1/2" long, the width is from 1" to 2". You should have about 12-18 strips for each section.
Assembly:

Note: Seam allowance is 1/4", press the seam immediately after you made it.
Sew all the Spring strips together to get a piece measuring 6 1/2" x 18 1/2".


Sew the piece to one of the 12 1/2" x 18 1/2" background pieces.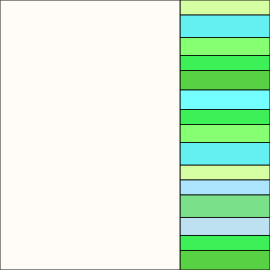 Repeat with the Summer and Fall strips.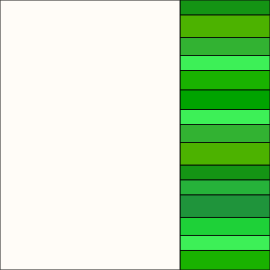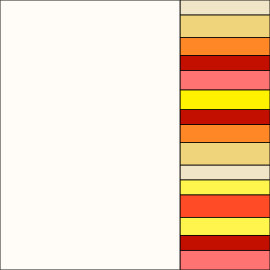 Sew all 3 parts together alternating the position of the colored strips: if the Spring part has the colored strips on the right, then the Summer part should have them on the left, and the Autumn part again on the right.

Embroidery:
Open the embroidery files on your computer and make print-outs, they will help to determine the location of the designs on the tablerunner.

Select embroidery threads for each section. We left the color of the twigs the same for all parts, but changed the color of the leaves to match scrap portions.

Embroider the designs one by one. Cut away the excess stabilizer.
Quilting and Finishing:

Now place the backing on a flat surface (table) face down. Cover with batting. Spread your working piece over it.

Pin all layers together.
We quilted in a free-motion style all over the table runner.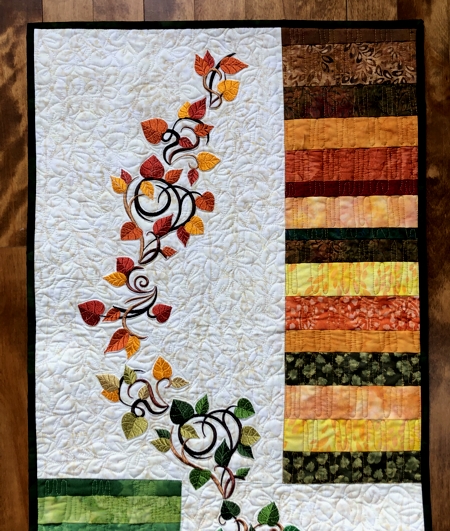 Press with heavy steam. Square the quilt. Finish the raw edges with the binding.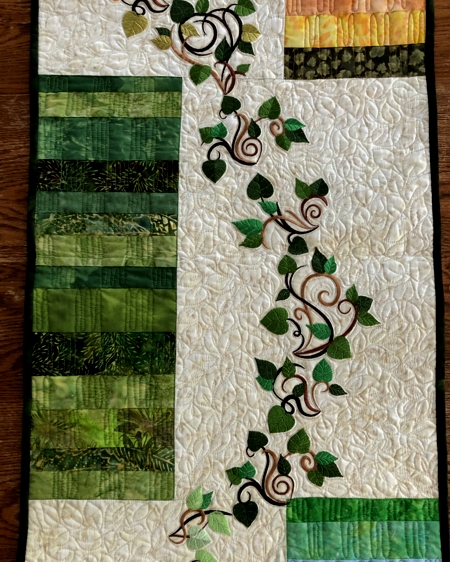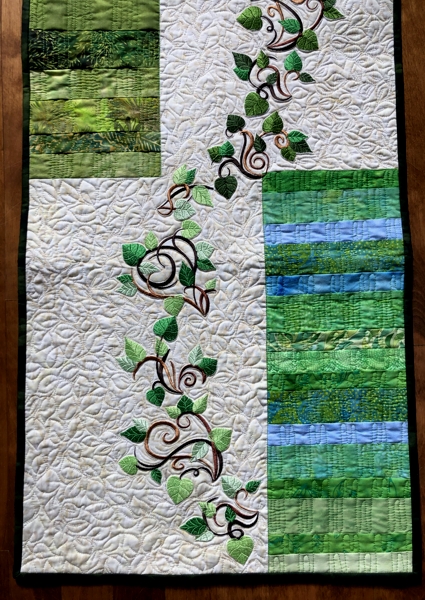 Back to Spring Branches Set
Back to Projects Page