These are instructions on how to embroider and assemble the designs from the

Doll Sneaker Set

. Some hand stitching required. The shoes will fit 18-inch dolls, such as American Girl doll (shown on photos), Our Generation and My Life As... dolls.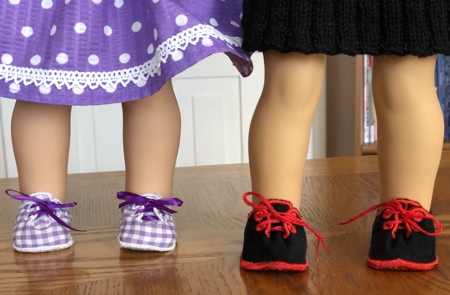 You will need :

embroidery threads, either polyester or rayon, in your choice of colors,

medium-weight spunbond fabric or medium-weight cut-away stabilizer; please note that the stabilizer stays in the stitch-out and works as a lining,

fabric for the upper part of the shoes, it can be thin faux leather or any fabric, we used thin stretch polyester (golden sneakers), cotton (lilac sneakers) and medium-weight peach skin polyester (black sneakers),
material for the soles, it should be heavier than what you use for the uppers,

applique scissors,
thin cord, yarn or narrow ribbons for shoe laces,

sewing needle and sewing thread of matching colors,
tapestry needle.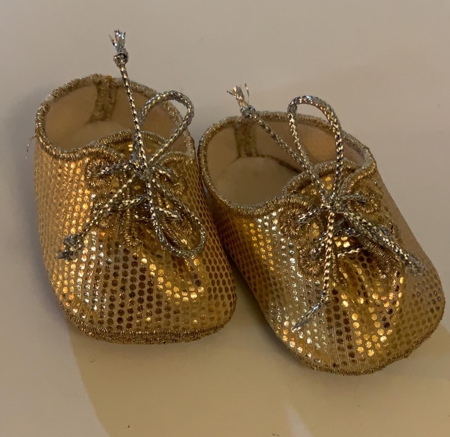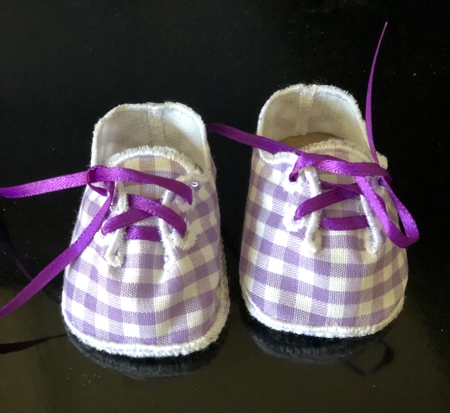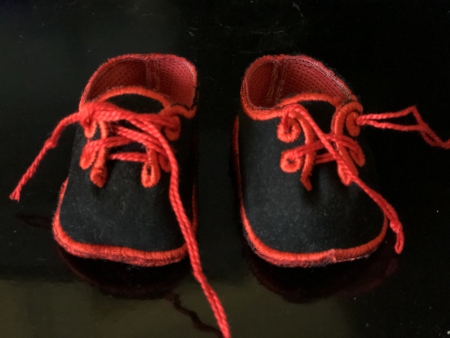 Embroidery

:

You will get 2 files: "Sneakers1" and "Sneakers2". Both files are embroidered in the same way, as applique.

Step One

: Upload any file from the set into the machine. Select threads.
Hoop a layer of spunbond or medium-weight cut-away stabilizer.
Tighten the hoop.

Start the machine. The first color will embroider the outline and stop.

Step Two

: Cover the outline with a piece of fabric. Start the machine. It will embroider the same outline over the fabric.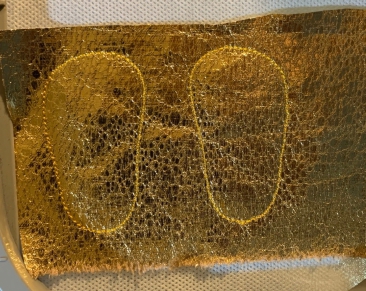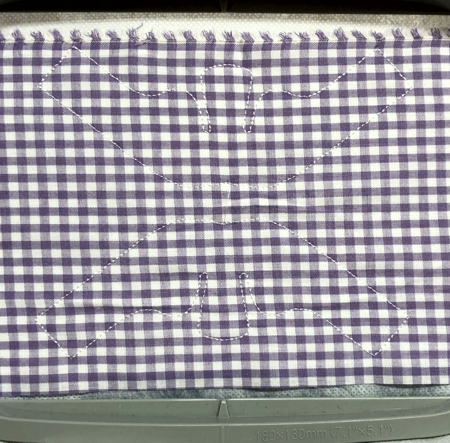 Step Three:

Take the hoop from the machine and with a pair of sharp scissors cut away the fabric around the outlines. Take care not to cut through the stitches.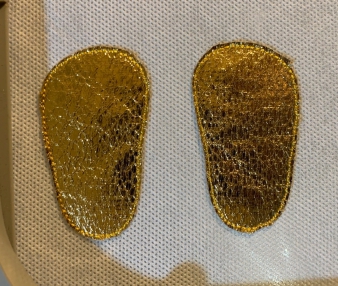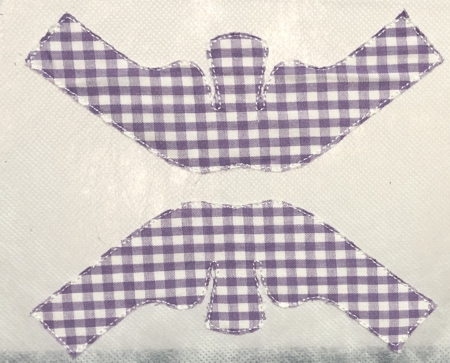 Step Four

: The last color will finish the raw edges of the applique: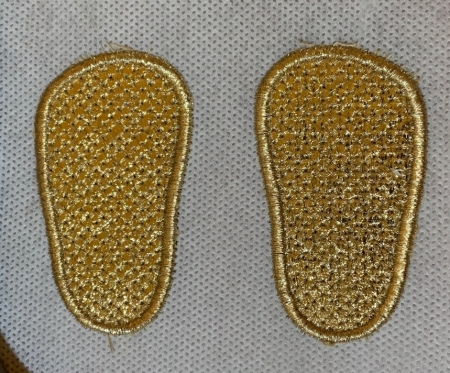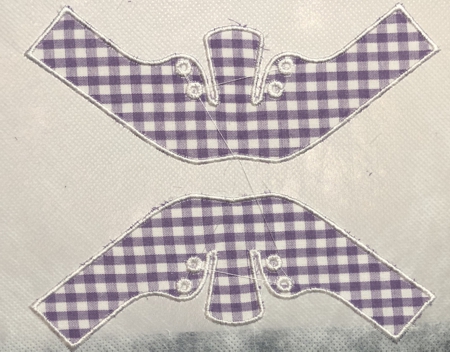 Assembly:
Step Five:

Take the stitch-out from the hoop, neatly cut away the excess spunbond around the stitch-outs.

Step Six

: Fold the upper parts to make the short edges meet and sew them together butt-to-butt. You can either do it on a sewing machine using zig-zag, or by hand. Use thread of matching color.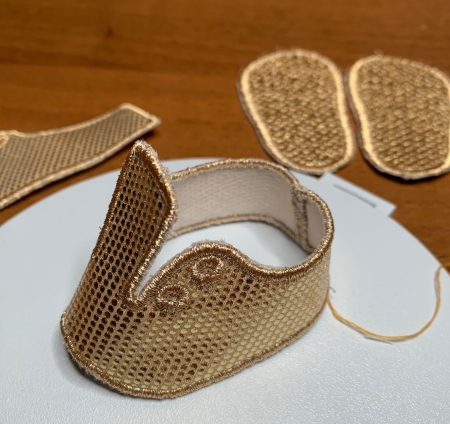 If you think that the sole is not firm enough, trace the soles' outlines on a piece of thin cardboard or foam and cut them out.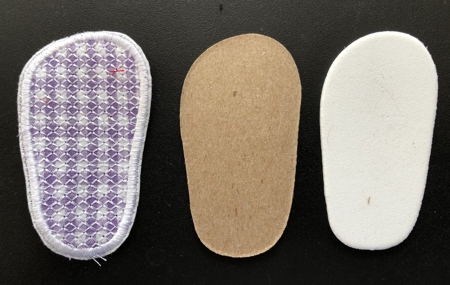 Step Seven

: With a couple of safety pins pin the sole to the upper and stitch by hand over the edges.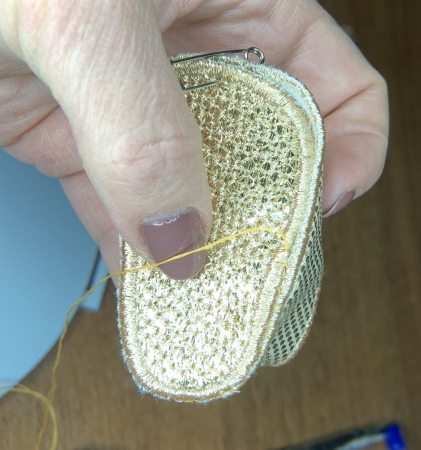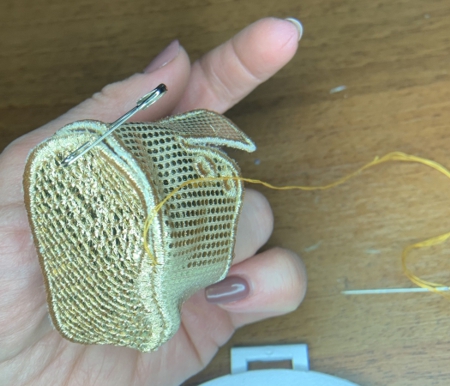 Step Eight:

Thread a tapestry needle with the cord or ribbon and insert the lace into the shoe holes.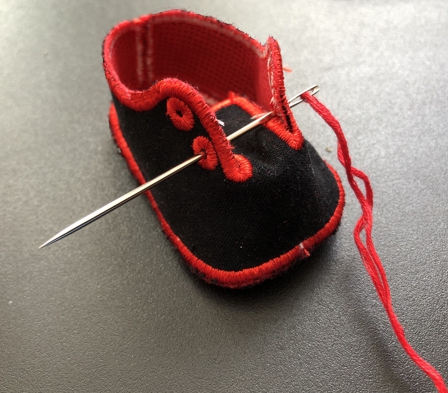 Step Nine:

Insert cardboad/foam soles inside. Put the sneakers on the doll.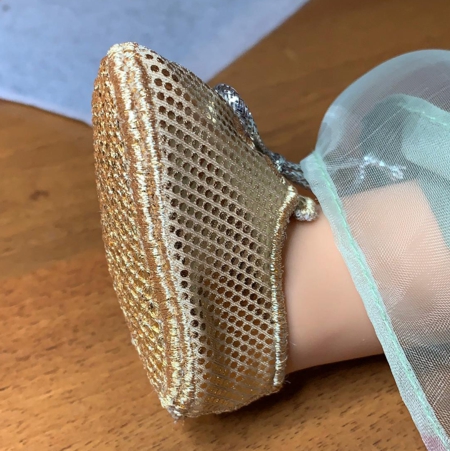 Have fun!

Back to

Doll Sneaker Set