Just in time for July 4 is this cute wholecloth quilt. There's no piecing required and it took us only a weekend to make.

We used designs from the Fireworks Set, for both small and large hoops (4"x4" and 5"x7").

The finished size of the quilt is about 22" x 36".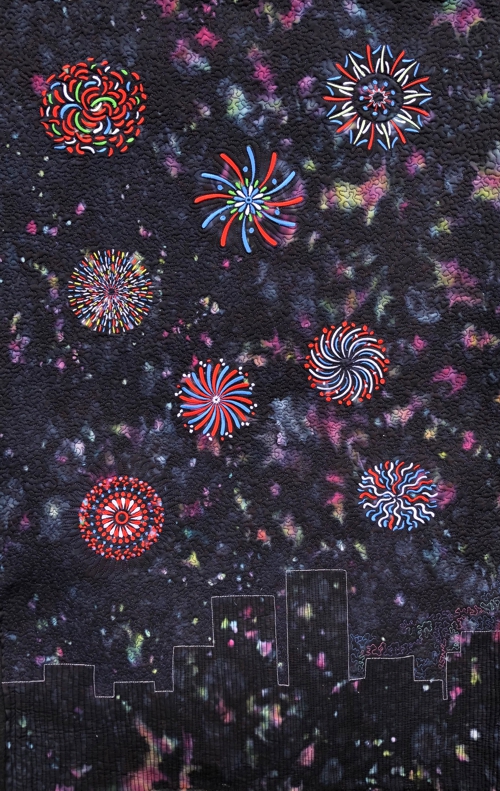 You will need :

embroidery threads either polyester or rayon, you can either follow our color recommendations or select your own,

1 yard of night-sky fabric; we used a navy blue batik with irregular spots in different colors,

light- to medium-weight cut-away embroidery stabilizer,
fabric for the backing,
batting,
quilter's ruler,

rotary cutter,

iron,
#12 embroidery needle,
#12 or #14 quilting needle,
quilting threads of matching colors,

chalk pencils.

Cutting:
Out of the fabric for the top, cut a piece measuring about 23" x 37".

Use the remaining fabric for the binding.

Out of batting and backing each, cut pieces measuring 24" x 38".

Embroidery:

Mark the position of the embroidery on the top.

If you have a printer and embroidery software, print-outs of the designs are helpful. Otherwise, you can cut out 4" and 5" circles to represent the designs. Measure about 10" from the lower edge and distribute the paper templates above this line.

Stabilize the chosen areas. Hoop fabric tightly and embroider the designs one by one.
We used designs for small and large hoops. After the embroidery is done, cut away the excess stabilizer around each stitch-out.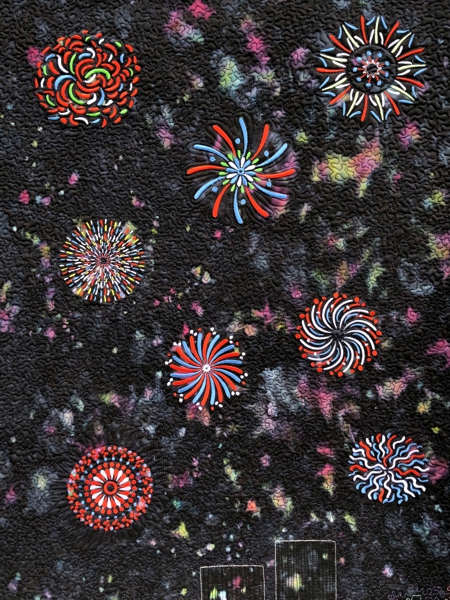 Quilting and Finishing:
Now place the backing on a flat surface (table) face down. Cover with batting. Spread your working piece over it.

Pin all layers together.

With the chalk pencil and ruler draw a city skyline on the bottom part of the working piece.

Quilt the skyline first. We quilted it with a light-colored thread.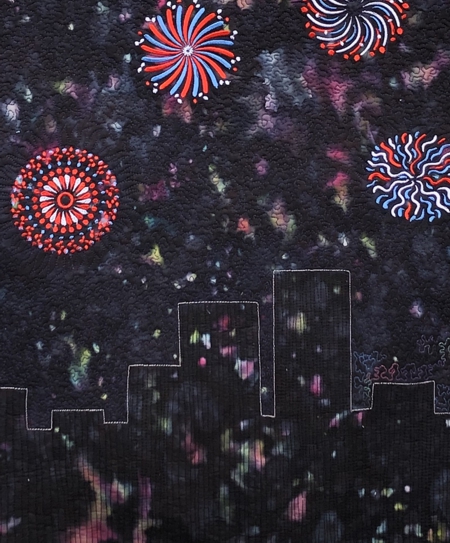 The buiding silhouettes are quilted with vertical lines in a free-motion style. The rest of the quilt is done with a stippling pattern.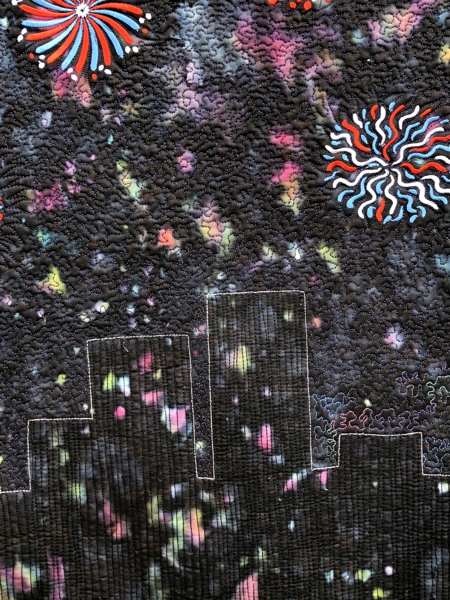 Press with heavy steam. Square the quilt. Finish the raw edges with the binding.
Have fun!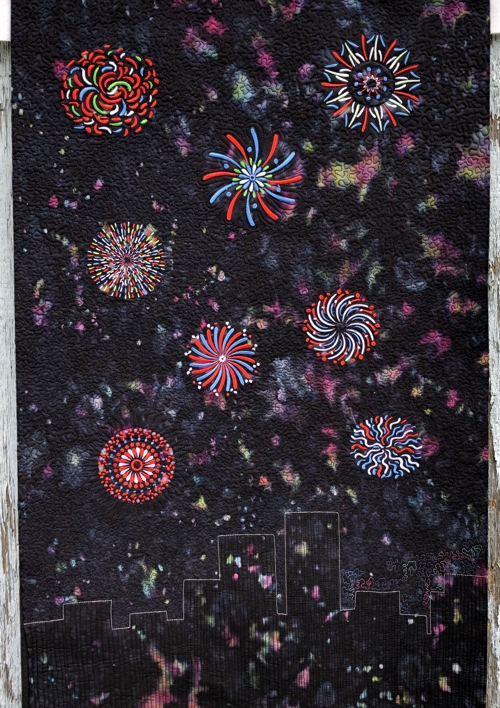 Back to Fireworks Set
Back to Projects Page