For this fun project we used the designs from the Playful Fox Set.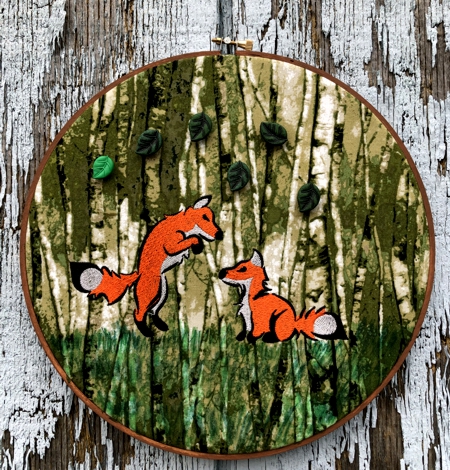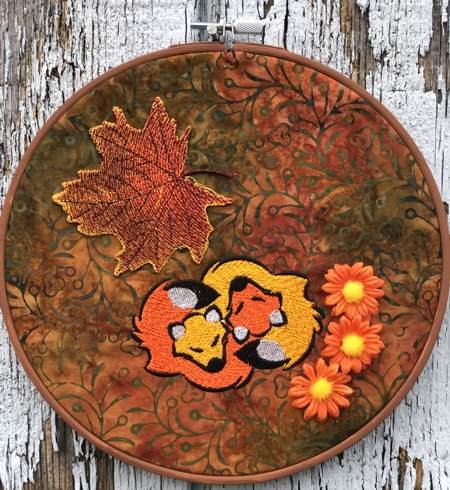 You will need :

embroidery threads, either polyester or rayon (follow our color card),

cut-away medium-weight stabilizer,

patterned green or brown fabric for the embroidery ,

2 round hoops, 8" and 11" diameter,

light-weight cut-away embroidery stabilizer,
sewing needle and thread (some hand-stitching will be required),
polyester craft felt for backing,
acrylic paint and brush (optional),
scissors, graphic pencil, iron, small screw driver,
all kinds of embellishments to your taste (we used silk flowers and buttons) and tools to attach them (we used a sewing needle and thread, and fabric glue).

Embroidery:
Stabilize the fabric for embroidery with medium-weight cut-away stabilizer. Hoop it tightly.

Upload the files from the Playful Fox Set into the machine. Embroider them.

For the smaller hoop we embroidered the design with 2 sleeping foxes. For the larger hoop we made a sceene of 2 playing foxes.

Embroider the designs.

Press the stitch-outs.

Painting the Hoop (optional):

While the machine is doing the embroidery, you can paint the hoops.

Open the hoop and paint the outer circle (the one with the screw). Leave to air dry.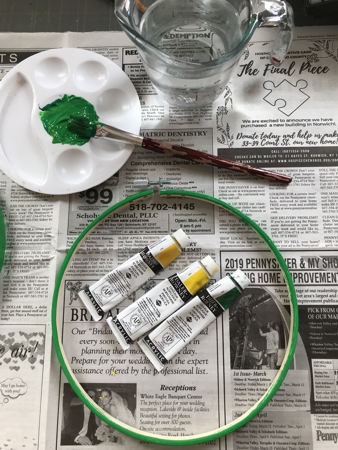 While you are waiting for the hoops to dry lay the craft felt on a table. Take the inner circle of the hoops and a grapic pencil.

Trace the inside of the inner circle.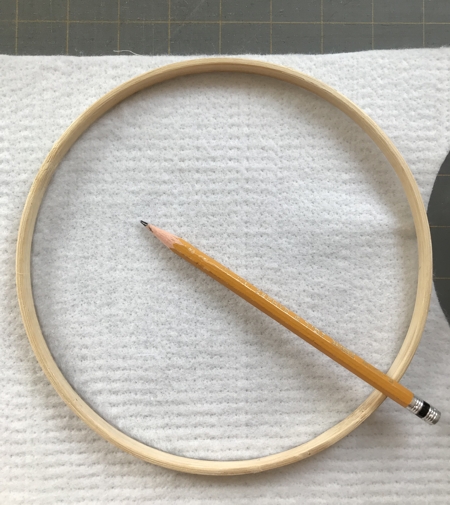 Cut out along the trace line.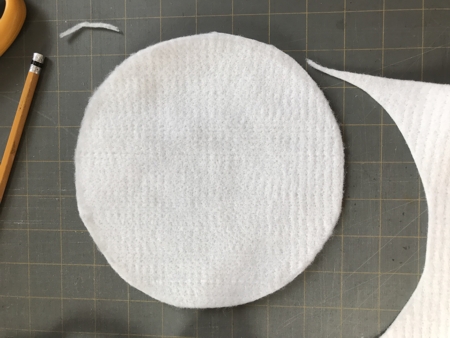 Assembly and Decorating:
Insert the stitch-out into the hoop. Stretch the fabric to avoid any creases and folds. Tighten the screw.

For the stitch-out with the sleeping foxes we used a freestanding leaf from the FSL Autumn Leaves Set and silk flowers which we glued on.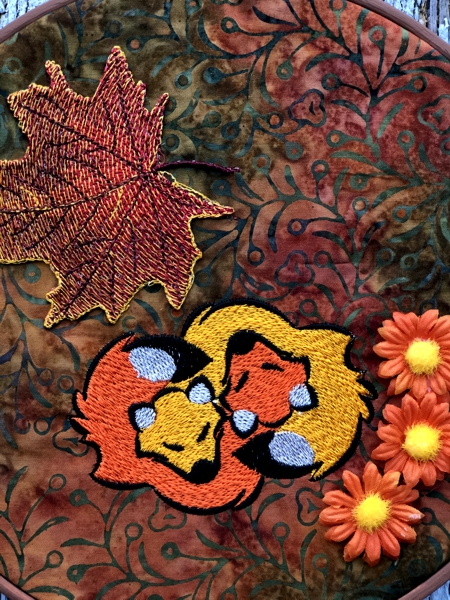 If you prefer to sew on the leaf, it's better to do this before hooping.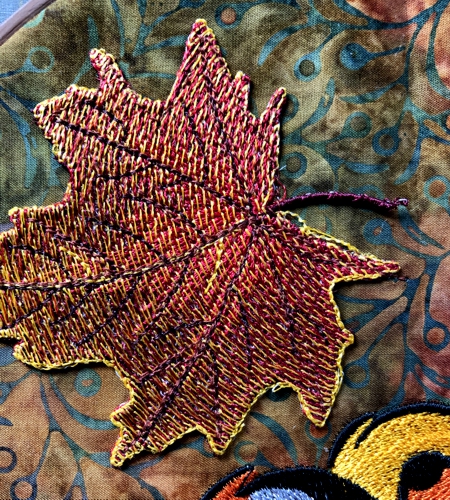 For the hoop with the playing foxes we used the tree-patterned fabric, leaf-shaped buttons and fabric markers.

Sew the leaves above the foxes. With the green markers draw some grass under the animals.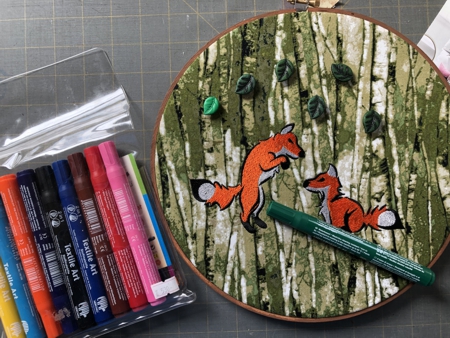 Close-up of the hoop with the playing foxes decorated with buttons and grass added.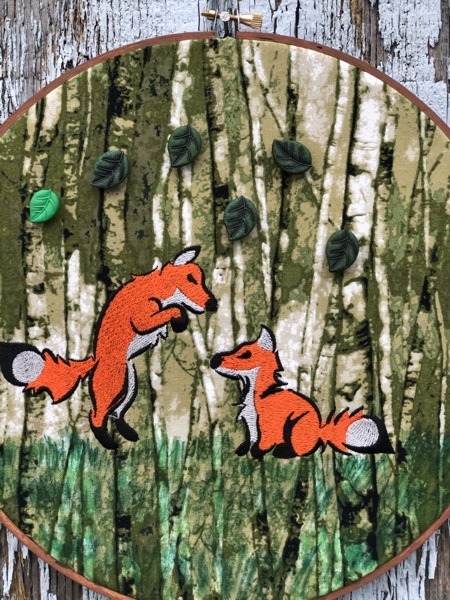 Cut away the excess stabilizer. Take care not to cut the fabric.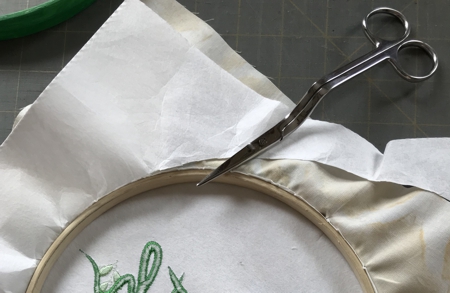 Cut away the excess fabric, leaving margins about 1" - 1 1/2".

Thread the needle and baste along the outer edge.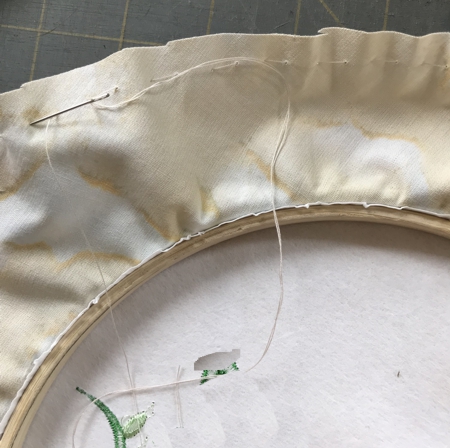 Pull the thread to gather the fabric. Tie thread and cut.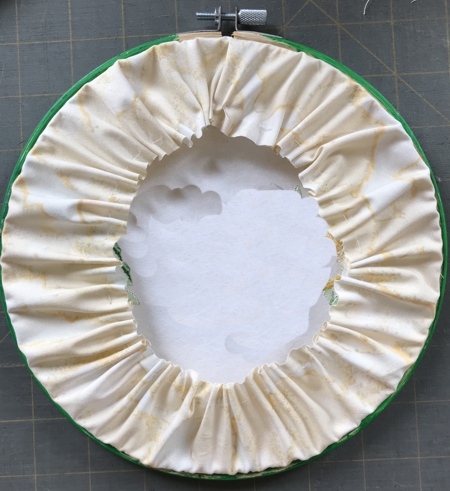 Cover the back with the felt circle. Sew the felt to the fabric along the outer edge of the felt.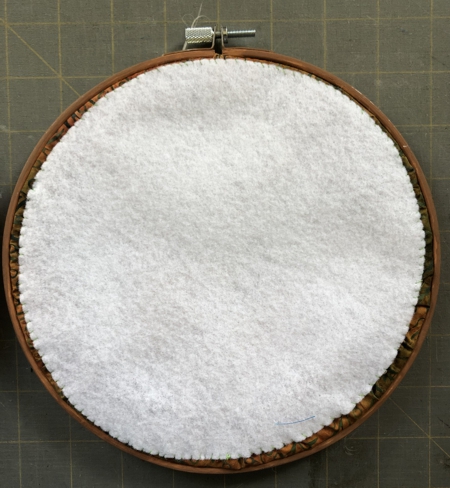 Have fun!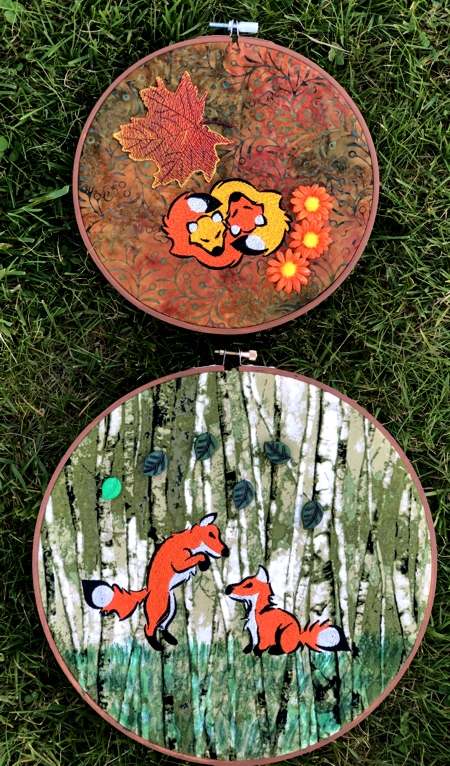 Back to Playful Fox Set
Back to Projects Page