These are instructions on how to assemble the stitch-outs of the design

Bargello Small Purse or Glasscase

into a small bag. The bag can be used for cosmetics, jewelry, as a coin purse or glasscase. It makes a great gift for the upcoming holiday season.
The finished size is about 4" x 7"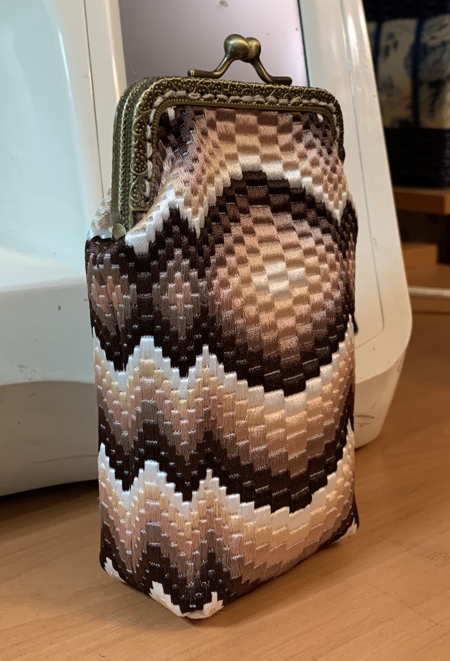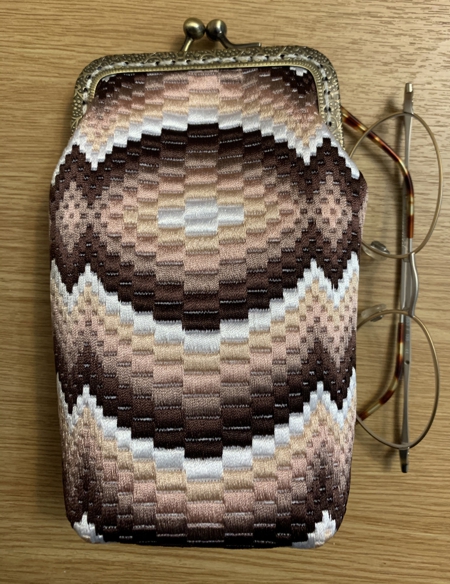 You will need :

embroidery threads, either polyester or rayon; you can follow our color card or chose your own colors

fabric for the outside of the bag
fabric for the lining,

medium-weight cut-away stabilizer or polyester craft felt,

applique scissors,
sew-on sew-on metal purse frame
Length:85mm/3.34";Height:45mm/1.77")


Embroidery:
Upload the design into the machine. Select threads.
Stabilize your fabric either with medium-weight cut-away stabilizer or polyester craft felt.
Embroider the design twice.

Assembly

:

Cut the stitch-outs out leaving about 3/8" margins for seam allowance.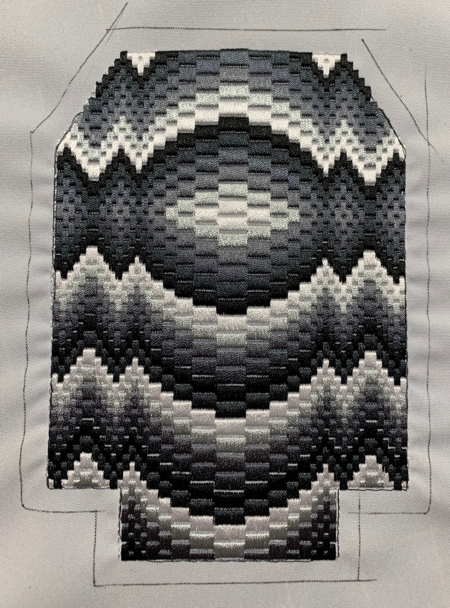 Using the stitch-outs as templates, place them on the lining fabric and trace the outline.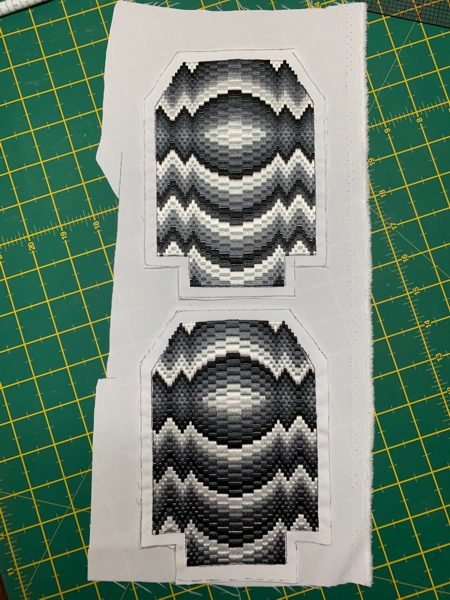 Cut out 2 lining pieces.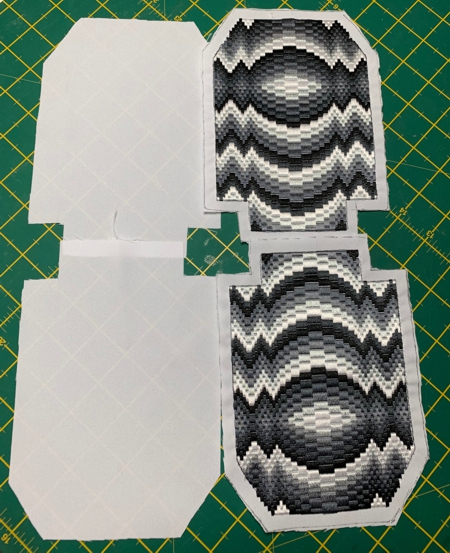 All pieces - 2 stitch-outs and 2 lining are ready for assembly

On the lining pieces fold the bottom 3/8" back and press. Place the lining pieces face to face, align all edges and sew the sides, with seam allowance a little less than 3/8". Press the seams open.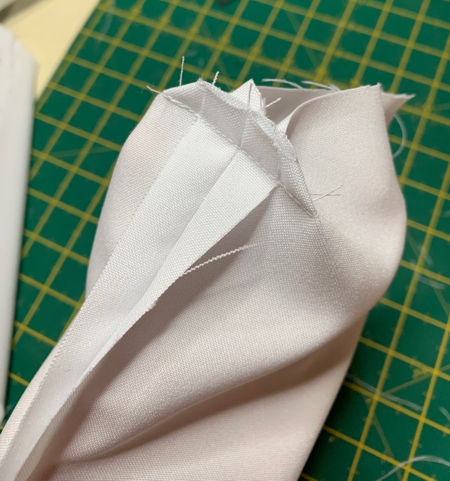 Stitch the box corners, but DO NOT stitch the bottom yet! .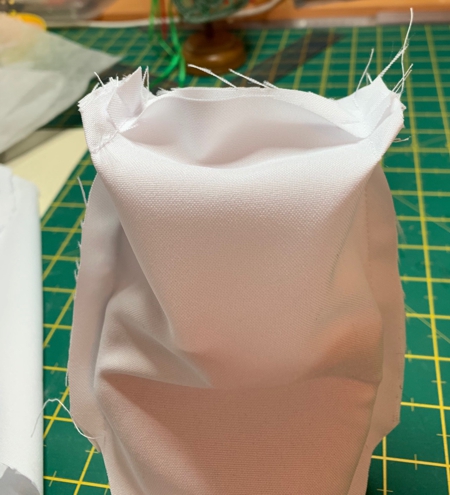 The bottom remains unstitched.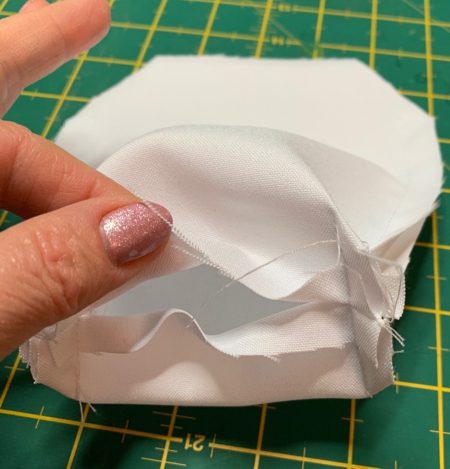 Place the stitch-outs face to face, aligning the embroidery edges. Sew the bottom and the sides very close to the embroidery.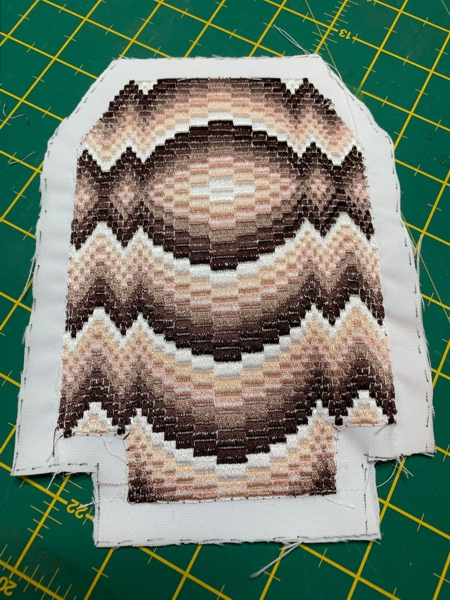 Press all seams open. Sew the box corners.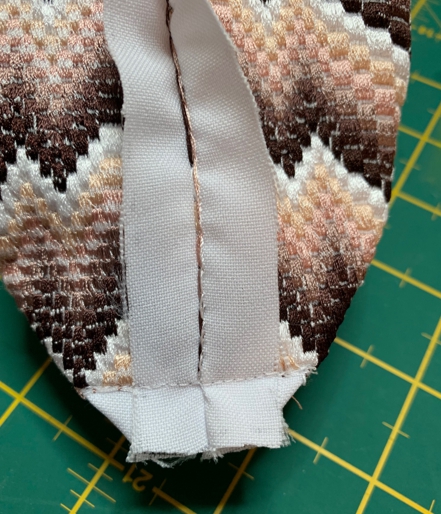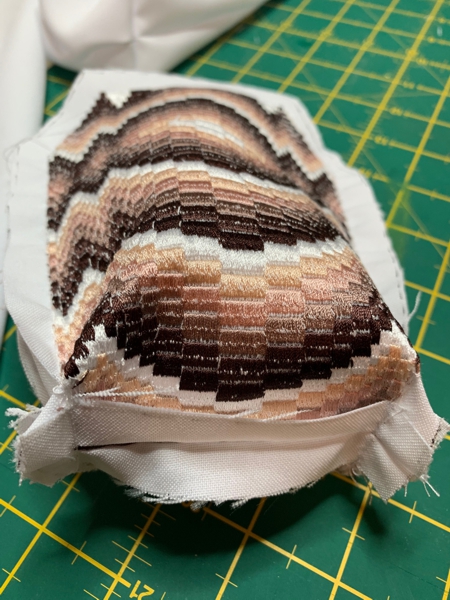 Turn the lining right side out and insert into the outer part, face to face. Align the edges. Machine-stitch the top edge close to the embroidery stitches.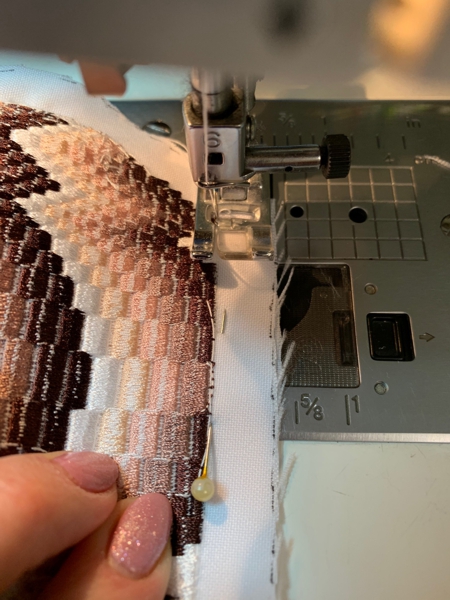 If it's difficult to machine-stitch the sloped sections of the upper edge, then hand-stitch them together.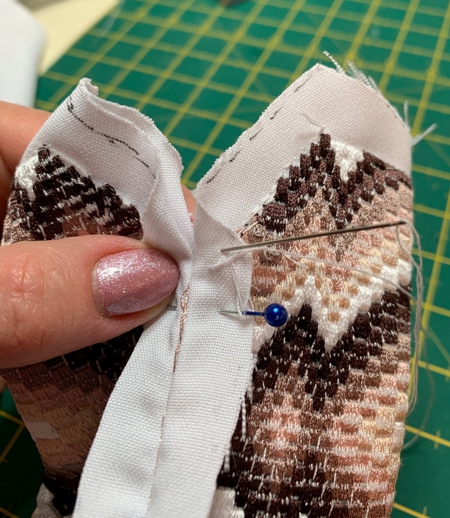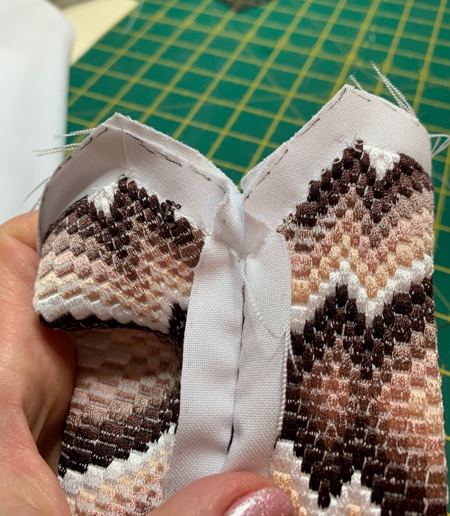 Cut out the fabric between the straight and sloped sections on the upper edge. Take care not to cut through any stitches.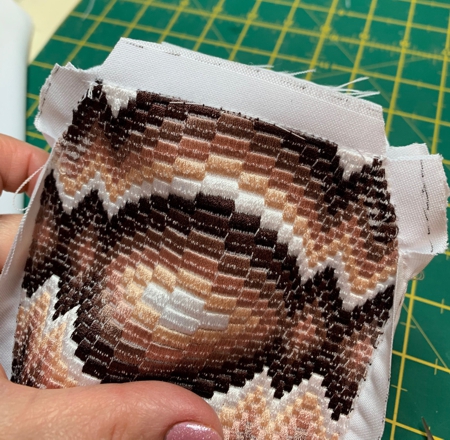 Through the opening in the lining, turn the working piece right side out. Stitch the opening in the lining closed.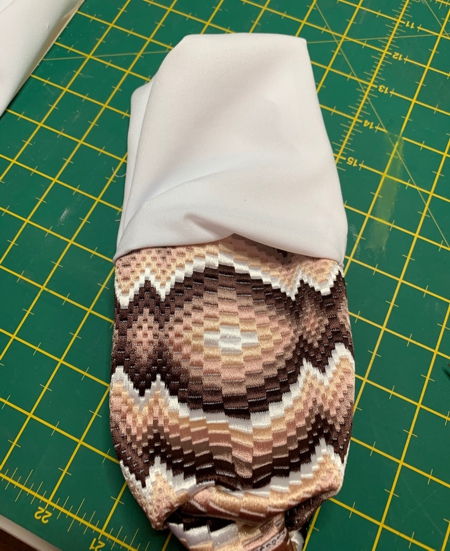 Insert the lining into the bag. Straighten all seams and corners.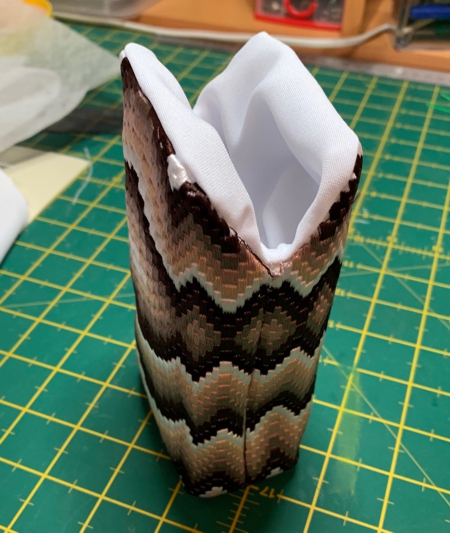 Now the case is ready for the frame.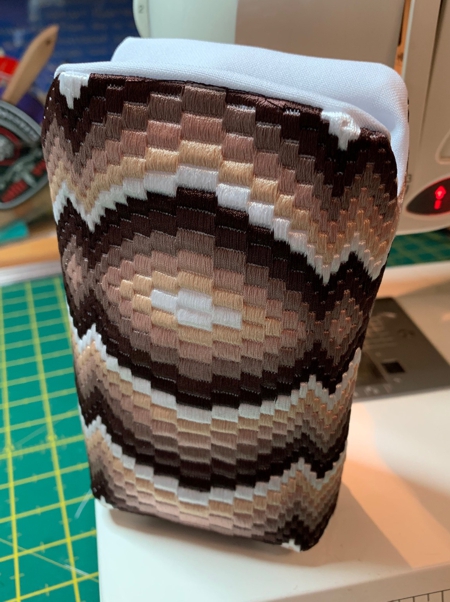 For attaching the frame choose a heavy duty thread. Start sewing each part of the frame from the center; sew all the way to one end, then sew all the way to the other end, going through the center, then come back to the center again. Do the other side in the same way.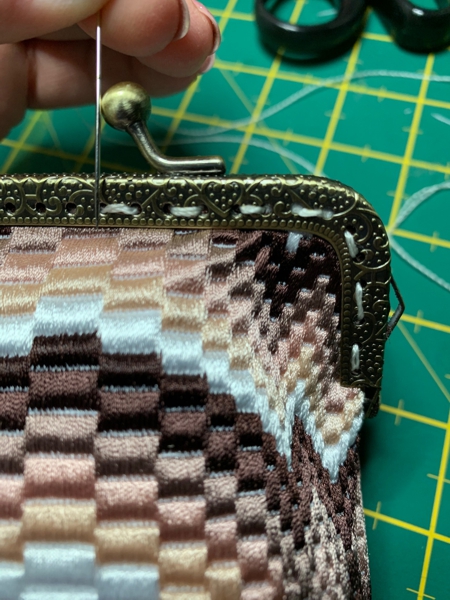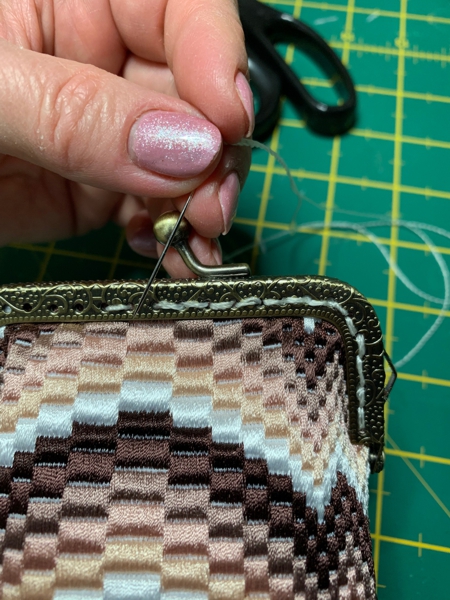 Have fun!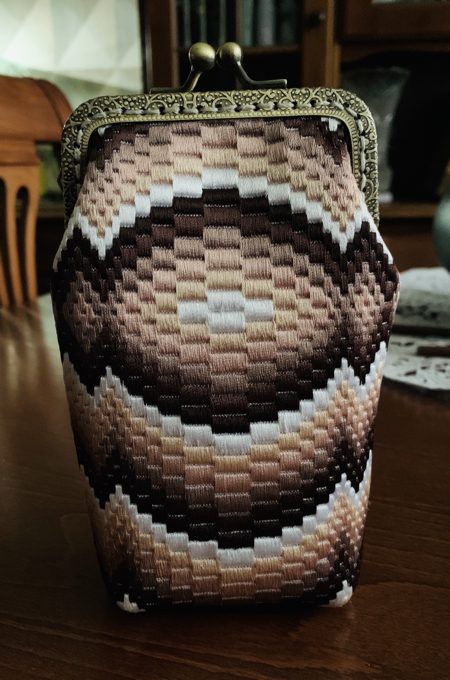 Back to

Bargello Small Bag or Glasscase