These are instructions on how to embroider and assemble the designs from the Soutache-Style Bracelet Set.

There are 3 files in the set. They all contain the same design, but in different sizes. All files are embroidered in the same way.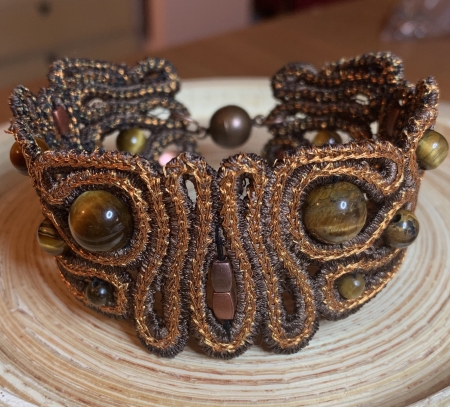 Stitches: 21,278
Size: 35mm x 161mm
Colors: 3

Stitches: 22,583
Size: 37mm x 171mm
Colors: 3

Stitches 23,711
Size: 39mm x 180mm
Colors: 3

You will need:

embroidery threads, either polyester or raoyn,
watersoluble mesh stabilizer,
bracelet/necklace clasps,
beads 6 - 15 mm of different shapes (we recommend plastic or polymer clay beads, as glass and natural stone beads are usually too heavy),
basic jewelry tools including pliers and cutters,
sewing needle and thread to attach beads.
Stabilizers: We recommend to use water-soluble mesh, such as Vilene. Vilene D0102 is a non-woven dissolvable stabilizer which is imported into the US, is sold in large rolls and is sometimes packaged under different brand names. Some of these brand names are Fabri-Solvy by Sulky, Avalon Plus by Madeira, Wash-Away, and Aqua Magic.

Film-like water soluble stabilizers, such as Solvy by Sulky, Avalon by Madeira and Badge Master are less suitable for the project. If you have to use them, use several layers.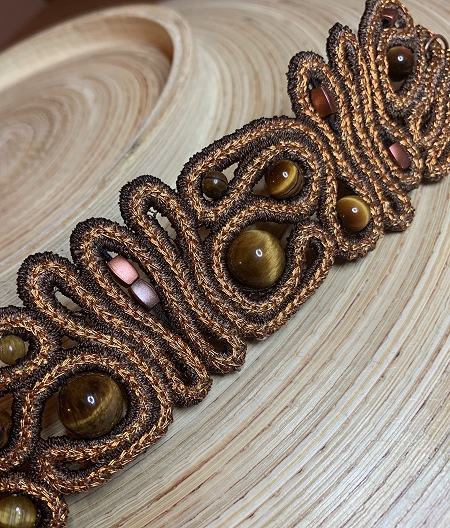 Threads: For this project, use either polyester or rayon embroidery threads.
Needles: We use size 80/12 embroidery needles and 80/12 metallic needles. Our experience shows that cotton thread used with metallic needles gives less lint. The needles should be sharp, so it's advisable to change them often.
Most Importantly: ALWAYS make a test stitch-out and wash away the stabilizer. This helps you to select the threads, needles, stabilizers and settings of your machine correctly. It's very important to select the correct thread tension!
Making the Bracelet
Step One: Hoop 2 layers of watersoluble mesh. Embroider any of the 3 files.
Washing out the Stabilizer
Step Two

: Cut away the excess stabilizer.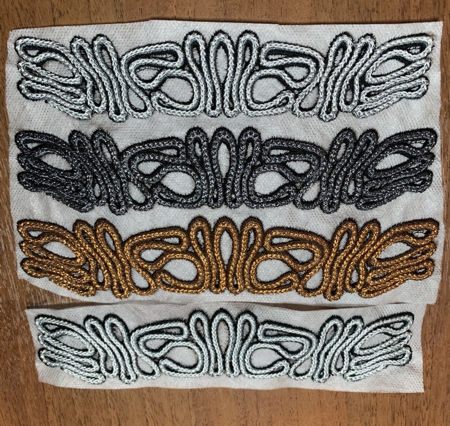 Place the stitch-out into a bowl with luke-warm water. Leave the board in the water for at least 15 minutes. Change the water a couple of times.
Take the stitch-out out of the water, place between 2 paper towels and squeeze out the excess water. Fold the stitch-out into a tube, pin the ends together. Leave to air dry.

Finishing the Bracelet
Step Three

: Attach the bracelet clasp to the ends.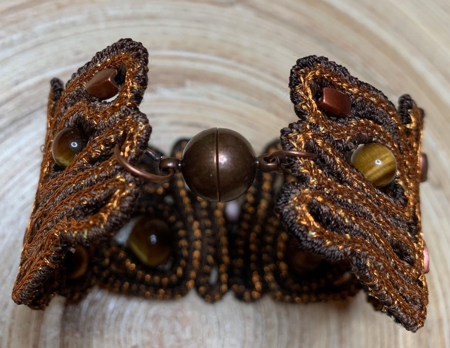 Step Four

: You can use the bracelet as it is, or further embellish it with beads to your taste.
Using the same thread which which you made the embroidery, sew the beads to the insides of the loops of the bracelet.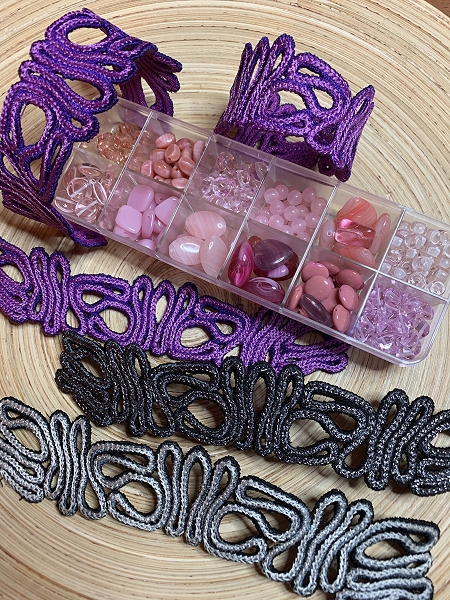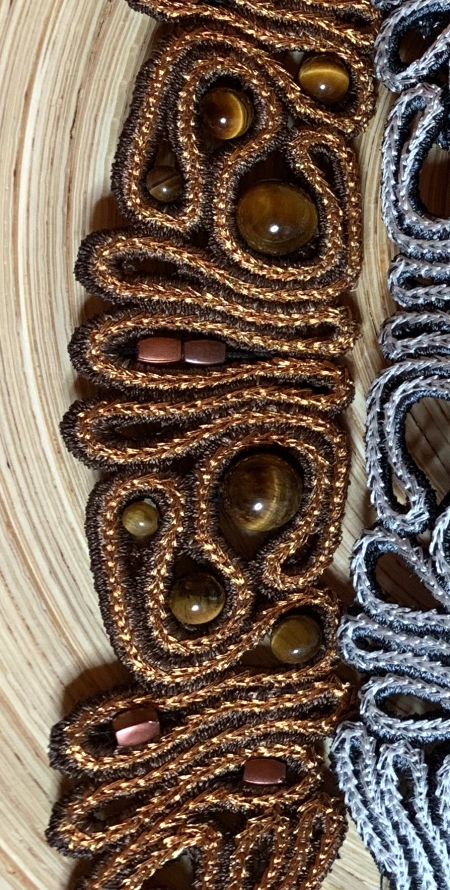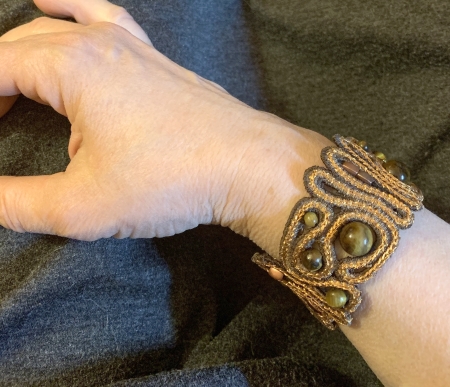 Have fun!
Back to Soutache-Style Bracelet Set.