This wall hanging is a quick and easy project. Use it to add a spring touch to your home, or give it away as a gift!

We used the designs from the Spring Flower Set. All designs are for the small hoop (4" x 4").
The finished size of the wall hanging is about 11" x 23".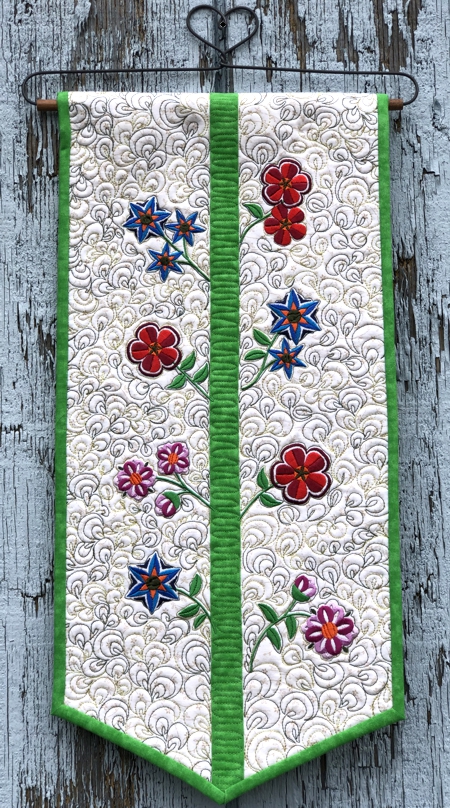 You will need :

embroidery threads either polyester or rayon; you can either follow our color card or select your own colors;

about 1/2 yard of light-colored (cream, pale green or pale blue) cotton fabric for the embroidery,

about 1/4 yard of bright green cotton fabric for the central strip and binding,

light-weight cut-away embroidery stabilizer,
fabric for the backing,
low-loft batting,

quilter's ruler, rotary cutter,

iron,
quilting thread (we used a multi-colored gradient featuring yellow to dark green, by Sulky),

sewing thread,
#12 sewing needle,

#12 or #14 quilting needle,

decorative hanger.
Cutting

:

Out of fabric for the embroidery, cut 2 strips measuring 5 1/2" x 25" each.

Out of green fabric, cut

1 strip measuring 1 1/2" x 25" and
2 strips 2 1/2" and the length of the width of the fabric for the binding.
Assembly

:

Sew all 25" long strips together along their long sides, with the green strip between 2 light-colored strips.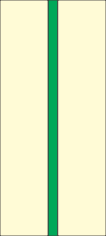 Embroidery

:

Decide on the positioning of the flowers - they should be on both sides of the green central strip, as if growing from the green strip, and 5" from from both short edges.
Stabilize with light-weight cut-away stabilizer and embroider the designs one by one.

After the embroidery is done, cut away the excess stabilizer around the embroidery.

Quilting and Finishing:
Now place the backing on a flat surface (table) face down. Cover with batting. Spread your working piece over it.

Pin all layers together.

We quilted in a free-motion style all over the piece using multi-colored quilting thread.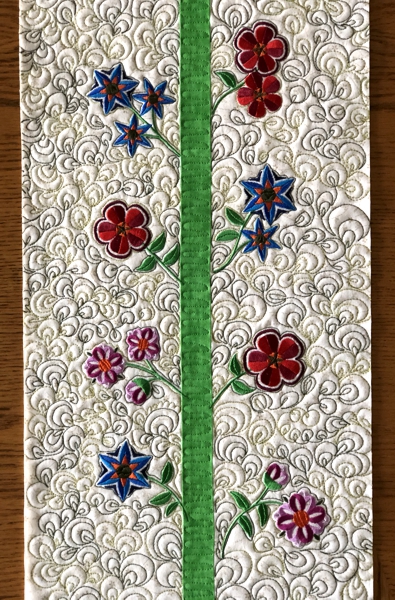 Press with heavy steam. Square the quilt - the opposite sides should be of the same length, and all corners should be 90 degrees. Also check that both embroidered strips are of the same width.

On the bottom edge, find the center. Mark the point with a pencil. Measure 2 1/2" from the bottom corner along the side edge. Mark the point with the pencil. Connect both points with a ruler.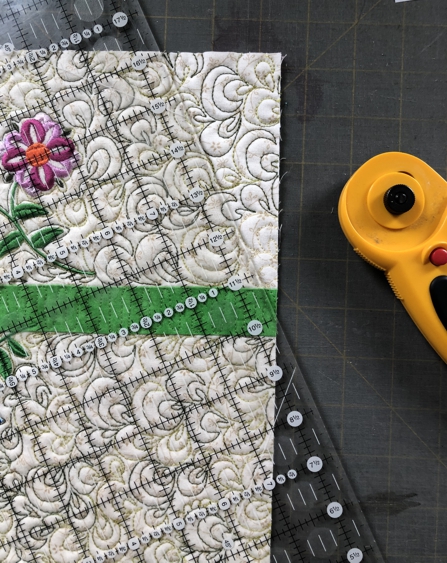 Cut the corner away along the ruler.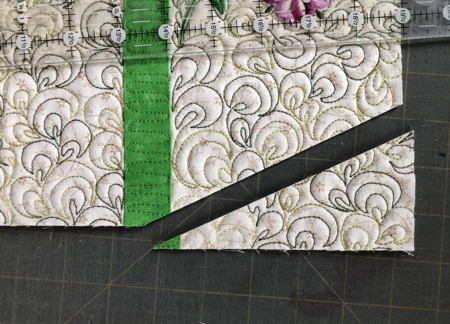 Repeat with the second bottom corner.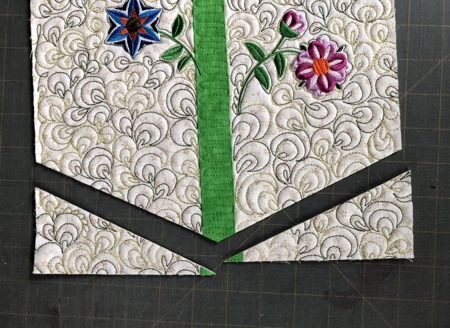 Finish the raw edges with the binding.
Fold the upper edge of the wallhanging 2" back onto the backing and press with steam.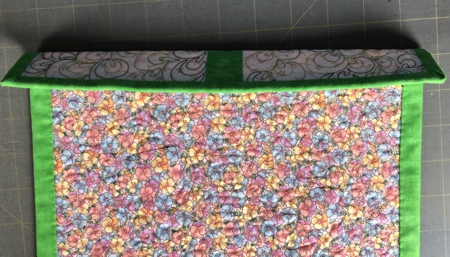 Slipstitch the edge of the folded part in place. This makes a sleeve for the wall hanging.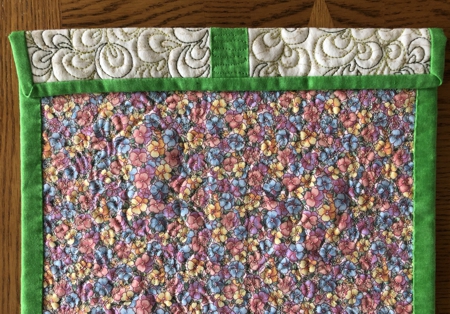 Place the quilt on the hanger.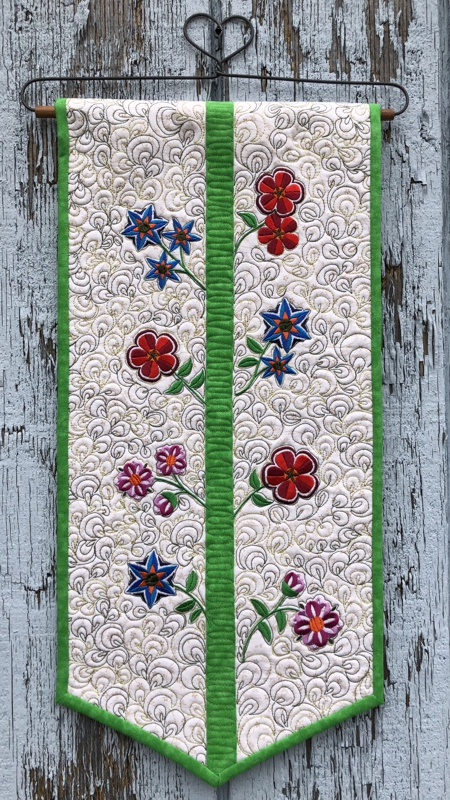 Have fun!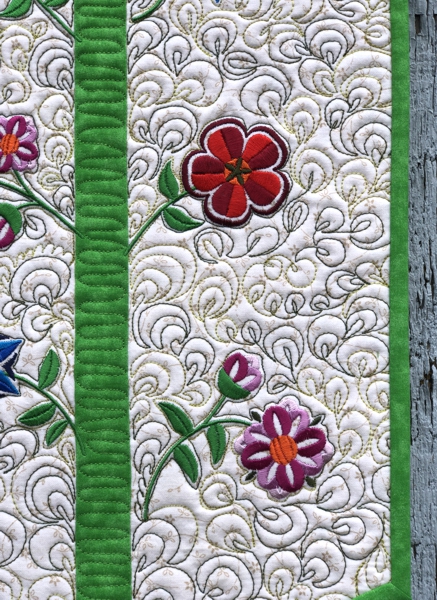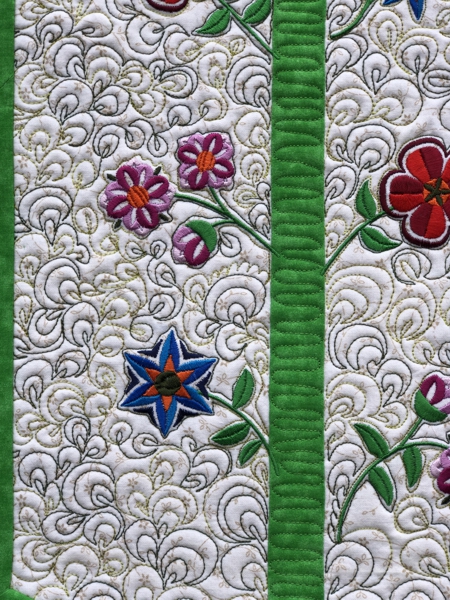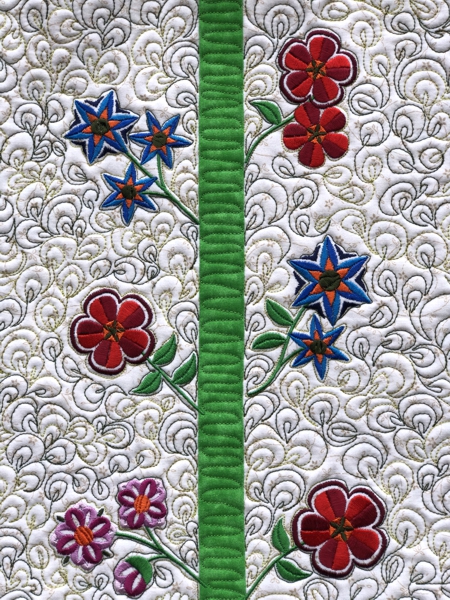 Back to Spring Flower Set
Back to Projects Page