For this wall hanging we used the design of the Forest Landscape.
The design is available in 2 sizes. We used the smaller one, for a large, 5" x 7", hoop.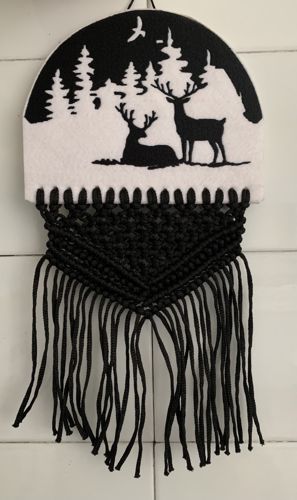 You will need :
embroidery threads either polyester or rayon - black, dark brown, or any other very dark hue to your taste,

2 fat quarters of polyester craft felt,

light-weight cut-away embroidery stabilizer,
either a piece of cardborad, a 4-6 mm thick piece of foam, or Pellon 72F Peltex 2 sided fusible ultra firm stabilizer,
universal glue, if you use cardboad or foam,
black macrame cord 3mm wide,
a punch tool,
a tapestry needle with a wide eye,
scissors.
Note: for this project you also might need some basic macrame. There are many free tutorials on YouTube, for example: Basic Macrame Knots Beginner Tutorial.
Embroidery:
Upload the Forest Landscape design into your embroidery machine. Stabilize one piece of felt with light-weight cut-away stablizer, hoop the fabric tightly and embroider the design.

Assembly:
Cut out the upper edge of the design close to the stitches. Continue the sides for about 3". Draw the horizontal bottom line and cut along it.

Using the stitch-out as a template, cut the same shape out of the second piece of felt and cardboard/foam/Pellon Peltex.

Make a sandwich with the stitch-out as the upper layer, firm board as the second layer and the felt as the third layer. Glue them together. If you're using Pellon, it's enough to press the layers together with a hot iron.

Mark the location of the holes - about 3/4 from the bottom edge and 3/4" between the holes.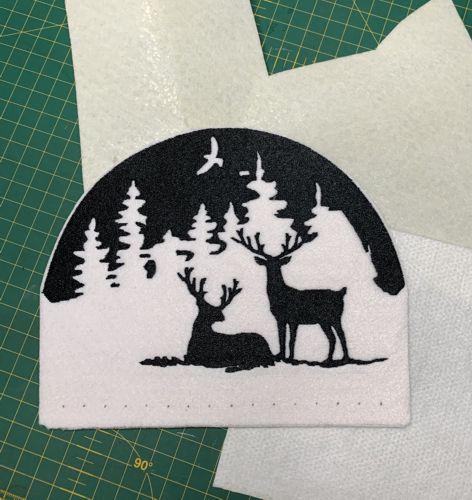 Punch the holes and prepare the cord. Depending on the knots you are going to make, cut the cord into pieces as needed.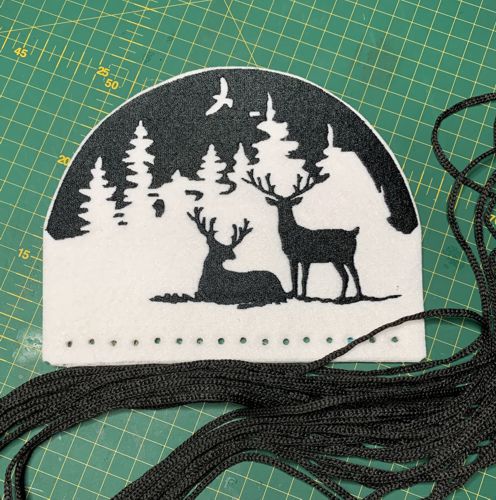 Insert the cords into the holes. You can leave them as they are, just as a fringe, or make macrame knot.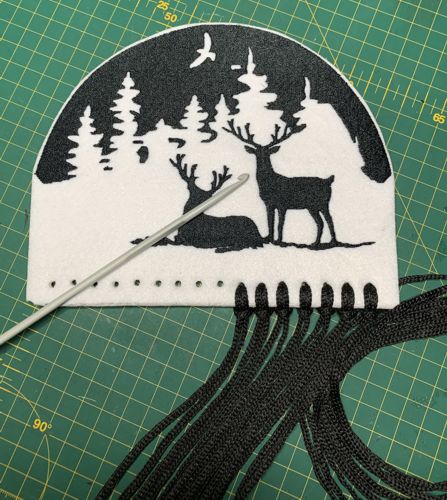 Insert a 12" long piece of cord into the tapestry needle and make a loop close to the upper edge on the back
of the working piece.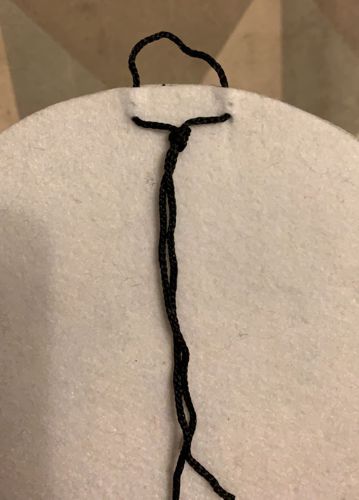 You're done!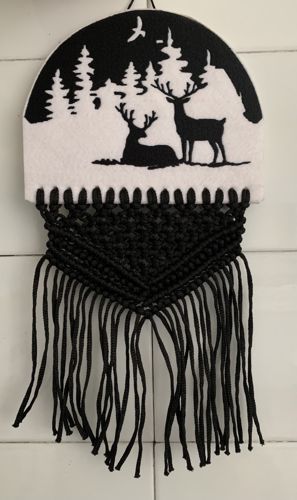 Have fun!
Back to Forest Landscape
Back to Projects Page