You can decorate your kitchen with easy to make slogans. We offer a project for a 2-sided sign, which you can put on a kitchen door. Designs used are from the Kitchen Slogan Set.

The finished size of the sign is about 10" x 11 1/2".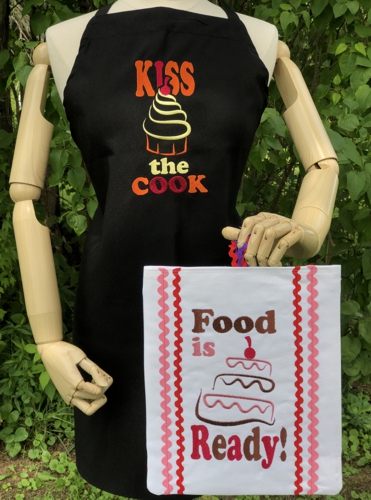 One side of the sign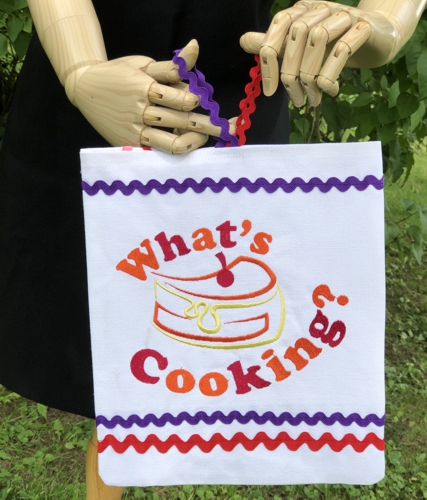 The other side of the sign

You will need :

embroidery threads either polyester or rayon - either use our colors or choose them to your taste,

duck cloth, we chose white, but it can be of any color,

medium-weight cut-away embroidery stabilizer,
any trims as additional embellishments (we chose large rick-rack),
quilter's ruler and rotary cutter, or scissors,

iron,
#12-14 universal needle,
a piece of plastic mesh or thin cardboard, measuring about 9 1/2" x 10 1/2", for additional stability of the sign,

a small piece of Hoop and Loop (Velcro) tape.

Embroidery:
Stabilize the canvas with medium-weight cut-away stabilizer. Choose 2 slogans from the Kitchen Slogan Set.
Embroider the designs one by one.

Trim the stitch-outs to10 1/2" x 12 1/2" pieces. Do not remove the cut-away stabilizer, it will add stability to the finished project.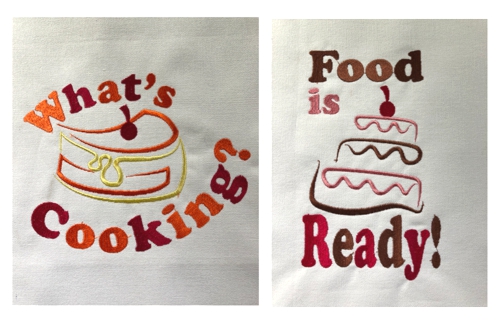 Fold the upper edge of each stitch out 1/2" back and press with steam. Cut away 1/2" of the stabilizer from under the crease.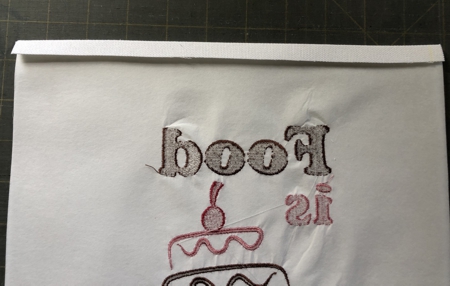 Position the placement of the additional trims, if any, on the stitch-outs.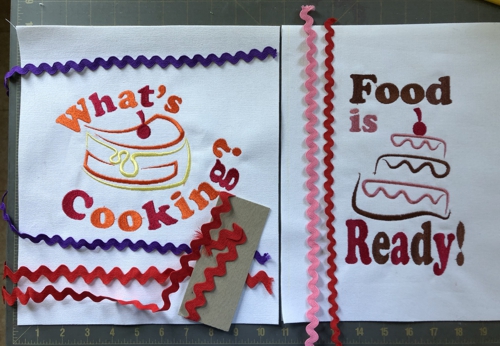 Stitch the trims in place.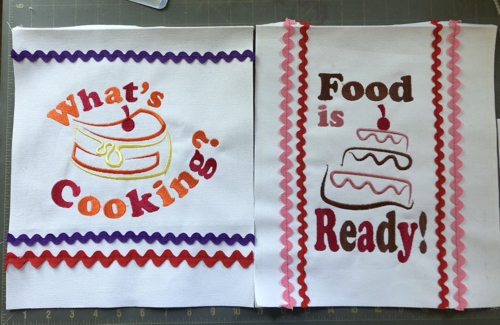 Cut a piece of trim about 7"-8" long, the length depends on the size of the hook (or door knob if you want to use it on a door). If you're going to put the sign on a hook or nail, it can be shorter.

Fold the piece in half to get a loop and pin the ends to the upper edge and 5" from the side edges of each stitch-out.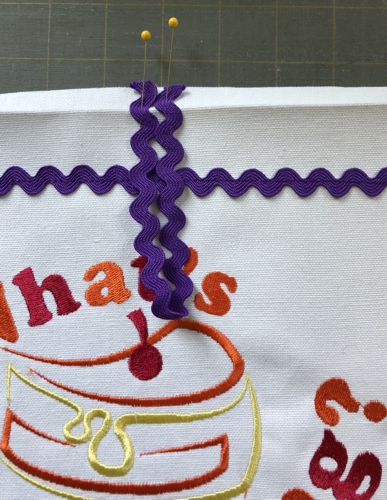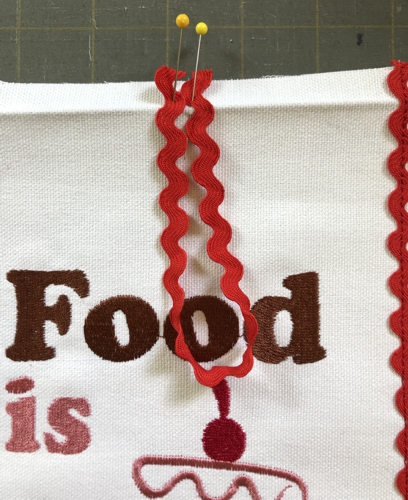 Stitch the loops in place.
Fold the upper edges back along the creased lines and topstitch in place.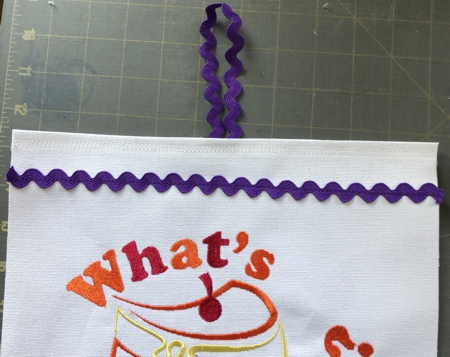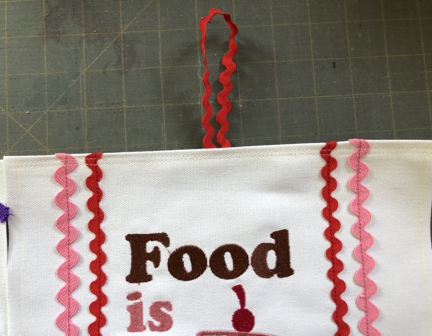 Place both stitch-outs face to face, align all edges. Pin together. Stitch the sides and bottom together. Seam allowance is 1/4". Cut away the stabilizer from the seam allowance.

Trim the corners.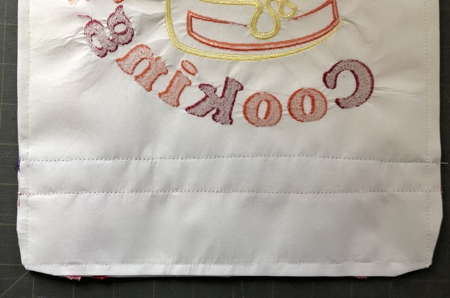 Turn right side out. Press.

Insert a piece of plastic mesh or cardboard inside for stability.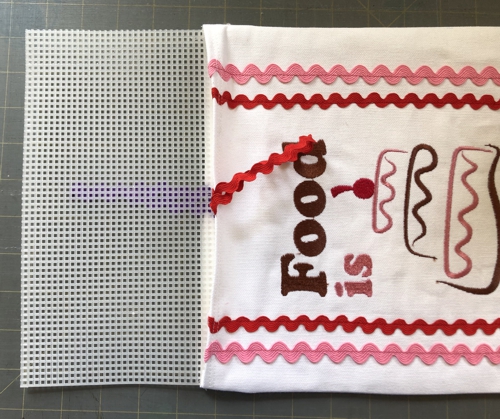 Sew a piece of Velcro tape to the upper edge, if needed.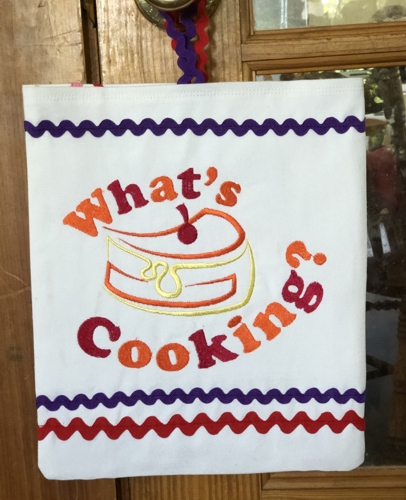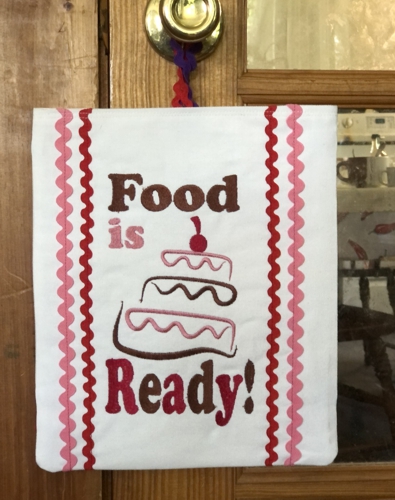 Have fun!
Back to

Kitchen Slogan Set
Back to Projects Page