A handmade bib is an excellent baby shower gift. This project includes a free bib template!

We used the designs from the My First Halloween Set. The designs are for the Large hoop (5" x 7"). They can be embroidered on a baby's sweat-shirt, fleece hat, blanket, etc. We offer to make bibs with them.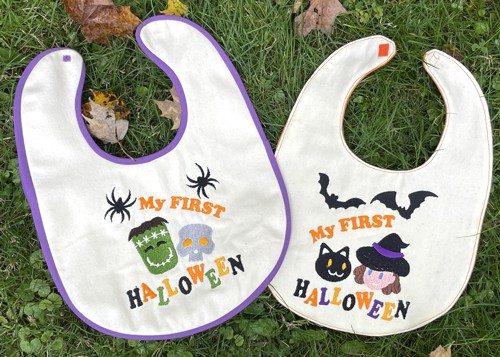 You will need :

embroidery threads either polyester or rayon - either follow our color card, or choose your own colors,

cotton flannel - we used pale yellow for the front and orange for the lining,

light-weight cut-away embroidery stabilizer, (we prefer No-Show mesh by Floriany, but similar product of other companies will also work),
scissors and/or rotary cutter,
Scotch tape,
printer and 3 sheets of Letter-size paper,
bias tape (optional),
either small pieces of thin Velcro tape, or snaps, or buttons for the closure,
#12 universal needle,
fabric marker or graph pencil.
Embroidery:
Stabilize a piece of light-colored flannel (the piece is about 12" x 15"). Hoop both layers tightly. Upload a design from the My First Halloween Set, select threads. Embroider the design.

Pattern:
Download the template for the top. To open and print the template, which is a PDF file, you will need Adobe Reader or a similar program. Adobe Reader is free to download and install.

Template Download (PDF file)
Print out the templates.

Cut them out and connect together using Scotch tape.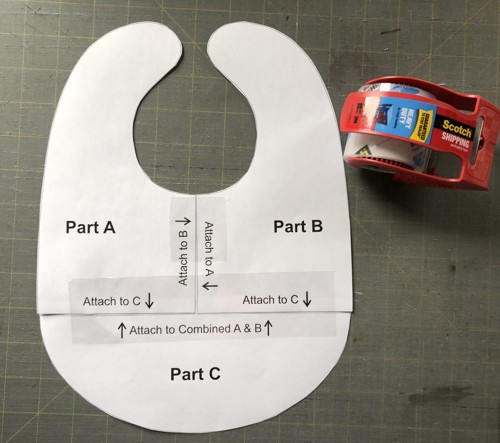 Cutting:

Position the paper template over the stitch-out. Check that the embroidery is in the center. Trace the template. Cut out the fabric.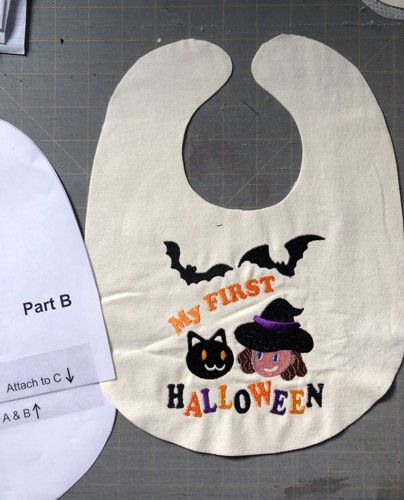 Using the same paper template, cut out the lining.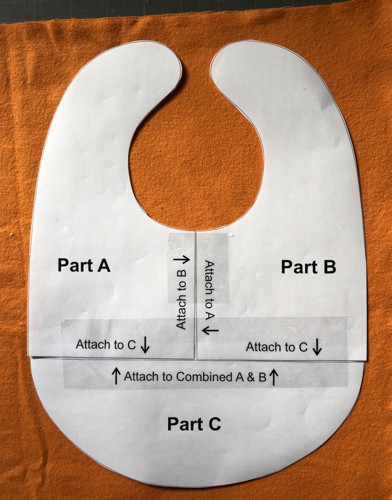 Here are the front and back parts for both bibs.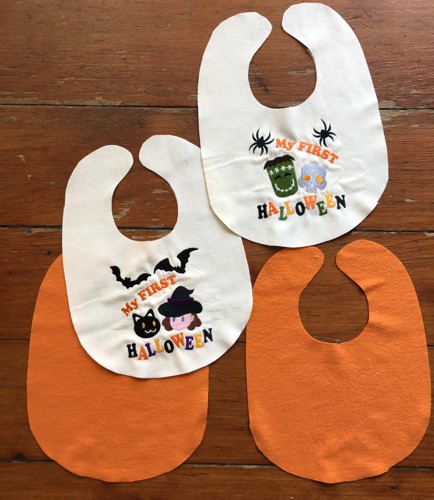 Assembly:
You can assemble the bib in 2 ways - with and without bias tape. Both methods are described below.
Place the front and lining parts together right side to right side. Align and pin the edges.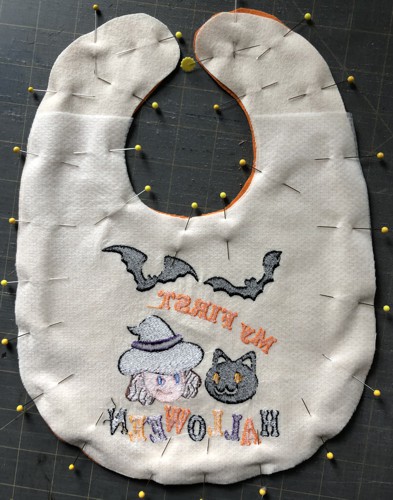 Starting on a side edge, stitch along the edges with 1/4" seam allowance. Leave an opening of about 3" wide.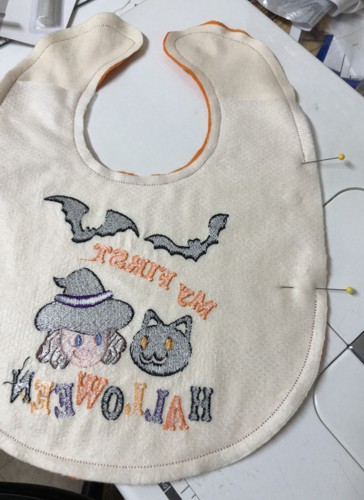 Clip the concave curves and notch the convex curves: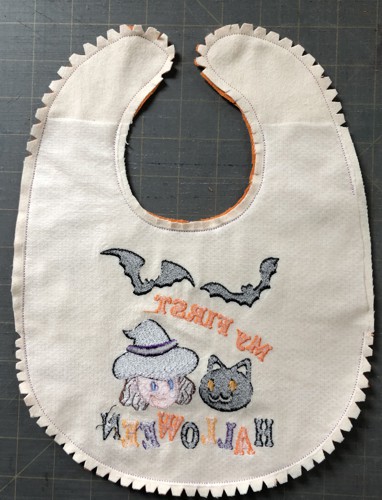 Through the opening, turn the working piece out, straighten all seams. Press.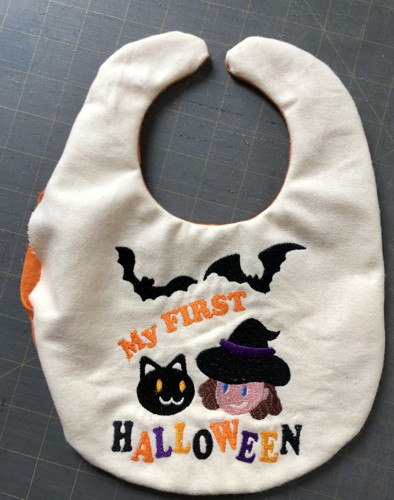 Topstitch along the edges, 1/8" seam allowance. You can also make a decorative stitch along the edges, if your machine has this option.

Sew on small pieces of Velcro, or snaps to make a closure. If you use a button, sew a buttonhole and attach the button.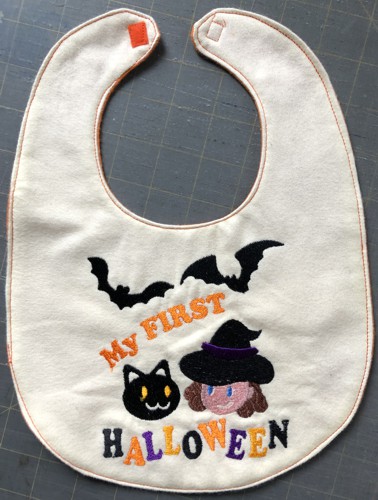 If you are going to use bias tape, position the front and lining together, back to back, align all edges. Stitch along the edges with seam allowance a little bit less than 1/4".

Finish the raw edges with the bias tape.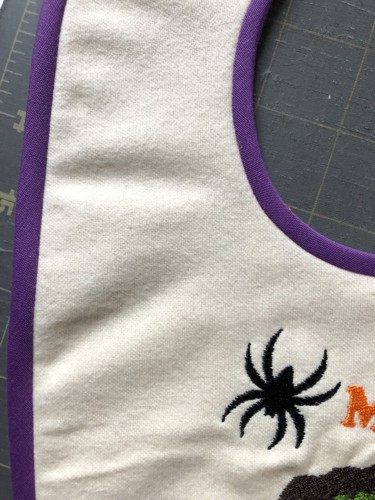 Have fun!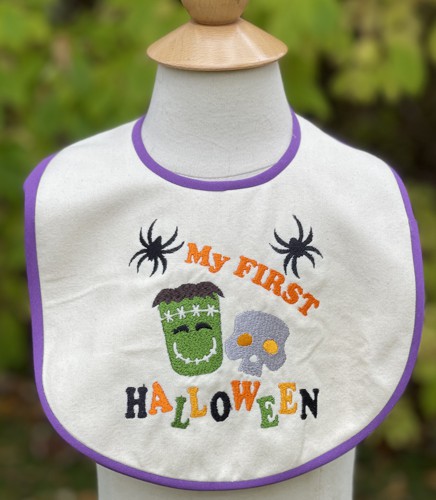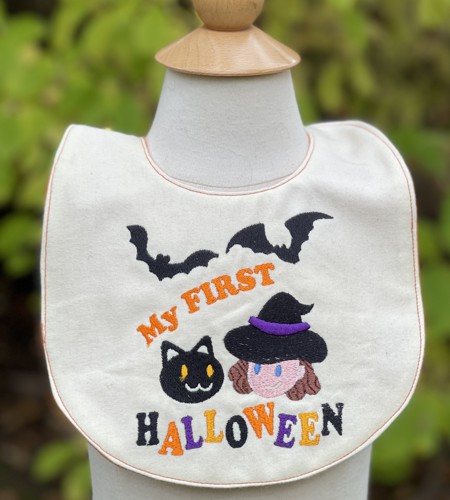 Back to My First Halloween Set
Back to Projects Page