This whole-cloth wall quilt features flower and butterfly embroidery on a midnight blue background. Whole-cloth quilts are fun and easy to make because they don't involve any piecing. We used designs from the Dancing Flower Set and Dancing Butterfly Set. The finished size of the quilt is about 21" x 40", but you can make it any size you want.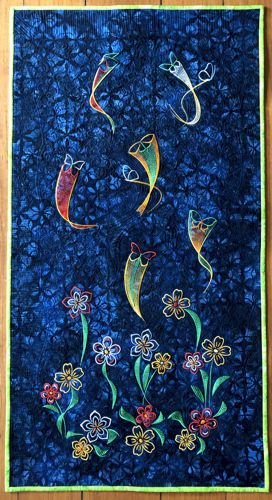 Click to enlarge
You will need :

embroidery threads either polyester or rayon - choose colors to your taste,

about 1 yard of midnight blue fabric (we chose blue batik with flower pattern),

light-weight cut-away embroidery stabilizer,
fabric for the backing and binding,
batting,
quilter's ruler,
rotary cutter,
chalk pencil,
iron,
#12-#14 quilting needle.
Embroidery:
With the ruler and chalk pencil, mark the margins of the quilt. Do not cut the fabric at this stage, as that will make it easier to hoop.

Mark the position of the embroidery. If you have a printer and embroidery software, print-outs of the designs can be helpful. If you do not, you can cut out rectangles of the same size as the designs and arrange them on the fabric to determine the position of the embroidery.
Stabilize the chosen area. Hoop the fabric tightly and embroider the designs one by one.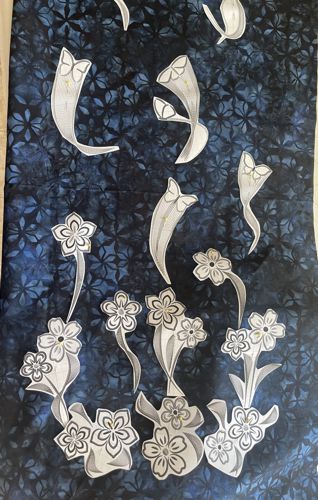 The choice of colors is yours.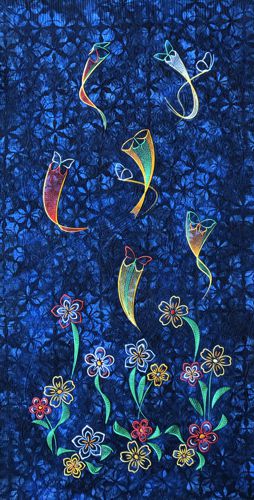 Close-up of the flower embroidery.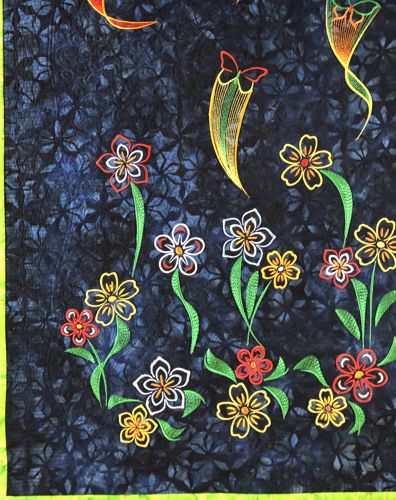 Close-up of the butterfly embroidery.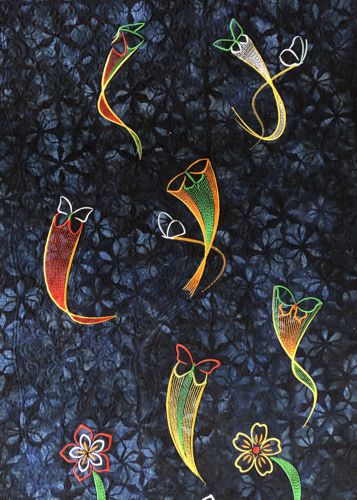 Quilting and Finishing

Now place the backing on a flat surface (table) face down. Cover with batting. Spread your working piece over it.

Pin all layers together.

We quilted in a free-motion style all over the quilt.
Press with heavy steam. Square the quilt. Finish the raw edges with the binding. The back of the quilt.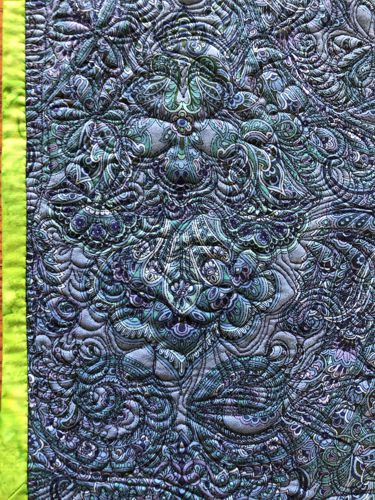 Have fun!
Back to Dancing Flower Set and
Dancing Butterfly Set
Back to Projects Page