We spruced up this pair of old jeans with designs from the Morning Glory Border Set. The designs from the set are for a large size hoop (5" x 7").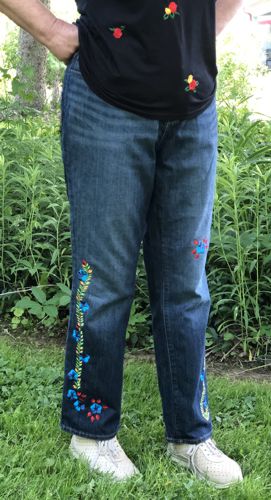 You will need :

embroidery threads according to the color card of the designs (you may choose your own colors, but first make a test stitch-out!),
light- to medium-weight iron-on cut-away stabilizer,
a pair of jeans,
small hot-fix crystals or seed beads for the centers of the flowers (optional),
embroidery and sewing needles #14 (or #16),
scissors,
seam ripper,
iron.
Preparing the Jeans for Embroidery:
Rip the inner seam of the jeans.
Open the files of the Morning Glory Border Set in your embroidery software on the computer and print out some templates. If you do not have either printer or software, make the templates yourself. For this, out of paper, cut rectangles of the same size as the designs.
Pin the templates to the spots where you'd like to make the embroidery.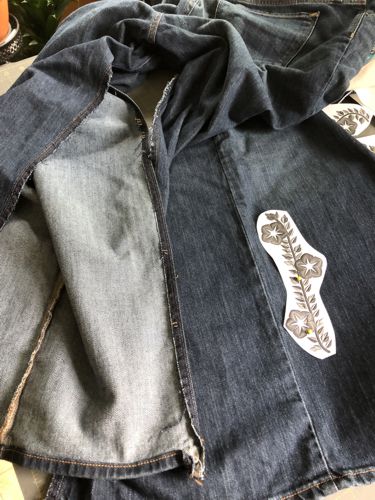 Embroidery

:

Stabilize the part of the jeans on which you want the embroidery with light- to medium-weight iron-on cut-away stabilizer. Hoop it tightly.

Select threads from the JPG color card included with the designs (not by the screen of your machine!)

Upload the embroidery files of the Morning Glory Border Set into the machine and embroider them one by one.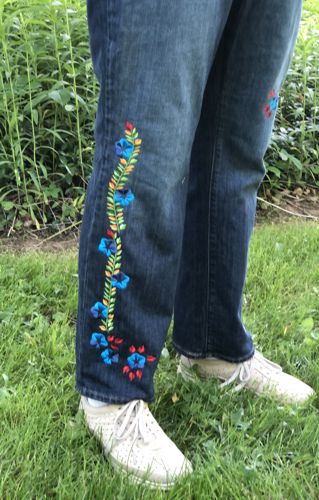 Finishing:
After the embroidery is done, cut the jump stitches, cut away the excess stabilizer around the embroidery and press the stitch-outs and the fabric around it.

Sew the inner seam closed. Finish the raw edge with zig-zag or a serger if you have access to one.
For the final touch, you can add crystals or beads to accent the eyes of the flowers.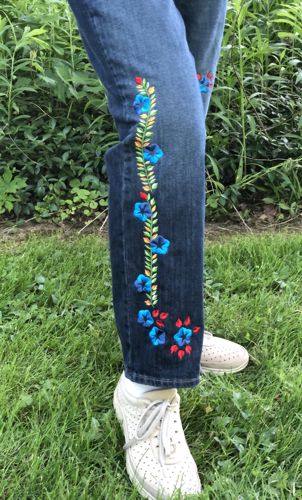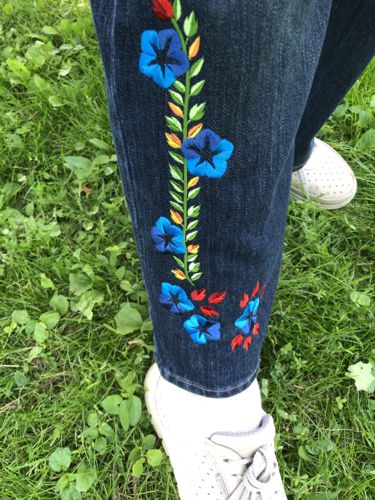 Have fun!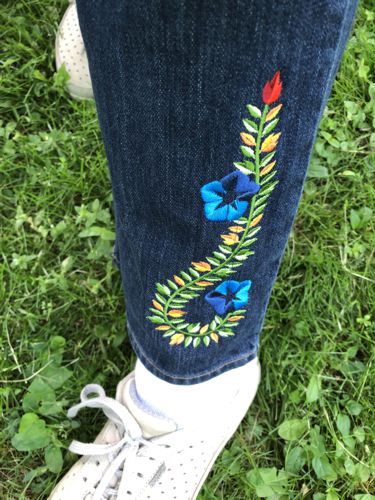 Back to Morning Glory Border Set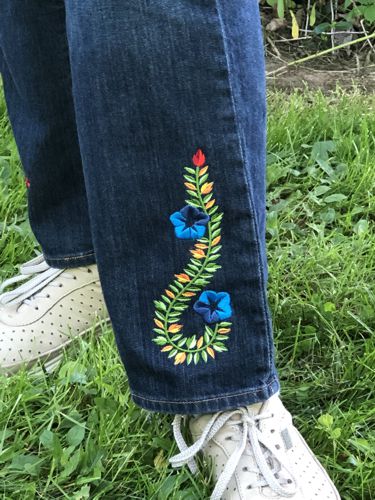 Back to Projects Page