This small, cute banner is a great touch of Christmas decor for your home or office.

It uses designs from the Abstract Christmas Tree Set.

The finished size of the banner is about 18 1/2" x 24 1/2".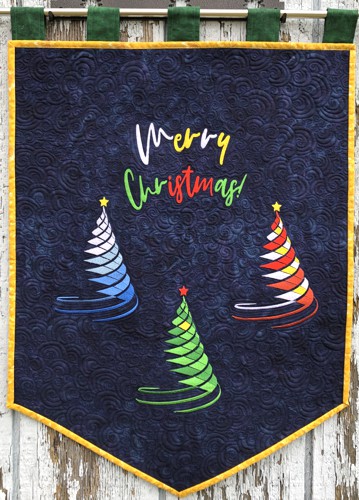 You will need :

embroidery threads either polyester or rayon, please follow our color cards, or choose colors to your taste,

about 1/2 yard of dark blue fabric for the banner (1 yard will be enough for the top and the backing),

contrast fabric for the binding (choose any color matching the embroidery threads),
scraps of contrast fabric for the hanging loops,
light-weight cut-away embroidery stabilizer,
fabric for the backing,
batting,
quilter's ruler,
rotary cutter,
iron,
#12 universal needle,
#12-#14 quilting needle.
fabric pencils, markers or ink (optional).

Cutting:
Out of the fabric for the banner, cut a rectangle about 20" x 26".

Embroidery:
Either download our design with the "Merry Christmas!" wish, or use the built-in alphabet to make the sentence by yourself.
Mark the position of the embroidery. If you have a printer and embroidery software, print-outs of the designs can be helpful. If you do not, you can cut out rectangles of the same size as the designs and arrange them on the fabric to determine the position of the embroidery.

Select threads.
Stabilize the chosen area. Hoop the fabric tightly and embroider the designs one by one.
Quilting:
Now place the backing on a flat surface (table) face down. Cover with batting. Spread your working piece over it.

Pin all layers together.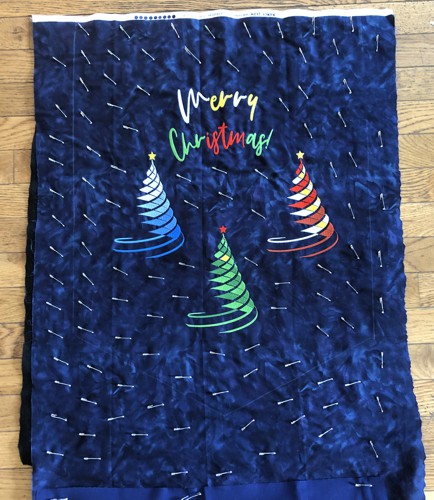 With a chalk pencil mark the edges of the future banner. Quilt within and slightly beyond these edges.
We quilted in a free-motion style all over the quilt. First echo-quilt around the embroidery, then quilt in any pattern.
After the quilting is finished, remove the pins which are left beyond the margins and press with heavy steam. Cut along the margins. Check that the left and right sides are of the same length. Cut the upper edge right and the lower edge at angle.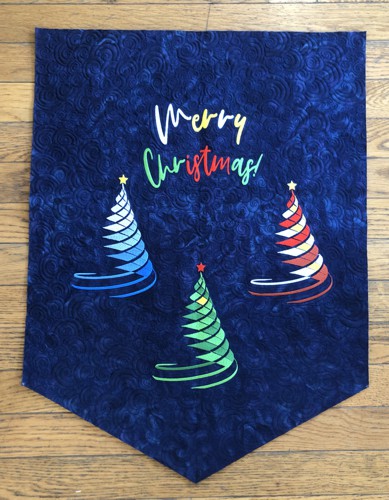 Finish the raw edges with the binding.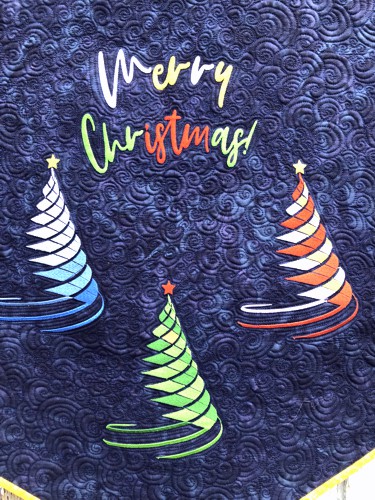 Making the Hanging Loops:
Out of contrast fabric, cut a strip measuring 4 1/2" x 26". Fold it in half lengthwise, right side inwards.
Stitch along the open edge, seam allowance 1/4", to get a tube.
Turn the tube right side out. Press.

Topstitch along each long edge with seam allowance about 1/4".

Subcut the strip into 5 strips, each 5" long.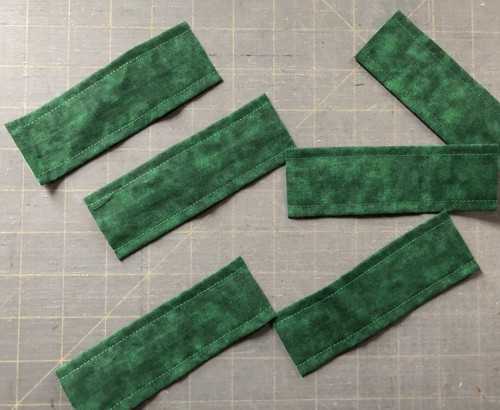 Fold each new strip in half widthwise and align the short edges. Finish the short edges with zig-zag stitch or serger.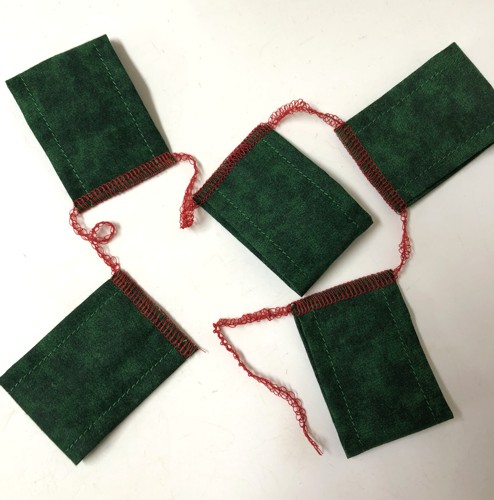 Pin the loops to the upper edge of the bammer on the back. You can either stitch the loops to the binding by hand, or...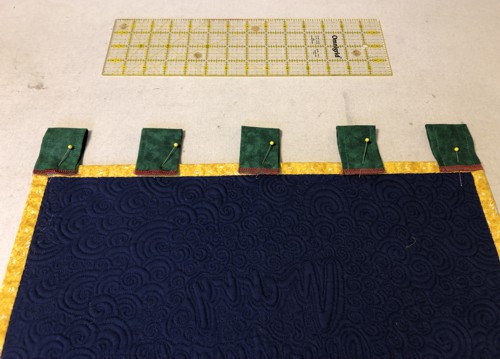 Move the pins to the front and, thread that matches the binding, topstitch in the ditch securing the loops in place.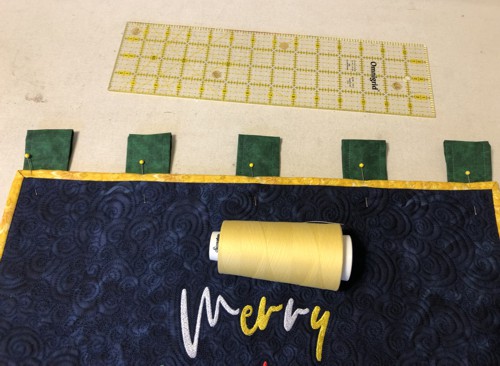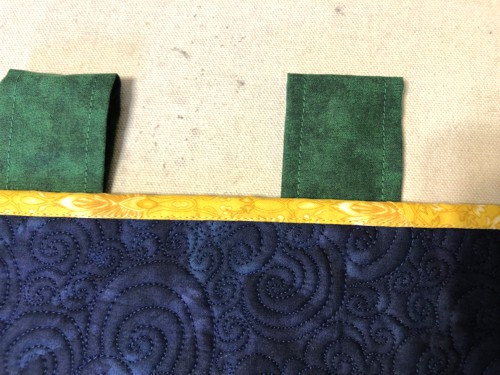 Have fun!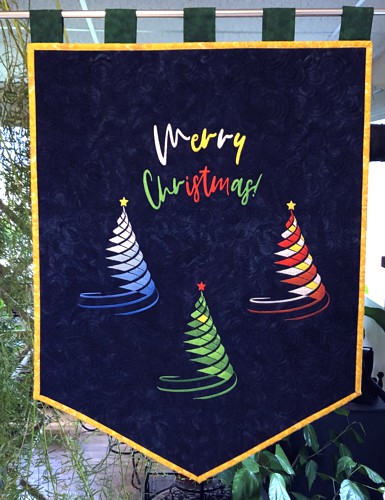 Back to Abstract Christmas Tree Set.
Back to Projects Page